A joint venture comprising Hitachi Rail and Alstom (HAH-S) has signed contracts with HS2 to design, build and maintain the high-speed rolling stock for Phase 1 of the line.
The 1.97 billion GBP contract also includes a 12-year train maintenance contract.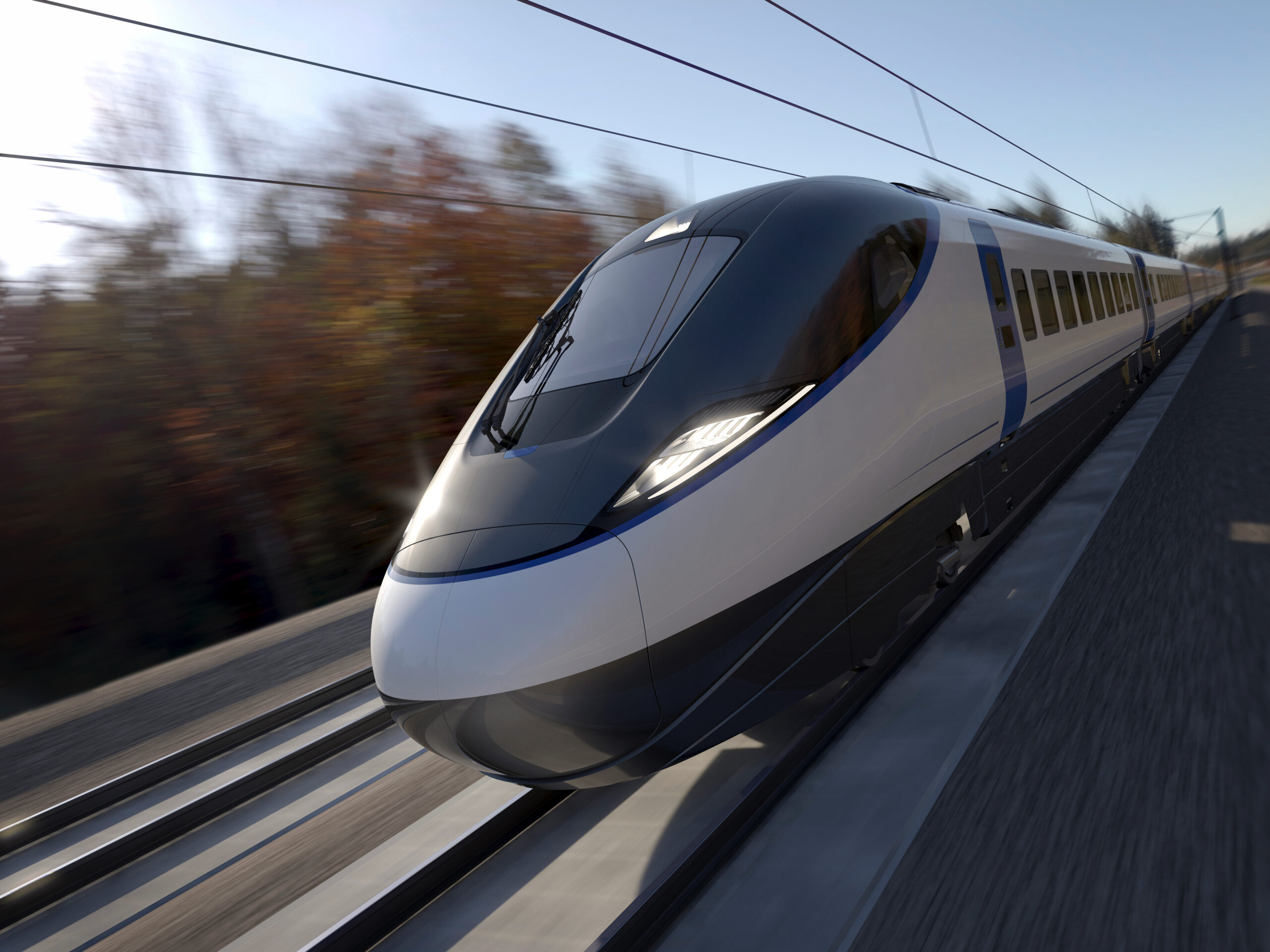 Originally, Hitachi Rail put in a joint bid with Bombardier Transportation, while Alstom put in a rival bid. However, since Alstom's acquisition of Bombardier Transportation in January of this year, Alstom took on Bombardier's place in the joint bid.
The contract is for 54 electric high-speed trains that will have a top operating speed of 360 km/h. HAH-S says that the design will feature a lower train mass per passenger, regenerative power, the latest energy-efficient traction technology and aerodynamics in order to make the fleet as energy-efficient as possible.
The trains will be manufactured at Hitachi Rail's welding facility in Newton Aycliffe, the new production line at Alstom's Derby factory and by a new bogie manufacturing facility at Alstom Crewe. Each train will be 200m long and comprise of eight cars. They will run on Phase 1 of the high-speed line between London and Birmingham as well as onwards on the existing network (the West Coast Main Line).
"HS2 is a once-in-a-generation opportunity to transform Britain by building a sustainable transport system fit for the 21st Century. I am delighted that Alstom's joint venture with Hitachi Rail has been selected to develop, build and maintain in Britain the next generation of high speed trains."
The trains will be equipped with modern sensors that will be able to identify potential faults, which will minimise disruption and downtime.
Passengers will have access to high-capacity wifi, digital seat reservations and travel information that will be available through a number of different channels. 'Inclusive design experts' will also be involved in the project to make the trains as accessible as possible.
The HS2 trains will be maintained at Washwood Heath in Birmingham.
The contract will be a major boost for the British economy. An analysis conducted by Oxford Economics estimated that HAH-S would deliver 1.1 billion GBP GVA during the manufacturing phase.
Newton Aycliffe
Hitachi Rail's Newton Aycliffe facility opened in 2015. It employs roughly 700 members of staff. Hitachi Rail recently invested 8.5 million GBP in the facility. The new welding facility will carry out vehicle body assembly and fit out, after which each train body will be transported to the East Midlands.
Alstom's Derby & Crewe Factories
Once the train bodies arrive in the Derby factory, which employs 2,000 members of staff, the trains will be fitted with all remaining components, including interiors, electrics and bogies. The bogies will be manufactured by Alstom's Crewe facility.
Washwood Heath
The Washwood Heath facility is being constructed especially for the maintenance of the HS2 fleet. Alstom's service centre in Crewe will be a strategic base for heavy maintenance activity on a substantial proportion of the key components and systems.
HAH-S will work with HS2 Ltd and HS2 operator West Coast Partnership to refine the final design. Manufacturing is to begin in 2025.
The HS2 trains will have a capacity of more than 500 passengers per journey and travelling by train will be a lower carbon option over the same journey by road or air. The environmental benefit presented by HS2 will increase over time as the electricity used by the fleet will become increasingly decarbonised, i.e. more sustainable electricity will be fed into the grid.