The cutterhead of the HS2 tunnel boring machine 'Dorothy' broke through the wall of the Long Itchington Wood Tunnel south portal on 30 March 2023.
The TBM was launched in November 2022. In just four months the 2,000-tonne machine completed its one-mile second bore, making this HS2's first complete twin-bore tunnel.
The first bore of this tunnel was completed in July 2022. The 125m tunnel boring machine was then dismantled and brought back to the north portal, where it was reassembled in order to start on the second bore.
In total, from site set-up and TBM assembly, the first TBM bore and breakthrough and the second TBM bore and breakthrough, it has been a three-year project.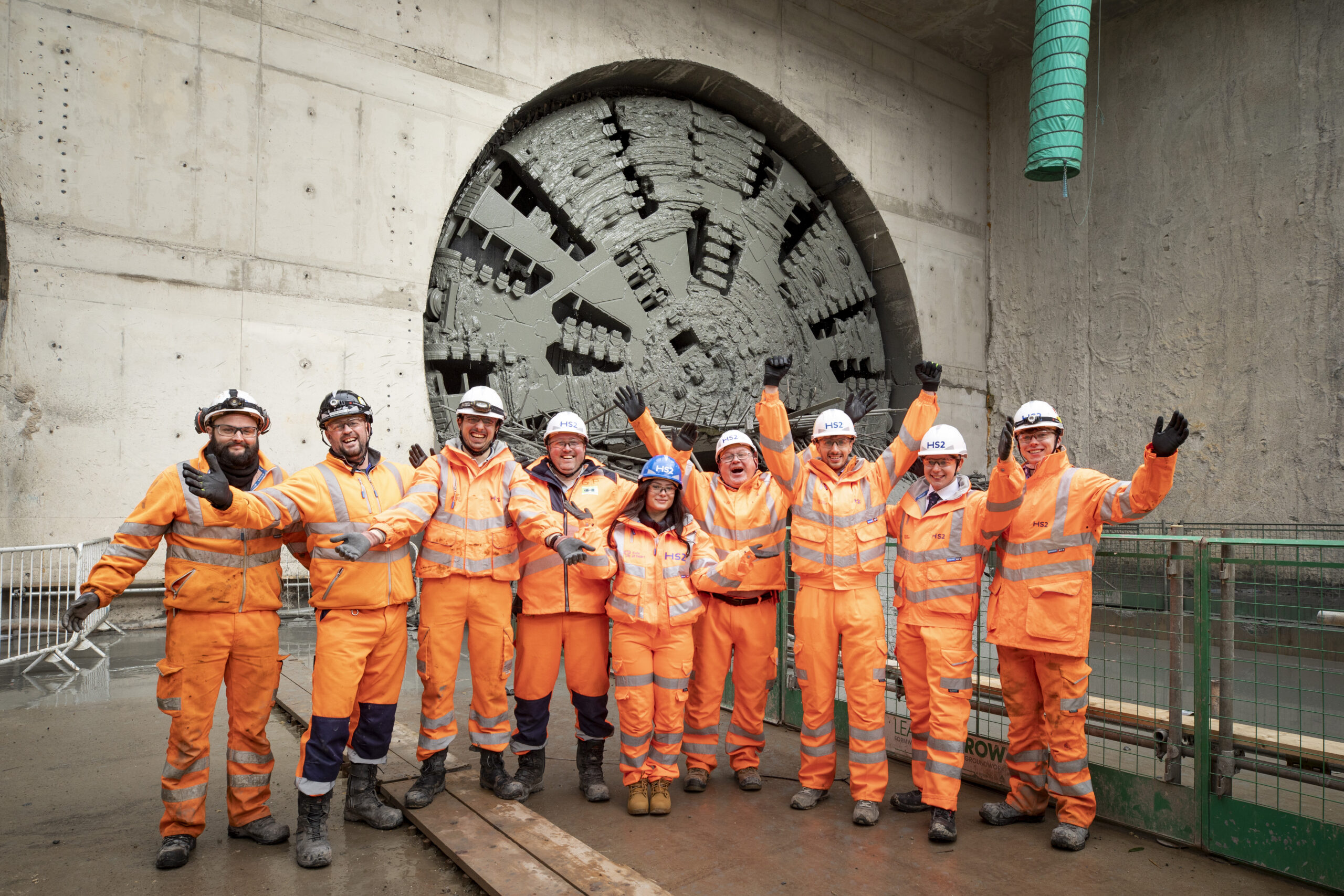 Members of the Balfour Beatty VINCI tunnelling team were on site to celebrate this milestone.
"This is yet another ground-breaking moment in the delivery of HS2 and the transformation of journeys and communities across Britain.
"With the help of Tunnel Boring Machine Dorothy, these tunnels are paving the way for HS2 trains while preserving ancient woodland on the land above. These tunnels help ensure that we deliver this transformative project while protecting the natural environment."
David Speight, HS2 Ltd's Delivery Director for Main Works Civils on Phase One thanked the tunnelling team and said he was looking forward to further milestones as the project gathered pace. He cited key structures such as the Delta Junction viaduct, Birmingham Curzon Street station, Interchange station and the Washwood Heath Depot.
The tunnelling team comprised 400 people who worked in shifts around the clock to operate the TBM. During this time, Dorothy put in place 791 concrete rings, each of which is made from eight tw0-metre-wide segments.
Long Itchington Wood is classified as a SSSI – Site of Special Scientific Interest – and the tunnel is one of the ways in which HS2 is minimising its impact on the environment during construction while delivering this environmentally friendly mode of mass transport for the country.
The 500,000 tonnes of mudstone that were excavated during the boring of this tunnel are being processed at an on-site slurry treatment plant. The mudstone will be separated out and transported by a 254m conveyer to be used to build embankments along the route.
Over the coming weeks, work will start on dismantling the TBM's shield. The rest of the machine will be brought back to the start of the tunnel and disassembled. Its next destination will be East Birmingham, where a new shield will be fitted to it. In early 2024 it will then commence a 3.5-mile tunnel bore between Water Orton in Warwickshire and Washwood Heath in Birmingham.