Cross party MPs, council leaders and business groups from across Yorkshire and the North East of England have contributed to a report demonstrating how delivering the Eastern Leg of HS2, which runs from the West Midlands to Leeds, is crucial to realising the full benefits of the project and of Northern Powerhouse Rail (NPR).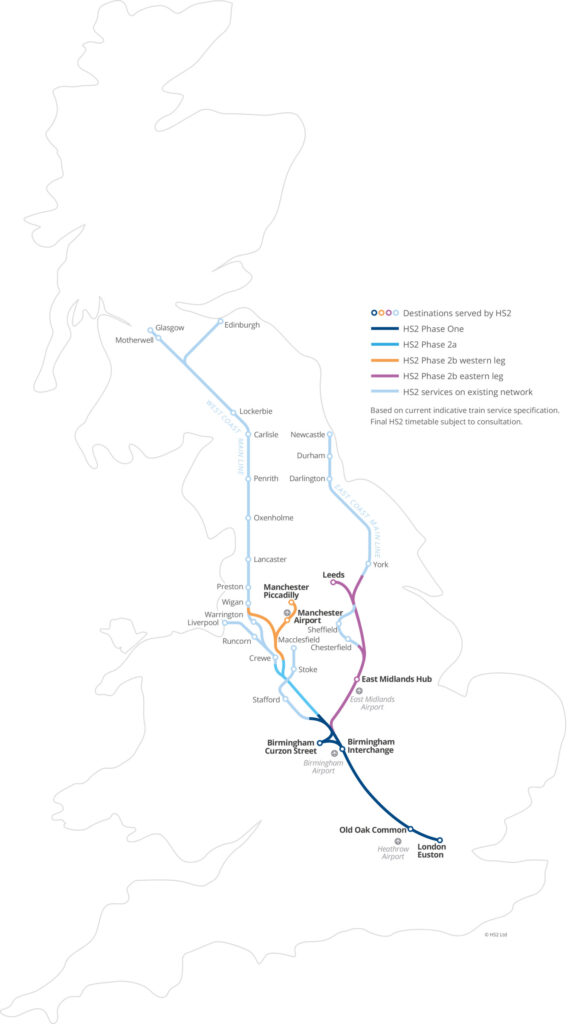 HS2 is set to create a major new station in Leeds, and with new services due to come to Sheffield, York, Darlington, Durham and Newcastle it stands to have an important foothold in Yorkshire and the North East.
These services will integrate with Northern Powerhouse Rail and local transport to relieve congestion, improve reliability and speed up journey times.
In Leeds alone, the HS2 Growth Strategy will bring over £500m in investment and around 40,000 jobs and will be a major vehicle for levelling up the country.
The report, entitled High Speed Rail Yorkshire and North East Voices, was published by the High Speed Rail Group (HSRG) in response to speculation that the Eastern Leg could be curtailed, delayed or even scrapped, even though the Prime Minister has repeatedly given his assurances that this section of the route would go ahead.
It highlights, amongst other things, that HS2 is essential to regional and local economic growth, the pressing need to modernise the north's railway infrastructure and that changes or delays to this leg could also lead to the unravelling of NPR and the Integrated Rail Plan.
It also points out the importance of HS2 in helping achieve modal shift and transport decarbonisation in the east of the country through reduced use of cars and HGVs and the environmental credentials of electrified rail that the project offers. This is of particular importance as the UK Government works towards its ambitious carbon reduction targets of 78% by 2035.
In addition, the report notes that the Eastern Leg provides an opportunity to further build on the huge investment already made in deploying and growing skills and increasing investment in low-carbon construction techniques.
"Rail should be a prime candidate for investment as the Government looks to industries to spur an economic recovery and could help provide jobs in the North for decades to come. The three major projects planned for the north of England: HS2, Northern Powerhouse Rail and the Transpennine Route Upgrade are all crucial in 'levelling up' the region, and each needs to be delivered in full if we are to reap the full economic benefits."