HS2 has launched the first of six tunnel boring machines (TBMs) that will dig more than 26 miles of tunnels under London.
This is the fourth of 10 HS2 tunnel boring machines to be launched, and will travel five miles from HS2's Victoria Road site in west London towards Greenpark Way in Greenford, where it will be dismantled and lifted from the ground.
Later this year, another TBM will also be launched from the same site to build the second of HS2's twin-bore tunnels towards the city centre.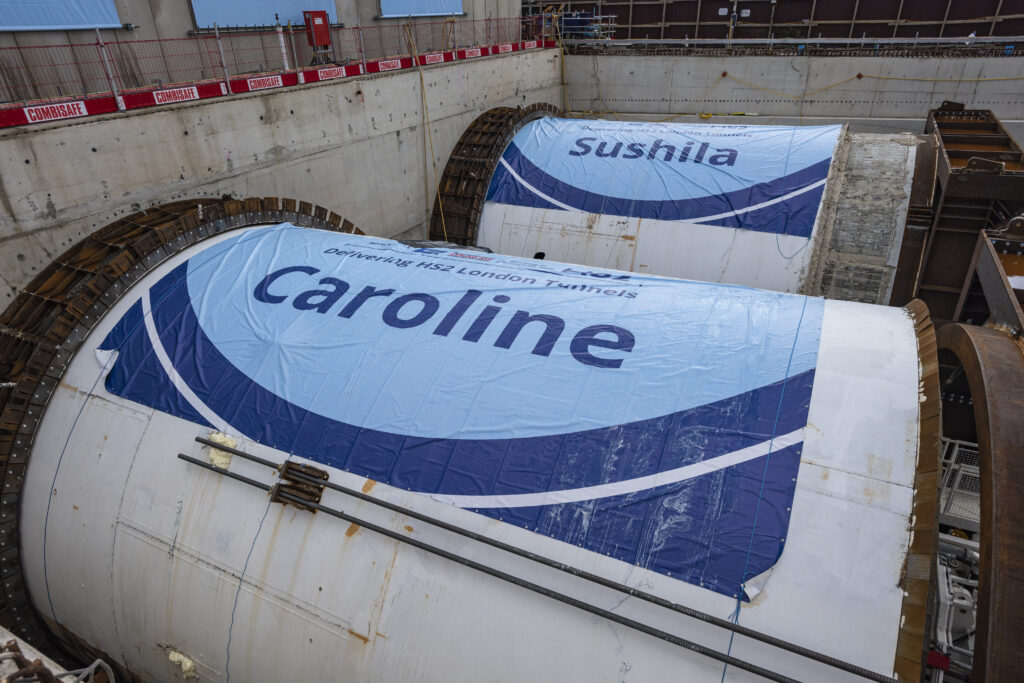 Both machines have been manufactured by Herrenknecht in Germany and will be operated by Skanska Costain STRABAG JV (SCS JV).
Local school children from Dairy Meadow Primary School in Southall and Brentside Primary Academy helped name the TBMs after participating in workshops about the tunnelling work.
This first machine is called Sushila after a local schoolteacher who was nominated due to her passion for getting more BAME women and young people into STEM subjects.
The second has been named after the 18th century astronomer, Caroline Herschel.
These two TBMs will bore non-stop for 22 months, except Christmas Day and bank holidays, to reach their final destination.
Weighing over 2,000 tonnes and measuring 140 metres in length, each TBM has a 9.84-metre diameter cutter head. They will each be operated by 15 people, working in shifts. A total of 1.2 million cubic metres of excavated material will be removed, weighing 2.46 million tonnes.
Sushila's launch was attended by its namesake, Sushila Hirani, Head of Department and Lead for STEM at Greenford High School, HS2 CEO Mark Thurston, and HS2 Minister Keven Foster.
"We now start one of the most complex parts of HS2, tunnelling from here at West Ruislip towards Euston beneath one of the busiest cities in the world.
"The huge team effort has enabled some of the most advanced TBMs ever built to be launched.
"Our team has brought together world class skills along with developing many new people to the industry working on this crucial national infrastructure project."
Next year, two further TBMs will set off towards Greenpark Way from HS2's west London site to build a further 3.4-mile twin-bore tunnel.
This quartet will build a total of 8.4 miles of tunnels between West Ruislip and the HS2 super hub station at Old Oak Common.
Another 4.5-mile twin-bore tunnel extending from Old Oak Common to Euston will complete HS2's journey to its London terminus.
In total, the 10 HS2 TBMs will create 64 miles of tunnels between London and the West Midlands.
The first, Florence, was launched in May 2021 to dig the first of a pair of 10-mile-long tunnels under the Chiltern Hills.