In the summer of 2019, as he stood poised to take the leadership of the Conservative party and enter Downing Street at last, Boris Johnson commissioned a review of HS2.
The following November, just three weeks out from a general election, transport secretary Grant Shapps pointedly declined to rule out scrapping it. All through 2019, assorted insiders were briefing that the proposed £80bn new railway, a vital link for adding capacity to Britain's overcrowded network, was for the chop.
The Tory party won that election, of course. Just weeks later, the government decided that actually it was in favour of new high-speed railways after all, and soon afterwards construction began in earnest. At this very moment, a pair of 180m long tunnel boring machines named Florence and Cecilia are gnawing their way through the Chilterns.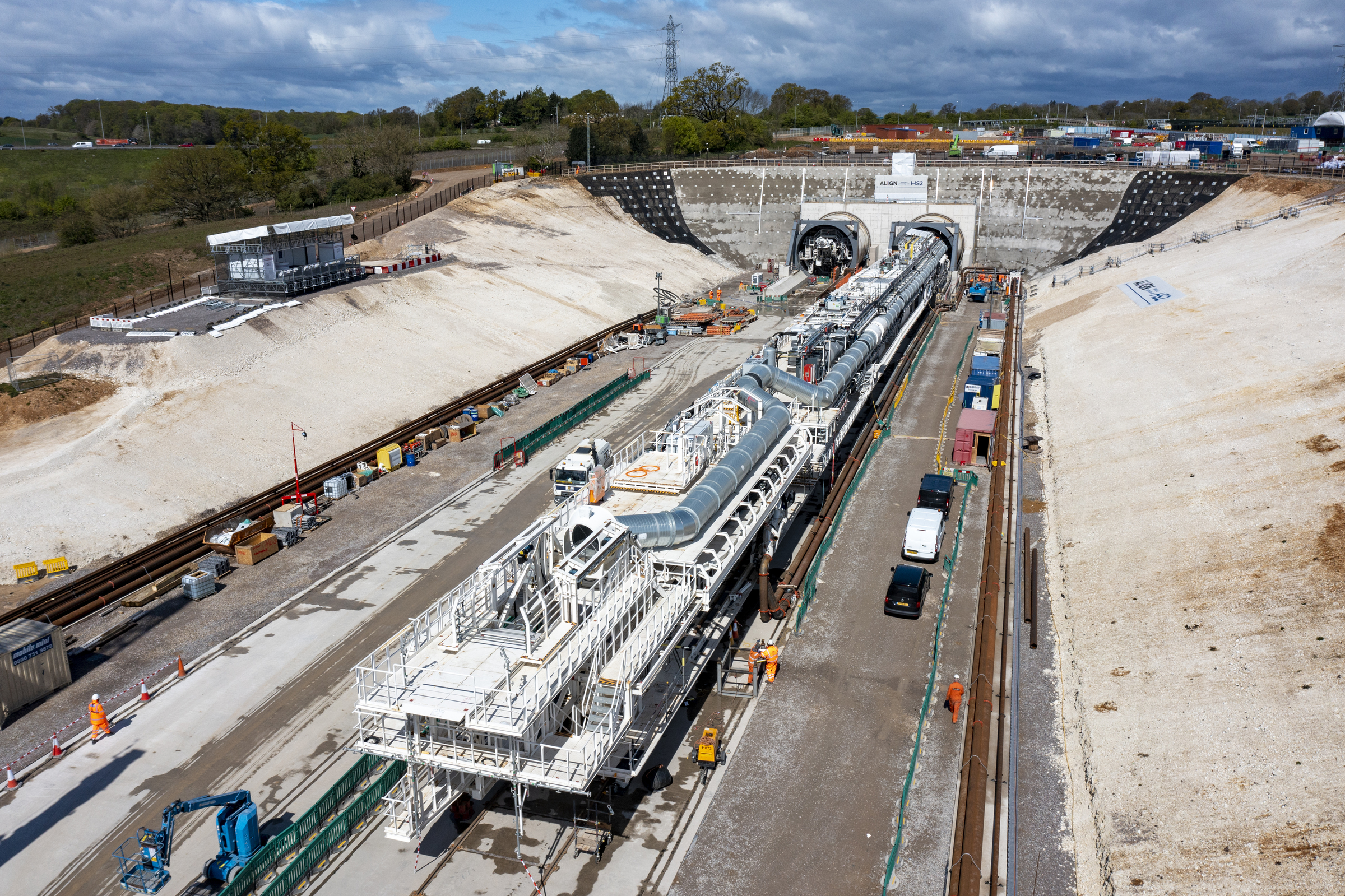 There are a number of ways you can read this sequence of events. One is that Johnson – a long-standing critic of the project – wanted cover to scrap something on which vast piles of public money had already spent, only to discover the case for it was actually pretty sound. Another is that the government never seriously wanted to scrap the thing, but did want a mechanism for making its voters think it might until the election was out the way.
Yet another is that it represented a tug of war between different factions who wanted different things: some in government wanted to scrap the scheme, others backed it, the latter won. All we can say for sure is that it is extremely unlikely to have been an entirely sincere enquiry into the cost and worth of the project because, well, have you been to British politics recently?
And now, nearly two years on, here we find ourselves again. Phase 1 (London to Birmingham) is under construction; the first bits of Phase 2a (Birmingham to Crewe) have started going out to tender. Even the western arm of Phase 2b, the relatively short link from Crewe to Manchester, put in an appearance in last May's Queen's Speech. But the eastern arm, from Birmingham through the East Midlands to Leeds? That seems to be in doubt. As one anonymous Whitehall source told the Sunday Mirror last summer: "There's no way we're going to see this built in our lifetimes."
When Shapps spoke to the Financial Times in early October, he could hardly have been less reassuring. "We want to make sure we get trains to Leeds in a way that actually benefits people on the network and not blindly follow some plan invented 15 to 20 years ago which no longer benefits people."
The plan needed to take account of things like Midlands Rail Hub and Northern Powerhouse Rail, which "hadn't been [invented] when HS2 was first designed", he said. The fact they've not, in fact, been built, and with this government's record of delivering on its promises quite possibly never will be (just ask anyone who commutes into Manchester Piccadilly), did not seem to worry him. It feels a lot like the eastern leg of phase 2b has been diverted into the long grass.
The question is, are the whispers true this time? There's no election imminent, and even if there were, the most contentious part of the project in the Tory heartlands is already going ahead. Unlike in 2019, it's hard to see an immediate political advantage in pretending you might cancel something that you then proceed to build anyway.
Nonetheless, it is striking how rumours the eastern leg is to be scrapped have been circulating for months, and yet unscrapped it remains. Shapps' explanation – that the government's commitment to other, newer schemes means that HS2 needs some rethinking – seems to clash with reports suggesting the Treasury is doing all it can to save a few quid by descoping those schemes, too, blocking plans to rebuild Piccadilly and ignoring demands for a new Northern Powerhouse Rail station in Bradford (a city, incidentally, with half a million people and no through stations). So: Occam's razor is that a row is still ongoing, between a Department for Transport that wants the project and a Treasury that doesn't want to pay for it.
Of course, scrapping the eastern leg would be a terrible idea. It'd mean no improved links between Birmingham, the East Midlands and Yorkshire. Those latter cities would receive none of the capacity increases that come from building new track and separating fast trains from slow ones. The failure to build an East Midlands Hub station and its associated links would make it harder for the Nottingham/Derby region to develop into a single economic area.
And the government's rumoured solutions are no such thing. Delaying the eastern leg, as the National Infrastructure Commission proposed last year, seems likely to become cancellation via the back door. Midland Mainline electrification – as long overdue as that undoubtedly is – might make for slightly improved journey times to London; but by running faster trains on existing tracks, it would perversely mean less space for local services. It would mean prioritising London services over local links – ironically, exactly the thing that critics wrongly accuse HS2 of doing.
So: scrapping the eastern leg would mean a worse rail network. The problem is, if we know one thing about the Treasury, it's that it'll always opt for spending less now, even if that means vastly worse outcomes later.
In 2019, we thought HS2 was dead: it wasn't. Perhaps, when it comes to the eastern leg, history will repeat itself. Or perhaps the Treasury is about to have its revenge.
About Jonn Elledge
Jonn Elledge is a journalist and editor who specialises in transport and local government. Former assistant editor of the New Statesman.