HS2 has unveiled the designs for the Chiltern Tunnel's north portal.
These focus on cutting noise from trains as they enter and exit the tunnel at speeds of over 300 kilometres an hour.
The designs have been developed and will also be built by HS2 main works contractor Align JV, which consists of Bouygues Travaux Publics, Sir Robert McAlpine and VolkerFitzpatrick.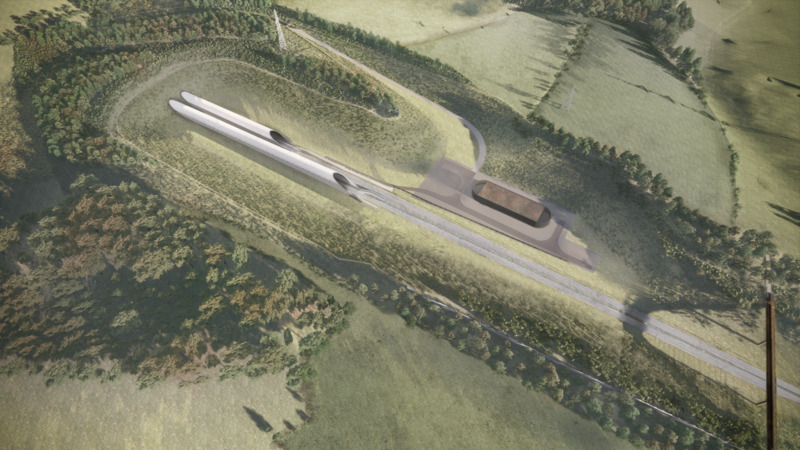 The designs use two perforated concrete hoods to avoid the sudden changes in air pressure that cause extra noise as trains enter and leave the tunnel.
These porous portals will extend along the tunnel – the project's longest at 10 miles in length – into the open air. Set low into the landscape, they will only be visible from a footbridge over the railway to the north.
To allow for the different levels of air pressure, the portal for trains entering the tunnel will be 220 metres long, while the one for those exiting will be 135m. Both will have smooth concrete on top and textured concrete to a low level, which will reduce staining and maintenance.
In addition to the portals, there will also be a single-storey ancillary building for the storage of mechanical and electrical equipment.
"Set low into the landscape and out of sight for most passers-by, the structures will play a crucial role in cutting out unnecessary noise and housing essential mechanical and electrical equipment."
Work is well underway on the project, with tunnel boring machines (TBMs) Florence and Cecelia having completed more than 3.5 miles of their journey since their launch last summer. They're expected to break through at the north portal in two years' time.
To the north of the tunnel, the new high-speed line will be set into a cutting for 1.8 miles on its approach to the Wendover Dean Viaduct.
Here six new bridges will will cross the railway cutting, linking existing lanes and footpaths. More than 20 hectares of new woodland, shrubs and wildflowers will be planted to help blend the railway into the surrounding countryside.
This surface route is being built by another of HS2's main works contractors, EKFB, which is made up of Eiffage, Kier, Ferrovial Construction and Bam Nuttall.
HS2 is now seeking public feedback on the designs, including their preference for a green roof, split louvred or anodised aluminium façade.
"We're keen to hear local views and I would encourage people living locally to have a look at the designs and let us know what they think."