The HS2 tunnel boring machine (TBM) 'Florence' has passed the one mile mark this week, cutting through a mix of chalk and flint beneath the Chiltern hills just outside London.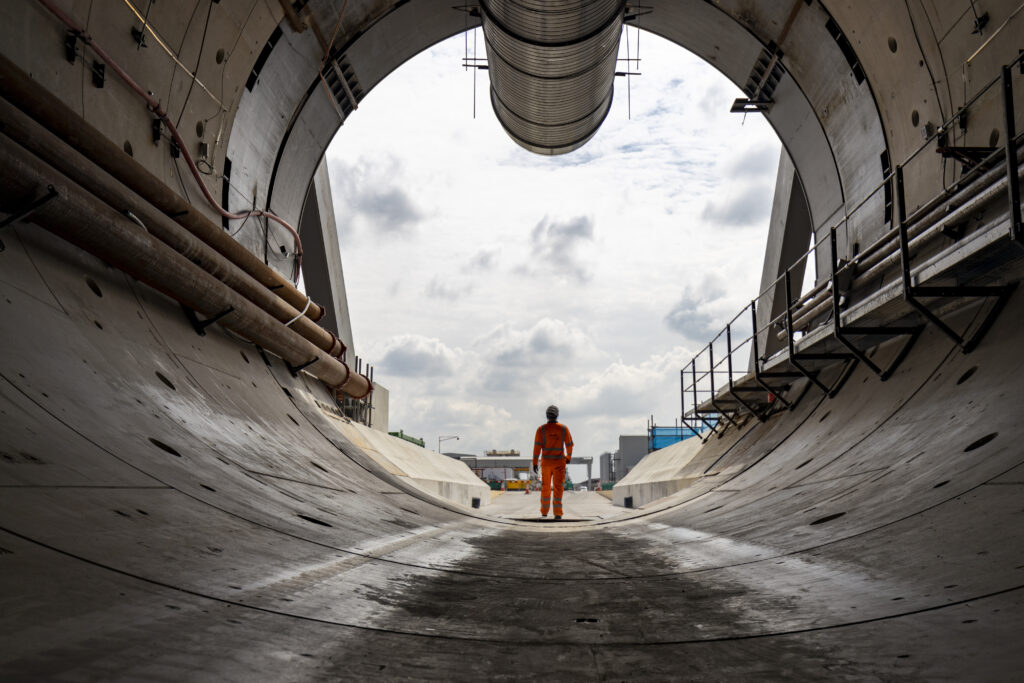 Launched in May, the 170-metre long TBM is one of two identical machines excavating twin ten-mile-long tunnels. The second machine, 'Cecilia', is a short way behind, with both expected to break out in approximately three years' time.
Designed specifically for the geology of the Chilterns, each machine is a self-contained underground factory, digging the tunnel, lining it with concrete wall segments and grouting them into place as it moves forward.
The TBMs are operated by HS2's main works contractor Align – a joint venture formed of Bouygues Travaux Publics, Sir Robert McAlpine, and VolkerFitzpatrick.
A crew of 17 people keep the machines running, working in shifts and supported by over 100 people on the surface, managing the logistics and maintaining the smooth progress of the tunnelling operation.
"I'm delighted with the progress that Florence has made since its launch in May, with Cecilia not far behind. All the spoil from the TBMs is converted into slurry before being pumped back to our South Portal site, just inside the M25, where it is processed and used for landscaping on site. This is, and will continue to be, a huge logistical challenge, as Florence and Cecilia continue their journey through the Chilterns.
"Florence reaching the one-mile point is a great achievement, however we still have a long way to go."
Each of the separate northbound and southbound tunnels will require 56,000 precision-engineered, fibre-reinforced concrete wall segments – which are all being made at the south portal of the tunnel, next to the M25.
During her first mile, Florence and her crew have installed more than 5,500 separate segments, each weighing around 8.5 tonnes.
Approximately 2.7 million cubic metres of material will be excavated during the construction of the tunnels and used for landscaping around the south portal site. Once construction is complete, this will help create around 90 hectares of wildlife-rich chalk grassland habitats.
In total there will be ten TBMs on the HS2 project – working to create 64 miles of tunnel between London and the West Midlands.