Collins Earthworks, a Midlands-based company, is preparing the HS2 construction site in Warwickshire for the launch of the tunnel boring machine.
A total of 300,000 cubic metres of material has been excavated and this will be recycled as part of the HS2 project. The earthmoving work has been ongoing since April 2020, carried out by a team of 120.
Collins Earthworks has completed the excavation of the north portal site of Long Itchington Wood Tunnel. This section of the new high-speed route will sit in a tunnel to protect the ancient woodland above.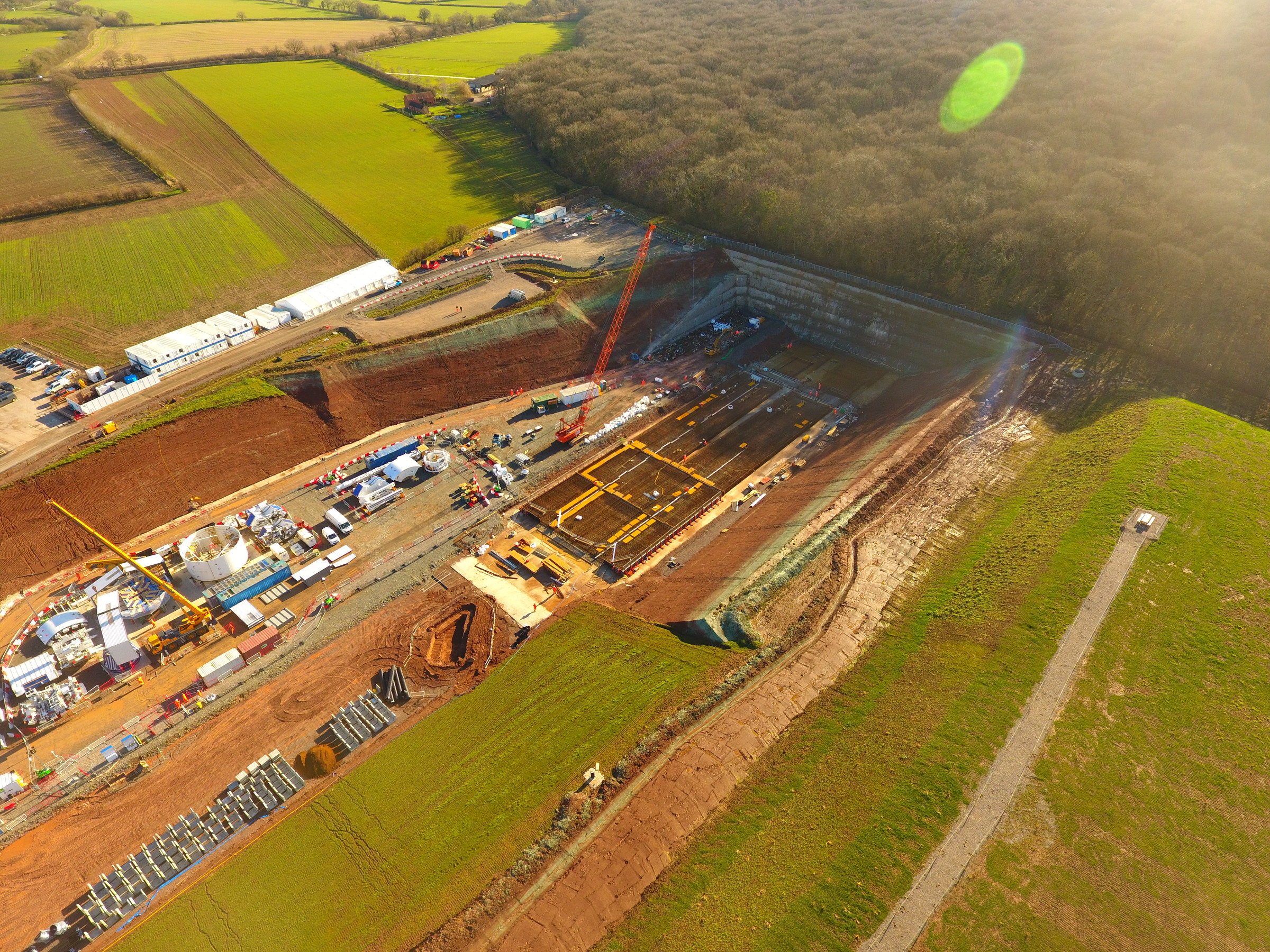 HS2 main works contractor BBV Joint Venture, which is building the northern section of HS2 towards Birmingham, has contracted the earthmoving task to Collins Earthworks.
The 2,000-ton tunnel boring machine is currently being delivered to the prepared site where it will be assembled. The TBM has been manufactured by German specialist Herrenknecht. Digging is to begin this summer. The first bore will be complete in five months. At that point the tunnel boring machine will be extracted at the south portal, whereupon it will be transported back to the north portal to start work on the second bore.
"The Long Itchington Wood Tunnel site is one of the project's largest, and Collins Earthworks have worked for nearly a year to carefully excavate material which will be reused to form environmental embankments and landscape for the railway. The tunnel in this location preserves the ancient woodland, so forms a key element in how we are managing environmental impacts through the design of the railway."
In addition to delivering a high-speed line for the country, the infrastructure project has had a beneficial financial effect during the pandemic, an economically difficult period.
"Working on HS2 has provided our business with ongoing work through the pandemic, ensuring we can continue to support jobs for our 370 employees in the Midlands. We are delivering a start-to-finish service, encompassing site clearance, then providing the right machines and fully trained labour to carry out all project management and execution on site, as well as recycling materials for future use on the project.
"Our growth is set to continue, and projects like HS2 enable us to continue to focus on providing training for all staff to maintain our high standards of health and safety practices. We're also proud to be included in the prestigious list from the London Stock Exchange of the 1,000 Companies to Inspire Britain, which celebrates some of the fastest-growing and most dynamic small and medium-sized enterprises (SMEs) in the UK and Europe."
At the peak of construction on Phase 1, there will be ten tunnel boring machines at work. Each one is 160m long and will weigh up to 2,200 tons. Working 24/7, a TBM can dig up to 15m per day.