HS2 Ltd has revealed the design of the first of four vent shaft headhouses for the Chiltern Tunnel.
This one – the Chalfont St Peter vent shaft headhouse – and the other three will provide both ventilation and emergency access to the 16km tunnel. The headhouses will also contain electrical equipment.
Having taken feedback from local residents into account, the headhouse will be set back from the road. It will feature a grey zinc roof, while the doors and vent openings will be a dark bronze colour. The building itself will sit on a dark blue brick base. The design is reminiscent of the style of the barns and other agricultural buildings in the area.
The vent shaft will be 60m deep, down to the twin tunnels below. These will be fitted with fans and other equipment that will regulate the air quality and temperature in the tunnels. In the event of a fire this equipment will remove smoke. The vent shafts are also an access route for emergency services.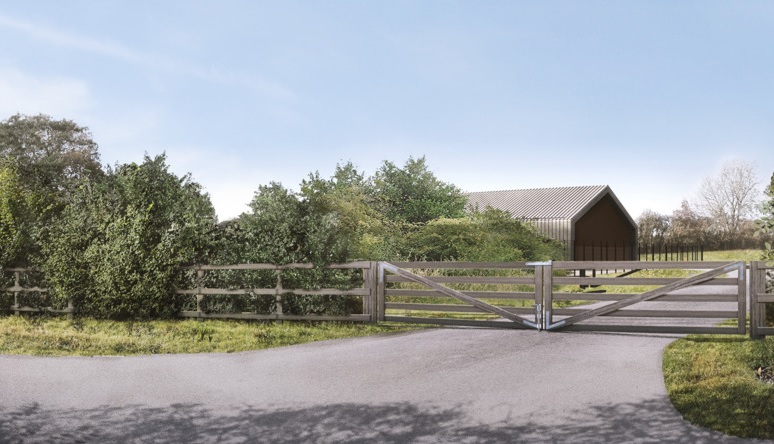 The Chilterns are an Area of Outstanding Natural Beauty (AONB). Consequently, HS2 has consulted with the Chilterns AONB Review Group and has held public engagement events. The mature trees on the existing boundary will be retained as far as possible. After the construction works are over, new trees and hedgerows will be instated to provide visual screening for nearby properties. It has also been in response to engagement and feedback that the overall scale and visual impact of the headhouse has been reduced.
The construction works will displace wildlife. To encourage it to return, bird boxes, reptile basking banks, a grass snake laying heap and a hibernaculum will be created.
HS2 Ltd's main works contractor is the Align joint venture, comprising Bouygues Traveaux Publics, Sir Robert McAlpine, and VolkerFitzpatrick; its design partners are Jacobs and Ingerop-Rendel, the architect Grimshaw and landscape designers LDA.
"HS2 remains committed to work proactively with residents, wider community and our stakeholders to be a good neighbour during the build phase.
"Once construction is complete, the headhouse at Chalfont St Peter will be one of very few structures of the Chiltern tunnels that will be visible to residents living nearby. That's why it's critical that we get the design right."
HS2 has launched a month-long virtual engagement event for local residents, informing them about the design and construction, and giving them an avenue through which they can provide their feedback.
Also read: