Skoda Transtech, which is part of Skoda Transportation Group, has handed over the first ForCity Smart Artic tram to Tampere, Finland.
Tampere, which is Finland's third-largest city, will receive a total of 19 low-floor, bi-directional trams under a contract worth more than 100 million euros.
"Tampere will receive a modern, technically proven solution suitable for harsh Northern conditions. The trams provide maximum comfort for passengers, for example, thanks to heated floors, double glazing or air conditioning for the summer months. The vehicles are based on proven solutions that we obtained during the manufacturing of vehicles for the capital Helsinki, for which we supplied a total of 72 trams.
"Our experienced employees across the entire Škoda Transportation Group worked on the development of trams for Tampere. We are also convinced that this new generation type of ForCity Smart Artic tram has great export potential."
Along with the trams, the contract with Skoda also includes ten years of maintenance. Further, there are three additional options allowing Tampere to order up to 46 more vehicles.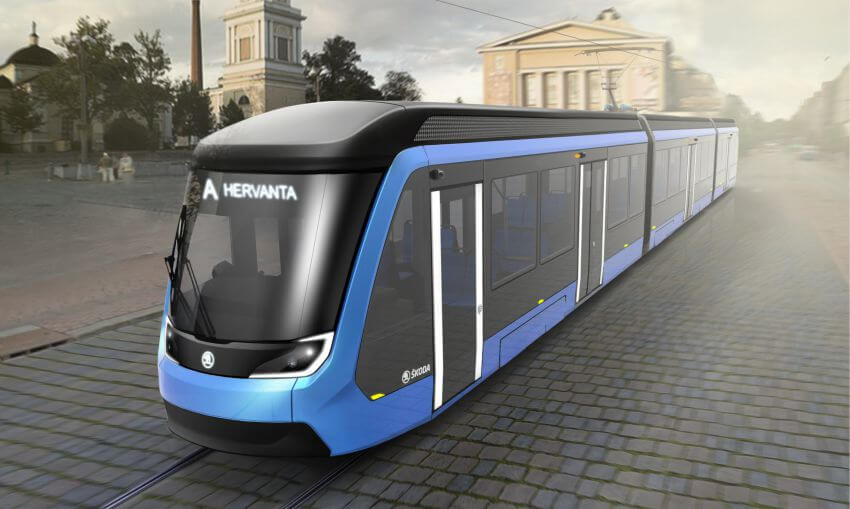 Over the next few years Skoda is also delivering 29 trams for a new line that will connect Helsinki and Espoo.
"Given that the Škoda Transtech production plant in Otanmäki does not have the test track required for tests, it is necessary to perform some of them directly in Tampere. Therefore, some parts of the interior, such as upholstery, will be installed only after the installation of electrical equipment so that they do not interfere with measurement, adjustment and other tests. In addition, some of the tests are performed in remote mode, where a group of software engineers from Plzeň connects to the delivered tram testing the tram systems."
Each ForCity Smart Artic tram for Tampere is 37.2m long and fully low-floor. The capacity per tram is 360 passengers. All trams are fully accessible.
From a performance perspective, the trams are all-wheel drive and feature a robust design so that they can operate reliably in harsh climatic conditions.
The Tampere light rail system was approved by the city council in 2016. Construction began in 2017 and the scheduled opening date is August 2021. Phase 1 of the network will be 16km long with 24 stations. 2 lines are currently under construction, with a further third planned. After several companies were shortlisted, VR won the contract to operate the tramway for a period of 10 years.
Also read: