Berlin Tram Company Receives Two Skoda Transtech Artic Pre-Series Vehicles
Schöneicher-Rüdersdorfer Strassenbahn GmbH (SRS) has purchased two Artic trams from Skoda Transtech. On 24 October the first of these vehicles was officially handed over for service on Line 88, which runs east of Berlin. Following the handover, the inaugural trip took place. The tram is now in use on the line.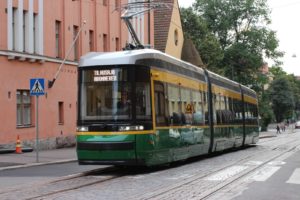 By purchasing the two Artic trams from Skoda Transtech SRS is able to replace its 1970s DÜWAG rolling stock. SRS also has low-floor Tatra KTNF6 vehicles (manufactured between 1996–1998), meaning that its entire fleet will now be barrier-free. It is SRS policy to purchase used vehicles and this is true for the Artic trams as well. They were acquired as prototypes of this series by transport authorities in Helsinki in 2013. They have been working reliably in the Finnish capital ever since.
Artic Tram Homologation
Extensive testing on Line 88 was necessary for the Artic tram to receive homologation. These tests began in August 2018 and have now been completed successfully. These trams are the first Skoda trams to receive homologation in Germany.
The second Artic tram will be delivered in January 2019. The name 'Artic' comes from 'articulated'. These models run on four bogies and are very quiet. They also feature a friendly and spacious interior. The number of seats on the Artic model is 87, an increase of 52 seats compared to the model it is replacing.
SRS has invested around 3.7 million euros. The districts of Oder-Spree and Märkisch Oderland are contributing 42.5 percent each to the funding of these vehicles.
Zdenek Majer, Vice President of Skoda Transportation Group and Chairman of Skoda Transtech, said:
"I am happy that in addition to Chemnitz and Rhein-Neckar-Verkehr, Schöneiche is the third city where trams for Skoda Transportation will be in operation. This is Skoda's first tram to receive homologation in Germany according to BoStrab. I would like to thank the teams of Skoda Transtech and Schöneiche's SRS for their efforts and this achievement."