Škoda to Supply Modern ForCity Smart Artic Trams to Finland
Transtech Oy, a subsidiary of Škoda Transportation, will supply up to 65 new modern vehicles for the Finnish City of Tampere. The vehicles will operate on a newly built track, which will be taken into use in 2021.
The City of Tampere ordered 19 modern ForCity Smart Artic trams, including full service. The contract is worth €104 million.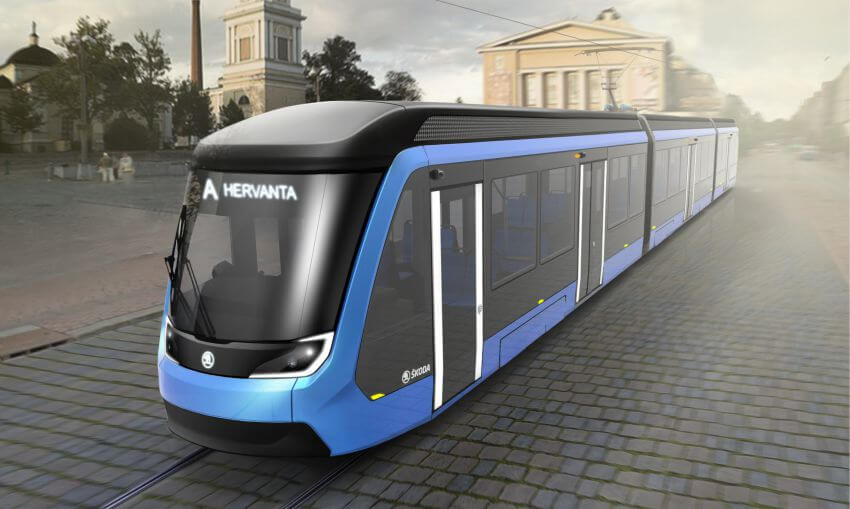 ForCity Smart Artic Trams
The bi-directional three-part ForCity Smart Artic Tampere tram has a normal gauge of 1 435 mm, it is a fully low-floor tram and it can accommodate 264 passengers. The vehicle also offers barrier-free access for wheelchair users and prams. The all-wheel drive and robust chassis and axle design enables trouble-free operation in challenging climatic conditions.
There are currently 33 ForCity Smart Artic trams operating in Helsinki, Finland, out of the total of 89 vehicles ordered. The first two trams were delivered to the transport company in Helsinki back in 2013, and they were subjected to demanding tests in operation. Other vehicles bear the Škoda Transportation logo since 2015, after it purchased a controlling stake in Transtech.
Zdeněk Majer, Vice President of Škoda Transportation and Chairman of Transtech, said:
The third largest Finnish city, Tampere, is ordering nineteen ForCity Smart Artic trams for the first stage of the newly emerging tram network. Additionally the agreement includes a three stage delivery option in total up to 46 vehicles more. The new order confirms that we are doing well in Finland – at the end of August this year, VR Group (Finnish Railways) exercised an option for twenty double-decker passenger cars. At the end of last year Helsinki City Transport exercised an option for twenty trams for Helsinki and an agreement to deliver 29 trams for the new "Raide-Jokeri" line connecting Helsinki and Espoo was signed. Our subsidiary Transtech has remarkably improved the utilization rate of its production capacity thanks to this, and it turns out that this acquisition fits wonderfully into our strategy of increasing our market share in Western markets.
About Transtech
Transtech is the largest manufacturer of rolling stock in Nordic countries. The company was founded in 1985. Its main products include double-deck passenger coaches (operated as PushPull trains), trams and engineering products. It currently employs approximately 500 people. In addition to trams, the company's key contracts include the delivery of double-deck pressure-tight coaches for state-owned VR Group (Finnish railways), which are designed for a speed of 200 km/hr.
Lasse Orre, CEO of Transtech Oy, added:
For Tampere we chose a modern, proven technical solution suitable for difficult arctic conditions, combined with attractive commercial conditions. The vehicle for Tampere is based on proven solutions that we have acquired during the development of vehicles for Helsinki. Last year and this year we have obtained contracts worth almost 400 million EUR in Finland alone, allowing us to stabilize the company and concentrate on export orders
Original article © Škoda Transportation.
FOR ALL THE LATEST INFORMATION, NEWS, IMAGES, VIDEOS AND ARTICLES ON ALL ASPECTS OF ROLLING STOCK, PLEASE CLICK HERE.