Railway-News Industry Insider: 20 Must-Read Rail Stories This Week
The Railway-News Industry Insider for the week 24–28 September 2018:
InnoTrans 2018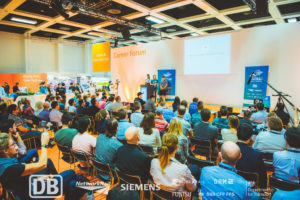 1. InnoTrans 2018 Sees Record Visitor Numbers
The largest trade fair in the world for the rail sector, which takes place every two years, is once again over. The show hosted 3,062 companies and institutions and saw 160,000 trade visitors from 110 countries. In addition the show was attended by international press, politicians and 25 business delegations from 18 countries. Full story here.
2. PKP Cargo S.A., Pesa Bydgoszcz S.A. & the Institute of Rail Vehicles 'TABOR' to Collaborate on Autonomous Locomotive
PKP Cargo S.A. announced that it signed an agreement during InnoTrans 2018 to work with Pesa Bydgoszcz S.A. and the Institute of Rail Vehicles to perform research and development to create a dual-system autonomous locomotive. The initial stage will see PKP Cargo and Pesa develop the necessary technical assumptions and the configuration of the design, which will be verified by scientists working at the Institute of Rail Vehicles. Read more here.
3. Shift2Rail Presents New Lightweight Antenna
Shift2Rail presented a new lightweight antenna made of composite materials at InnoTrans 2018. This antenna is much lighter than a standard welded equivalent that is made of steel. The new antenna weighs around 13kg while the welded steel alternative weighs more than 58kg. Read more here.
4. Vegetation Management Idea Wins HackTrain InnoTrans
HackTrain have become well established within the rail industry for their format of running hackathons to bring innovation to the rail industry. 2018 was the first time they ran their event at InnoTrans. This year's event was won by team 'Veggie on Rails' who developed a solution to manage vegetation that could damage track infrastructure. Full story here.
North America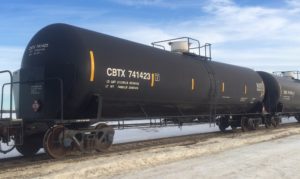 5. Operation Lifesaver Inc. & Operation Lifesaver Canada Urge Public to #STOPTrackTragedies
The first Rail Safety Week in North America is taking place 23–29 September. During this first joint observance of the event Operation Lifesaver Inc. and Operation Lifesaver Canada are coming together to deliver a new public-awareness campaign called #STOPTrackTragedies. It features seven videos with personal stories of people who were impacted by rail crossing or trespassing incidents. Previously Canada held its annual Rail Safety Week in April, while the US held its first event in September 2017. The aim of joining forces is to be more impactful. Read more here.
6. Canada: Early Prohibition of Unjacketed Tank Cars for Transportation of Dangerous Goods
The Railway Association of Canada (RAC) has welcomed the Canadian government's decision to fast-track the ban on older, non-jacketed tanks cars that are used to transport dangerous goods such as crude oil and condensates, on the country's rail network. Full story here.
European Union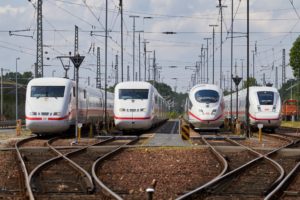 7. DB Cargo AG, Perpetuum Ltd and TRAXENS Win ERCI Innovation Awards
DB Cargo AG (Germany), Perpetuum Ltd (UK) and TRAXENS (France) were all given innovation awards by ERCI, the European Railway Clusters Initiative. DB Cargo AG won in the 'best large enterprise' category for its fully automated hump yard locomotive, Perpetuum Ltd won in the 'best SME' category for its wireless sensor notes and TRAXENS won the special jury prize for its digital freight train. Read more here.
8. European Commission Issues Call for Applications
On 29 June 2018 the Commission passed the decision to set up the EU Rail Passenger Security Platform. The purpose of this platform is for members to pass on advice and expertise regarding the security of rail passengers in the European Union to the Commission. This includes passengers at stations and on trains. The goal is to improve collaboration between Member States. The Commission has now issued its call for applications to this platform. Read more here.
9. Alstom Secures Contract for Grand Paris Express Trains
Alstom Transport has been awarded the contract to design and build high-capacity driverless metro trains for lines 15, 16, and 17 of the Grand Paris Express by the Société du Grand Paris and Île-de-France Mobilités. These lines are scheduled to become operational in 2030. Full story here.
10. DB Invests Additional Billion Euros in ICE 1 and ICE 4 Trains
Deutsche Bahn has announced it has ordered additional ICE 4 trains for €700 million and has said that it will invest €320 million into modernising its existing ICE 1 fleet. The order for the new rolling stock is with Siemens. Full story here.
China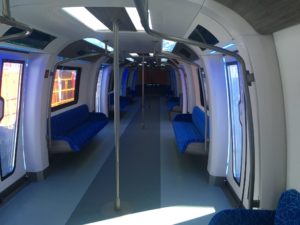 11. 10,000th China Railway Express Train Milestone
China Railway has announced that its X8044 Express train, travelling from Hamburg in Germany to Wuhan in China, marked the 10,000th China Railway Express train journey since the service was launched. China Railway also highlights ten further achievements. Full story here.
12. CRRC Announces Global Release of CETROVO Carbon-fibre Metro Vehicles
Chinese rolling stock manufacturer CRRC officially presented its new-generation carbon-fibre metro vehicles, which boast a significant number of innovations. Each vehicle is 13% lighter than a standard model thanks to the use of carbon fibre and this has allowed the train to have a 15% energy saving when operating. Read the full story, including the other features, here.
13. Services Start on Guangzhou-Shenzhen-Hong Kong High-Speed Rail Line
MTR Corporation, which was awarded the contract for operating trains on the Guangzhou-Shenzhen-Hong Kong line, has announced that passenger services have commenced on the Hong Kong section of the line. The first MTR Vibrant Express train departed Hong Kong West Kowloon Station on 23 September 2018. Full story here.
Eurasia & Africa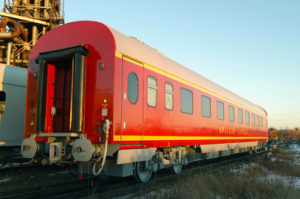 14. Transmashholding-Hungary to Supply 1,300 Passenger Cars to Egypt
A Russian-Hungarian consortium, Transmashholding-Hungary Kft., has been contracted by Egyptian National Railways to deliver 1,300 passenger cars. This is the biggest deal ever for Egyptian railways. It is worth more than a billion euros. Full story here.
15. GE Transportation and TÜLOMSAŞ Secure Locomotive Order
GE Transportation and TÜLOMSAŞ have received an order for five diesel-electric locomotives from GE's PowerHaul series for private operator Korfez Ulastirma. This would double the operator's fleet of GE PowerHaul locomotives. Full story here.
India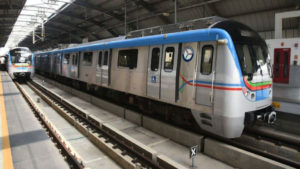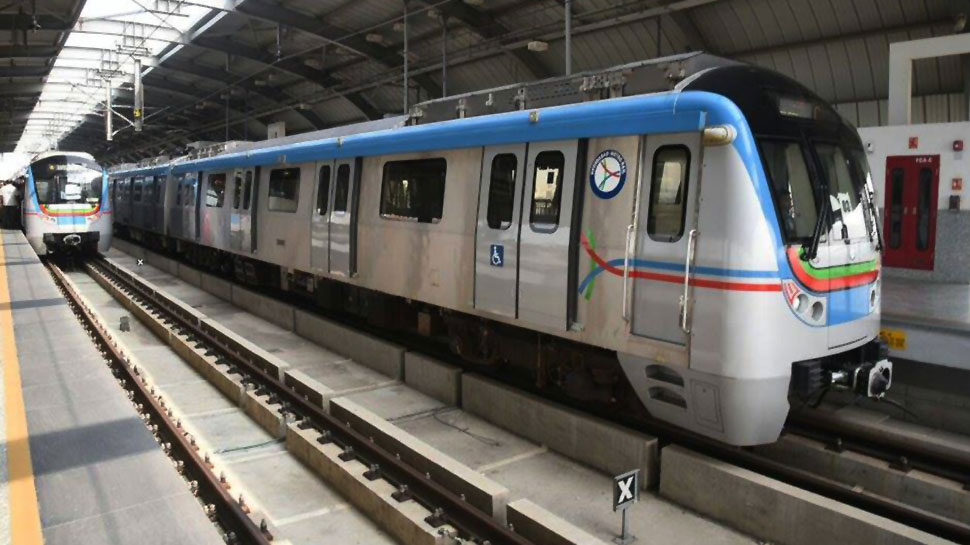 16. New Section of Hyderabad Metro Line 1 Opens
Keolis Hyderabad has opened a new section of Hyderabad metro's Red Line (Line 1), extending the total length of the metro network in the Indian city to 46km, up from the previous 30km. It is estimated that this extended line will carry more than 150,000 passengers per day. This extension marks the beginning of Phase II of the metro works. Full story here.
United Kingdom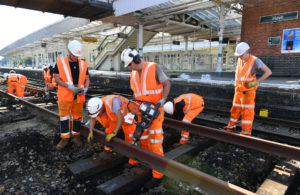 17. Network Rail Completes Bridge Works in Efforts to Double Tracks into Bristol Temple Meads
Last month Network Rail completed works to reinforce St Mark's road bridge in Bristol as part of efforts to double the number of railway tracks between Bristol Temple Meads and Filton Abbey Wood. These works are being done to accommodate an increase in trains starting in 2019, which is necessary due to growing demand. Read more here.
18. The Hottest Summer on Record has Rail Engineers Working Hard to Fix Damaged Track
Rail engineers in the southeast of England are having to repair nine miles of track with 3,000 tonnes of stone. The hot summer and prolonged drought has caused the ground to become extremely dry. In fact, the ground is at its driest since records began almost twenty years ago. This has caused pothole-like damage, preventing trains in the region from running at full speed. Read more here.
Appointments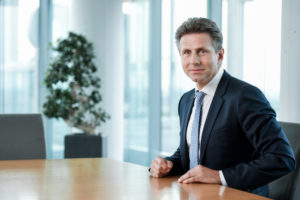 19. Supervisory Board of Deutsche Bahn Reshuffles Roles and Appoints Alexander Doll as DB CFO
At its regular meeting in Berlin Deutsche Bahn's supervisory board appointed Alexander Doll as the company's new CFO. This role has been held by DB CEO Dr Richard Lutz. Alexander Doll will continue in his role as head of DB's logistics and rail cargo division. He will take on his new responsibilities on 1 January 2019. Read more here.
20. Supervisory Board of RB (Rail Baltica) Rail Appoints Ignas Degutis Interim CEO
On 27 September the supervisory board of RB Rail AS appointed Ignas Degutis as its interim CEO. Degutis is serving as chief financial officer and member of the management board. The appointment was made following the resignation of Baiba Rubesa on the same day. Read more here.