Transmashholding-Hungary to Supply 1,300 Passenger Cars to Egypt
Egyptian National Railways, which is managed by the Egyptian Railway Authority, has signed a contract with the Russian-Hungarian consortium Transmashholding-Hungary Kft. for the supply of 1,300 passenger cars. The contract has a runtime of five years from the date of signing.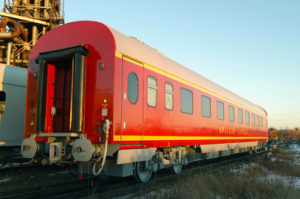 Egyptian National Railways issued its call for bids in 2017. Following Transmashholding-Hungary's successful offer the contract was signed by Mr Ashraf Raslan, Chairman of Egyptian National Railways, and Mr Sergo-Shakhzada M. Kurbanov, Vice-President of Transmashholding.
Other bidders included companies from countries such as Italy, India, China and Romania. The contract for the rolling stock is worth in excess of one billion euros, making it the largest deal ever for Egyptian railways.
Allocation of Works
Tver Carriage Works (TVZ, an entity of JSC Transmashholding): key manufacturer of components / transfer of technology / industrial organisation
TMH Engineering LLC (an entity of JSC Transmashholding): design authority in charge of the project's technical review
Hungarian consortium member: manufacturing and financial partner
TMH International AG (an entity of JSC Transmashholding): delivery of components and sub-assemblies for final car fitting at a car-building plant, created in partnership with the National Organization for Military Production in the Arab Republic of Egypt
Rolling Stock Ordered by Egyptian National Railways
The Egyptian rail operator's requirements will be fed into the design of the cars. The contract lists five different types of cars that are to be delivered:
500 cars for 3rd class with forced ventilation
500 cars for 3rd class with air-conditioning
180 cars for 2nd class with air-conditioning
90 cars for 1st class with air-conditioning
30 cars for 2nd class with air-conditioning and a cafeteria
Half of the contract quantity is to be manufactured at Dunakeszi Jarmujavito Kft. in Hungary in co-operation with TVZ, while the remaining half will be manufactured by TVZ alone.
The governments of Egypt, Hungary and Russia both expressed their support for the growth in international co-operation, saying that improvements in trade and industrial relations will open doors to even more ambitious projects in the future.