Vegetation Management Idea Wins HackTrain InnoTrans
HackTrain hackathons are all about bringing innovation to the rail industry and InnoTrans embodies that idea in its very name. So it was only natural for there to be a hackathon at the world's busiest rail show: HackTrain InnoTrans!
The participants, 60 software developers, data scientists, designers, policy makers and entrepreneurs from a variety of backgrounds and many different nationalities, were set thirteen challenges from major industry players: Deutsche Bahn, Network Rail, Siemens, ORM, SBB and the British Department for Transport.
The innovators, who grouped themselves into teams, set to work on the challenges, assisted by more than twenty industry mentors. They had four days during which they had to come up with solutions to the key problems facing the rail industry.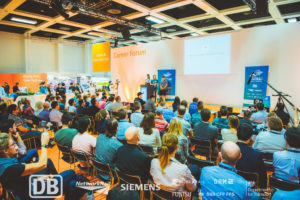 First place went to a challenge presented by Network Rail and Deutsche Bahn. It focused on the challenges of vegetation management around tracks. The team 'Veggie on Rails' developed a 3D modelling engine that is capable of automatically identifying overgrown vegetation that has the potential to damage track infrastructure. The team leader, Liucija Latanauskaité, a data scientist at the Department for Transport, has now own the hackathon twice consecutively – a first!
Second place went to 'Efficiency'. The team developed an Alexa querying tool designed to reduce the time it takes Network Rail employees to search for standards and rules.
Third place went to team 'SafetyEye' who developed autonomous drone technology capable of warning trackside workers about approaching trains.
Anthony Dewar, Head of Buildings and Architecture, said:
"To put it simply, I loved the HackTrain at InnoTrans. My team are really excited about the results we had from the hackers – my two challenges made it to the final! One, using Amazon Alexa, resulted in a developed proof-of-concept which will improve our business efficiency. The second, involving artificial intelligence, has really got us excited – we see it as a catalyst to revolutionise and introduce efficiencies to an existing costly engineering activity that will benefit Network rail as well as the wider infrastructure industry!"
Apurva Sinha, Network Rail's Head of Innovation and Information Management, said:
"I am amazed at just how quickly these innovators were able to come up with very tangible ideas that solved our business problems. It's fantastic to see how the HackTrain is able to bring together this community of doers and inspire them to drive forward innovation in rail. Next for us is to work closely with the HackTrain and my colleagues in Network Rail to make sure some of the ideas are implemented within the business."
The members of the winning team will receive a paid trip to anywhere in the world as their prize.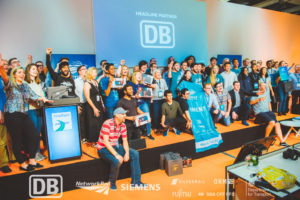 The outcomes from the HackTrain InnoTrans will be presented at the HackTrain Conference on 22 November 2018. Railway-News readers can receive a 25% discount using promotional code RAILWAY-NEWS25 here.
The conference will feature experts discussing how hacks are implemented into actual projects. There will also be case studies looking at the culture of innovation that is shaping the future of transport. It will be a day packed full of talks, workshops, panel discussions and networking.
Location: Inmarsat, 99 City Road, London, EC1Y 1AX