GE Transportation and TÜLOMSAŞ Secure Locomotive Order
GE Transportation and TÜLOMSAŞ have received a first order for locomotives by private operator Korfez Ulastirma (Turkey), which is the logistics subsidiary of Turkey's largest refinery Tüpraş. The order comprises five diesel-electric locomotives.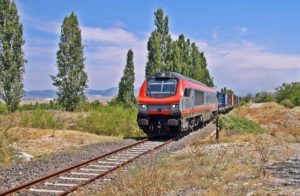 This order marks the first time since the Turkish government started issuing licences for mainline use a year ago that a private Turkish operator has made a purchase. The purchase was announced at InnoTrans and relates to the GE PowerHaul® series locomotives. They comply with European standards, namely EU Stage IIIa emissions and TSI interoperability standards. They also boast world-class fuel economy, being equipped with a 16-cylinder 3,700 horsepower GE PowerHaul P616 engine with common-rail fuel injection. As a result the locomotive delivers and 18 percent reduction in fuel consumption while still achieving maximum power.
GE Transportation had already supplied five PowerHaul locomotives to Turkish State Railways, who then leased them to Korfez Ulastirma. That means this new purchase will double the operator's fleet. And just like the five locomotives already operated by Korfez Ulastirma, these new locomotives will be built by TÜLOMSAŞ in Eskisehir, Turkey. As GE's strategic partner, the company manufactures GE's PowerHaul locomotives for Europe, the Middle East and North Africa. For this particular contract GE will provide the technology and design while TÜLOMSAŞ will be responsible for local manufacturing, assembly and final testing.
Gokhan Bayhan, GE Transportation's General Manager, Russia/CIS, Europe, Middle East and North Africa, said:
"We are honored to expand our strong presence in Turkey and become the preferred locomotive supplier to both state-owned and private operators.

"This agreement represents a significant milestone to support a dynamic, growing market and we are proud to contribute to Turkey's railways industry development goals with our technologies and experience."
Hayri Avcı, General Manager of TÜLOMSAŞ, said:
"At TÜLOMSAŞ plants, we support production of the most developed and advanced technology locomotives with our experienced, qualified workforce, facilities and capabilities.

"Manufacturing these locomotives also powers an important sub-industry and will make a real contribution to the country's economy."