Signly Network Rail: New App to Help Sign Language Users Cross the Railway Safely
Network Rail has launched a new smartphone app which will help enable the 1 in 6 deaf people who live in the UK to access a range of information to help them to use level crossings safely. The Signly Network Rail app launch forms part of a new campaign that aims to support people with visual, hearing or mobility impairment, who may face additional challenges when using a level crossing.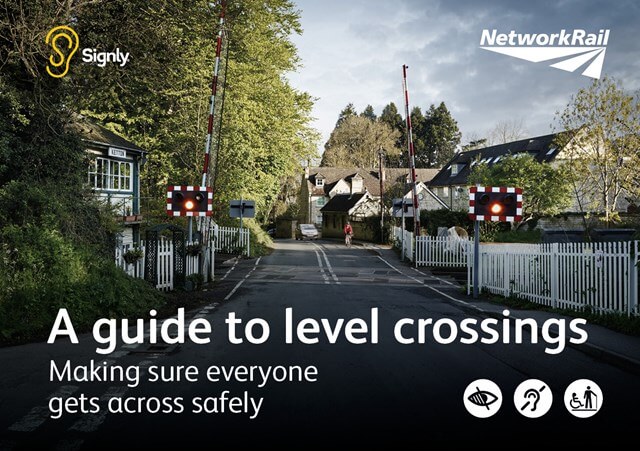 Signly Network Rail is the first national roll out of this new technology, which can be downloaded for free on Apple and Google. The app works much like a QR-code where smartphone users can point their device camera over leaflets or posters, but rather than a QR-code it is programmed to recognise an image. The app inserts a smart layer of signed (or spoken/filmed) digital information onto the screen of the user's own mobile device. They simply open the app, point their device at the Signly- enabled information and a sign language translator appears as if by magic.

Working together with a deaf charity and a specialist communications company, Network Rail will launch the app at the Deaf Info exhibition, part of the Deaf UK 50+ annual holiday, attended by over 400 members of the older deaf community.

As well as launching Signly, Network Rail has worked together with the Royal Association for Deaf people, Action on Hearing Loss, Scope, the Built Environment Accessibility Panel and The Guide Dogs for the Blind Association to produce an accessible user guide. This offers safety advice and information on audio, visual and tactile cues and also the warnings that are present at some of Britain's level crossings to help users know when it is safe to cross the tracks. The user guide is available in large print written English, plus BSL through the Signly Network Rail, which also provides an audio description. Alternative formats can also be requested via Network Rail.

Speaking at the Everyone Across Safely campaign launch, where he was demonstrating the new app to members of the deaf community, Allan Spence, Network Rail's head of public and passenger safety said:
"We want Network Rail's information to be accessible to everyone who uses the railway, whether as a rail passenger, or on a level crossing. This app and information helps more people use level crossings safely.

"Though Britain has one of the safest rail networks in Europe, accidents and near misses with trains still occur. That's why Network Rail is investing more than £100m as part of our Railway Upgrade Plan to improve level crossing safety across the nation. We hope that this campaign will help everyone who uses the railway to do so safely and with confidence."
To promote the campaign Network Rail's level crossing managers will be distributing materials in venues within the local community.  The Royal Association for deaf People will also be working closely with Network Rail to train level crossing managers on how to identify, communicate and support users with hearing impairment.
Dr Jan Sheldon, Chief Executive, Royal Association for Deaf People explains:
"The Royal Association for Deaf people (RAD) has been delighted to work in partnership with Network Rail on this project. We are pleased that Network Rail has considered the needs of the Deaf Community, this has resulted in the development of the Signly's app to provide an on-the-spot British Sign Language translation."
To find out more and download / view the user guide, visit Network Rail.