Flying Scotsman Cleared to Continue UK Tour
Following an announcement on Friday, 13 May 2016, that the Flying Scotsman would be unable to continue a tour of the Borders and Fife (Scotland), the iconic engine will be on its way following an assessment by Network Rail engineers.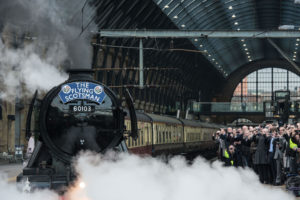 The delay was put down to an administrative error, rather than a mechanical fault with the engine itself. A full assessment by engineers and analysts should have been carried out earlier to assess whether the Flying Scotsman was compatible with the rail infrastructure on the Fife and Borders routes.
Tourists and train enthusiasts were disappointed by the delay, hoping to catch a glimpse of the engine in Scotland before it continues on its tour to the North of England.
On 13 may, a Network Rail spokesman said:
"The routes the Scotsman had planned to cover this weekend are new ones for the locomotive and have to be individually assessed by our engineers in advance.

"We understand the disappointment this will cause all those who had been looking forward to the iconic engine returning to these parts of Scotland and a full investigation will be undertaken into why these issues were not identified sooner."
Flying Scotsman Cleared
A further statement on Saturday, 14 May 2016 announced that the tour would be resumed following checks carried out by engineers and analysts overnight on Friday and into Saturday. In a statement which also carried an apology, Mark Carne, Network Rail chief executive, said:
"Overnight and through today our engineers and analysts have worked hard to find a way to get the necessary safety checks and engineering assessments done. I am pleased to say that we have been successful and are now able to reinstate the original planned tours of Flying Scotsman in Scotland on Sunday.

"Once the tours have been safely and successfully run, I will be instigating a full investigation into how this problem occurred on our railway in Scotland."