Commuter Chaos Following Paddington Train Derailment
An empty train derailed at Paddington Station on the evening of 16 June 2016 in a siding at Paddington Station, London, after it ignored a red signal. The incident caused damage to signalling and overhead wires. Although some services were operating on the morning of 17 June, Paddington Station has been hit with limited services, causing delays and crowding. Emergency repairs are being carried out.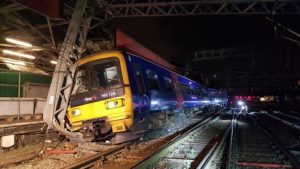 No passengers were on board the train, and there were no injuries. When the train passed through the red signal, an automatic derailment was activated. This is a safety feature to prevent a serious incident if a signal is passed. Network Rail are undertaking repairs to the line and normal service is hoped to be resumed by the end of Friday, 17 June.
The service alterations and delays have upset passengers, many of whom have gone on to social media to voice their frustrations. Around half of services are currently running.
A Network Rail spokesman said:
"An empty train travelled past a red signal outside Paddington station which activated an automatic derailment. No passengers were aboard and there are no injuries but some lines in to and out of Paddington are currently blocked.

"Our engineers are working around-the-clock to repair significant damage caused by this incident. We are working to get things back to normal as quickly as possible and to minimise the inconvenience for passengers."
The following services have been affected:
Heathrow Connect has been cancelled altogether.
Heathrow Express will run limited services.
London Paddington to Greenford will run limited services.
London Paddington and Bedwyn will run limited services.
London Paddington to Bristol Temple Meads will run limited services
London Paddington to Cardiff Central will run limited services.
Cardiff Central to London Paddington will run limited services.
London Paddington and Cheltenham Spa has been cancelled altogether.
London Paddington and Reading will run alternative services.
Passengers are urged to check their trains before they travel.