Stadler and Rhaetian Railway Unveil New Capricorn Train
Train manufacturer Stadler and Swiss operator Rhaetian Railway (RhB) unveiled the new Capricorn train, which will serve Switzerland's largest canton, Graubünden.
What makes these train special is that they can run as separable multiple units, something that hasn't been possible in the canton before. Consequently, the operator can provide half-hourly services on single-track routes without the need for expensive line extensions. In total, Stadler will manufacture 36 four-car Capricorn trains for Rhaetian Railway, making it the operator's largest purchase of rolling stock to date.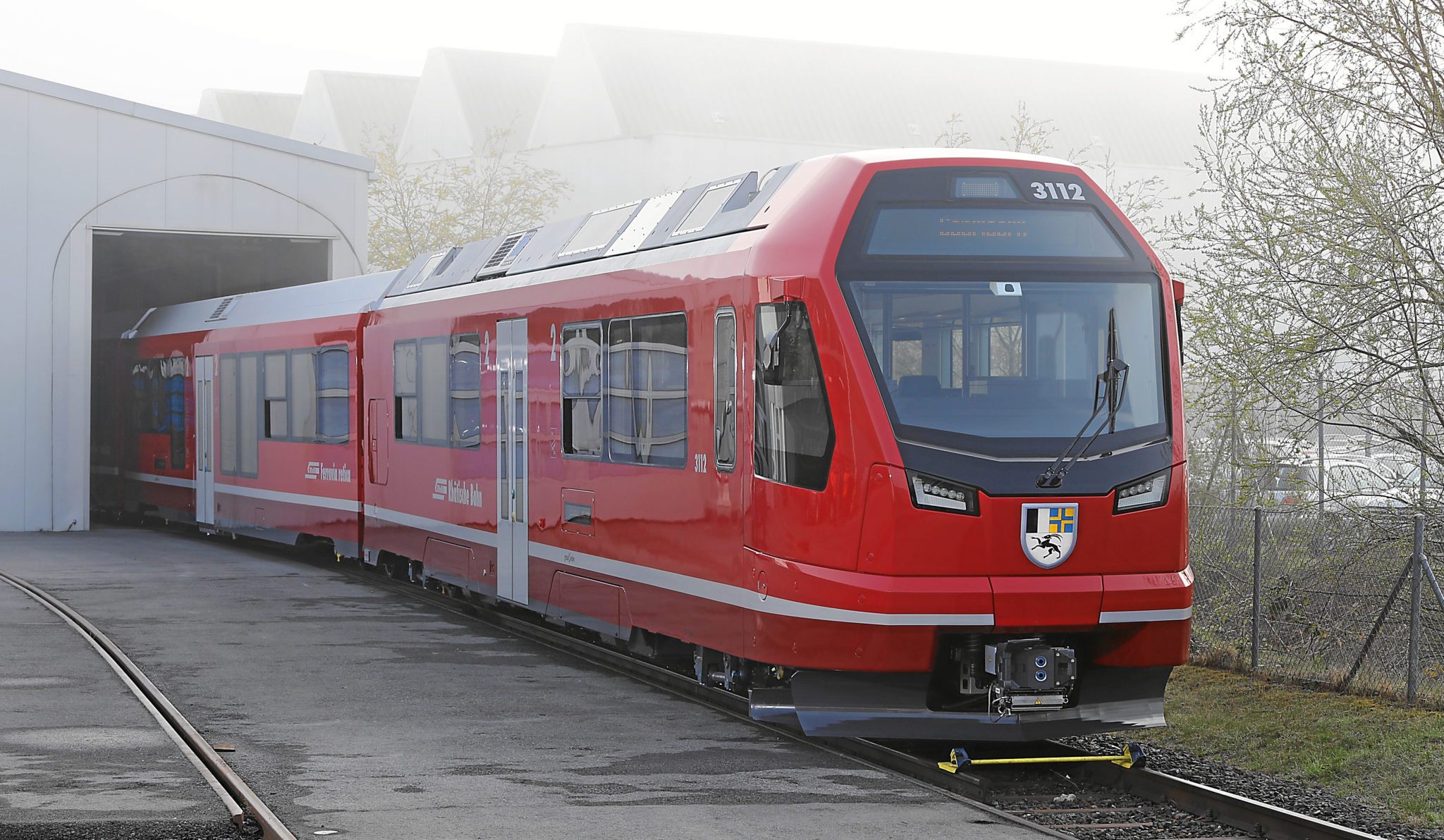 Unveiling of Stadler's Capricorn Train to the Public
On 15 April the Director of RhB, Dr Renato Fasciati, and Group CEO of Stadler, Dr Thomas Ahlburg, unveiled the Capricorn to the public for the first time. 120 guests attended the arrival of the new multiple unit in Altenrhein. The two CEOs subsequently cut the red ribbon together.
The roll-out milestone is an important one for any rolling stock manufacturer, especially with a train full of very complex technology.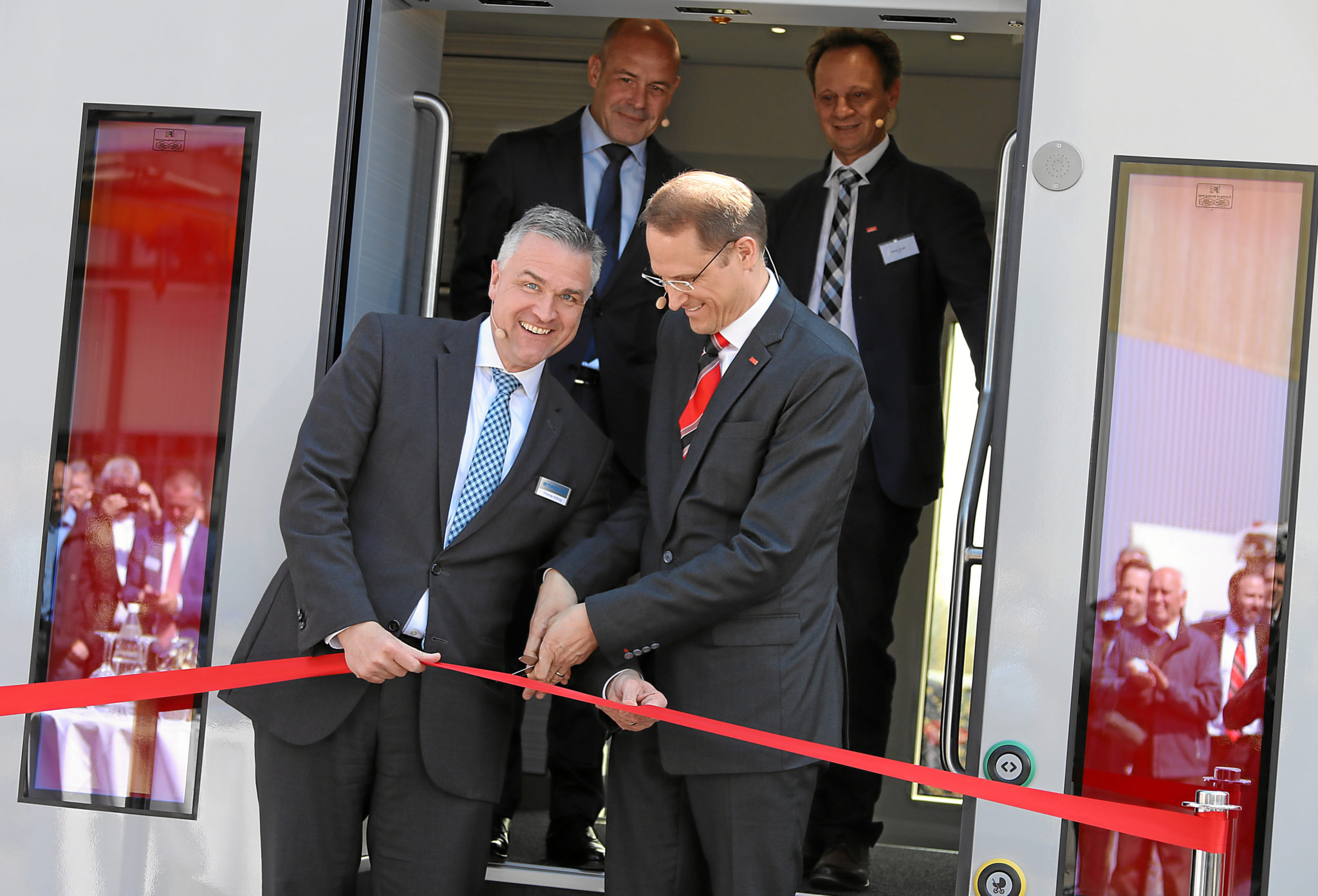 Rhaetian Railway Order
Rhaetian Railway ordered 36 multiple units from Stadler at the end of June 2016. This order is worth 361 Swiss francs (318 million euros, 360 million USD). Once in service, these low-floor Capricorn trains will contribute hugely to modernising RhB's existing fleet. The new trains will allow RhB to increase its productivity too.
The RhB is hoping to put the first new Capricorn trains into service starting in autumn 2019. They will run on the Landquart-Davos-Filisur line. By 2021 then the separable multiple units should also run on the Landquart-Klosters-Davos/St. Moritz route. In addition, the trains will operate in the Surselva and Unterschnitt regions.
Renato Fasciati, Director, RhB, said:
"The new 'Capricorn' is a historic m milestone in two respects. Firstly, we can offer our passengers more comfort. The successive commissioning of the new trains will give us modern rolling stock accessible to handicapped passengers on our entire main network. Secondly, with an order value of 361 million Swiss francs, this is the largest procurement project in our history. The new trains represent a significant leap forward in terms of rail traffic productivity in Graubünden. We are delighted to be able to successfully implement this project with our long-standing partner, Stadler, by our side."
Separable Multiple Units
The most innovative feature of the Capricorn is that this multiple unit can be separated into sections in transit. Therefore, two partial trains can then travel to different destinations. Furthermore, on the return journey, the two sections can be joined together again and continue as one. This will make services possible every half hour on the single-track Landquart-Klosters line without any infrastructure enhancements. And in order to guarantee smooth operations, the Capricorn train is fitted with automatic coupling.
Thomas Ahlburg, Group CEO, Stadler, said:
"We are very proud to present the new train for Graubünden today together with RhB. The entire Stadler team is always very pleased when we as a Swiss manufacturer have the opportunity to develop a train for Swiss rails. We have been building trains, locomotives and wagons for the RhB since 1963. The trust and mutual familiarity established over the years were instrumental in enabling us to develop and build the train so quickly. RhB passengers will appreciate their journeys in the sturdy, comfortable trains."
Stadler Capricorn Train Specifications
Each four-car multiple unit has 164 seats, of which 35 are in first class (137 in second class). There are power sockets for passengers in all compartments. Furthermore, the passenger information system provides important journey updates. As is the case for most other RhB trains, windows in all compartments of the Capricorn can be opened. And of course, the trains have space for bicycles, skis, other sports equipment, pushchairs and luggage.
The trains have a top speed of 120km/h. Three of the four cars have low-floor entrances. They also feature a disabled toilet, wheelchair spaces and tactile signs for the visually impaired.  Finally, the trains come with a fire-fighting system.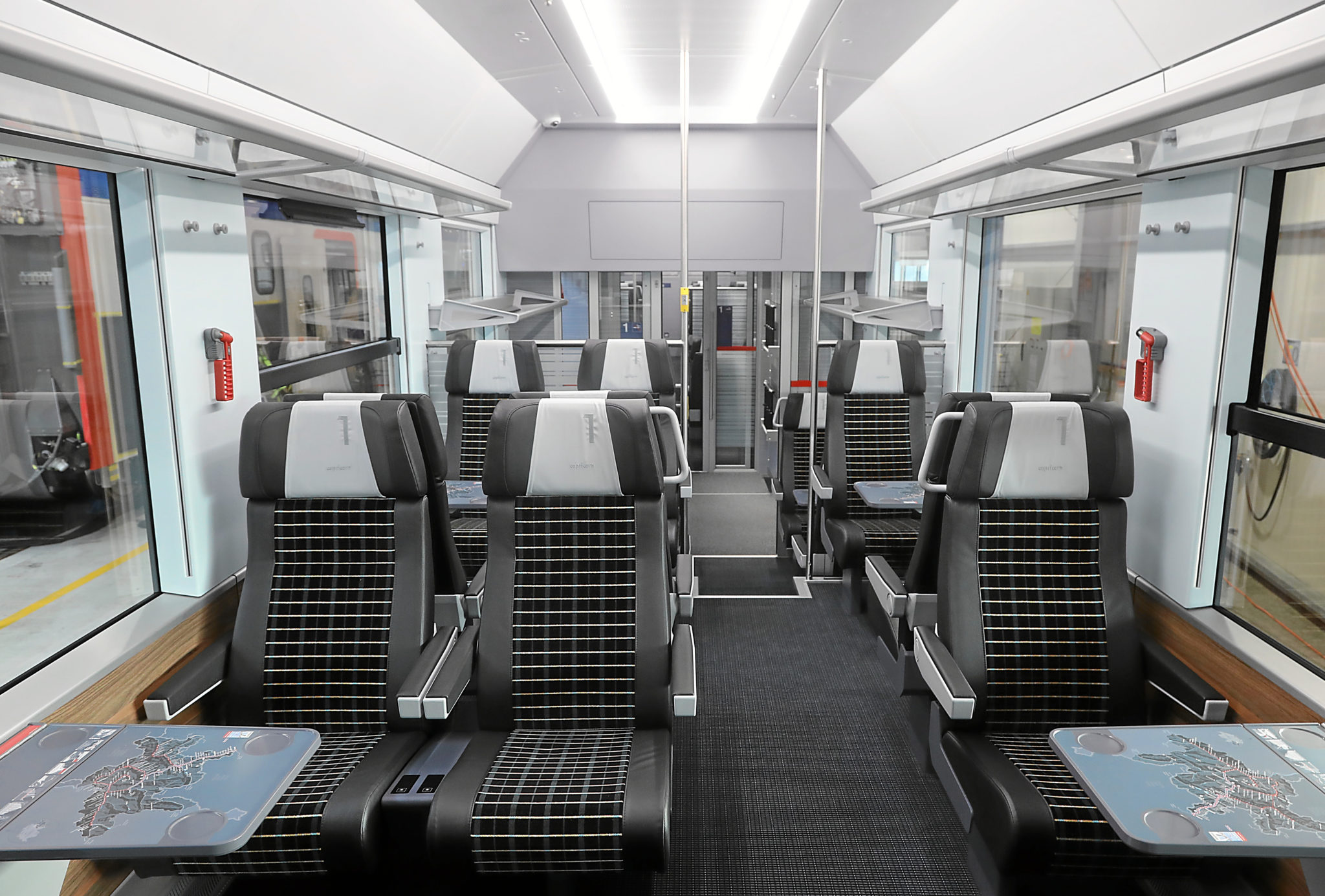 More Swiss rail news for you: