Starting on 30 April Eurostar will operate direct services into London from Amsterdam.
Up until now, passengers travelling from Amsterdam to London had to disembark in Brussels for passport checks – red tape made necessary by Britain's decision not to be part of the Schengen Area. However, Eurostar's Amsterdam station now has the relevant border infrastructure to perform the passport checks at departure. On 18 May the direct Eurostar service from Rotterdam to London will follow.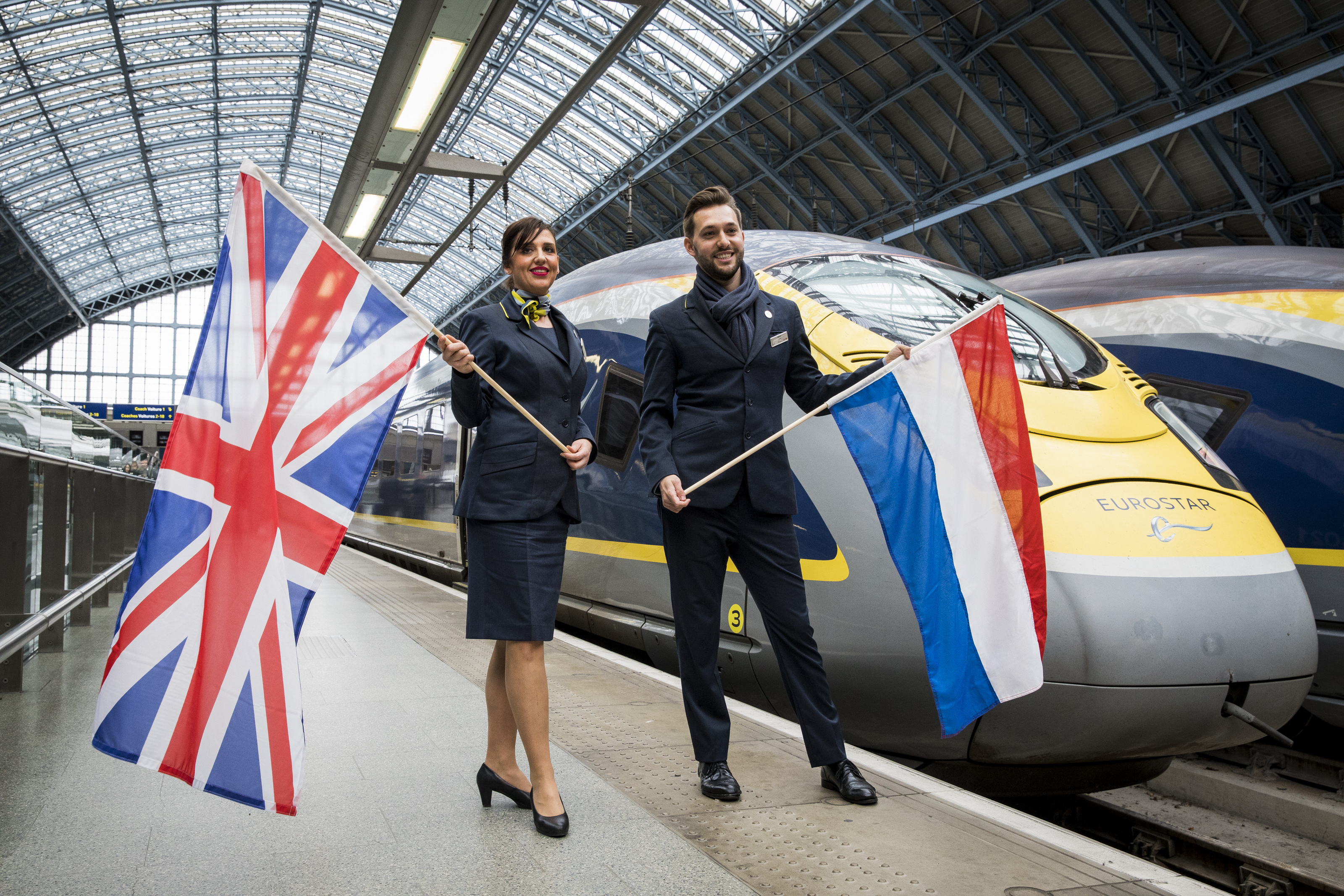 Eurostar has been running direct services from London to Amsterdam since 2018.
To mark the new direct service, the inaugural Eurostar departed Amsterdam for London at 7:48am on 4 February. A week later, on 11 February, passengers will be able to buy tickets for the new service. Tickets will start at 35 GBP | 41 euros.
The ability to travel direct for both the outbound and the return journey will hopefully entice more passengers to use rail over its much more polluting alternative, flying. Eurostar estimates that making this journey by rail rather than by plane will save 80 percent of carbon per passenger.
"The direct connection makes the train journey to London easier and faster. Checks in Brussels will no longer be necessary, saving travellers an hour of travel time. This way the train really becomes a fully-fledged alternative to the plane."
To date there are three direct services per day from London to the Netherlands. Once the direct Amsterdam-London service commences, Eurostar will start with two services per day, and hopes to increase that to first three, then four.
"Brexit or not, London will be closer from 30th April. Eurostar will take travellers from the centre of Amsterdam to the heart of London in four hours. The international services to Brussels and Paris are already a success, and from today we can now add London: the sustainable train is the future and brings Europeans together."
Cora Van Nieuwenhuizen, Minister of Infrastructure and Water Management, and Ankie Broekers-Knol, Secretary of State for Security and Justice, were at the station in Amsterdam to see off the inaugural service. The Eurostar can complete the journey in 4hrs 9mins. In London, the train was greeted by Grant Shapps, Secretary of State for Transport (UK).
"We're continuing to invest in modern, efficient transport links with the continent so our businesses and tourism industry can flourish. The days of passengers being forced to decamp from the train at Brussels to file through passport control will soon be over, as we look forward to direct, return, high-speed services to Amsterdam and beyond."
Eurostar says that in addition to being a much less polluting way to travel than by air, it is also planting a tree for every service it operates across its routes.
"Our services from the UK to the Netherlands have proved very popular with over half a million travellers since launch. Our fully direct service marks an exciting advance for high-speed rail and provides consumers with a comfortable, environmentally friendly alternative to the airlines on one of Europe's busiest leisure and business routes."
Another route that will hopefully become direct in 2022 is between Bordeaux and London. The issue is the same one – the station in Bordeaux doesn't currently have the necessary infrastructure to perform passport checks so passengers have to disembark in Paris to accommodate the British requirement.
Also read: