By Norman Baker, Director of External Affairs, Campaign for Better Transport
Rail travel should be affordable. It's one of the greenest ways to travel and as we try to reduce carbon emissions from transport rail should be seen as the default mode where possible. Yet travelling by train can be expensive and buying a ticket can be complicated and confusing. More than a third of people (35 percent) are put off travelling by train because they find fares too complicated and confusing. With an estimated 55 million different types of tickets available, it's hardly surprising.
The Government recognised this and committed to 'root and branch' reform in 2021 as part of the Great British Railways: Shapps-Williams Plan for Rail. However, no timeline for reform was ever set. The Rail Reform Bill, which will contain the legislation needed to make the necessary changes, has been subject to unapologetic delay and potential cancellation by the Government and was only included as a draft Bill in this week's King's Speech.
We urgently need a fairer system with simpler ticketing which makes booking easier and provides better value for passengers. Our new report, A fare future for rail: A blueprint for fares and ticketing reform calls for just this and, crucially, sets out a blueprint on how to achieve it.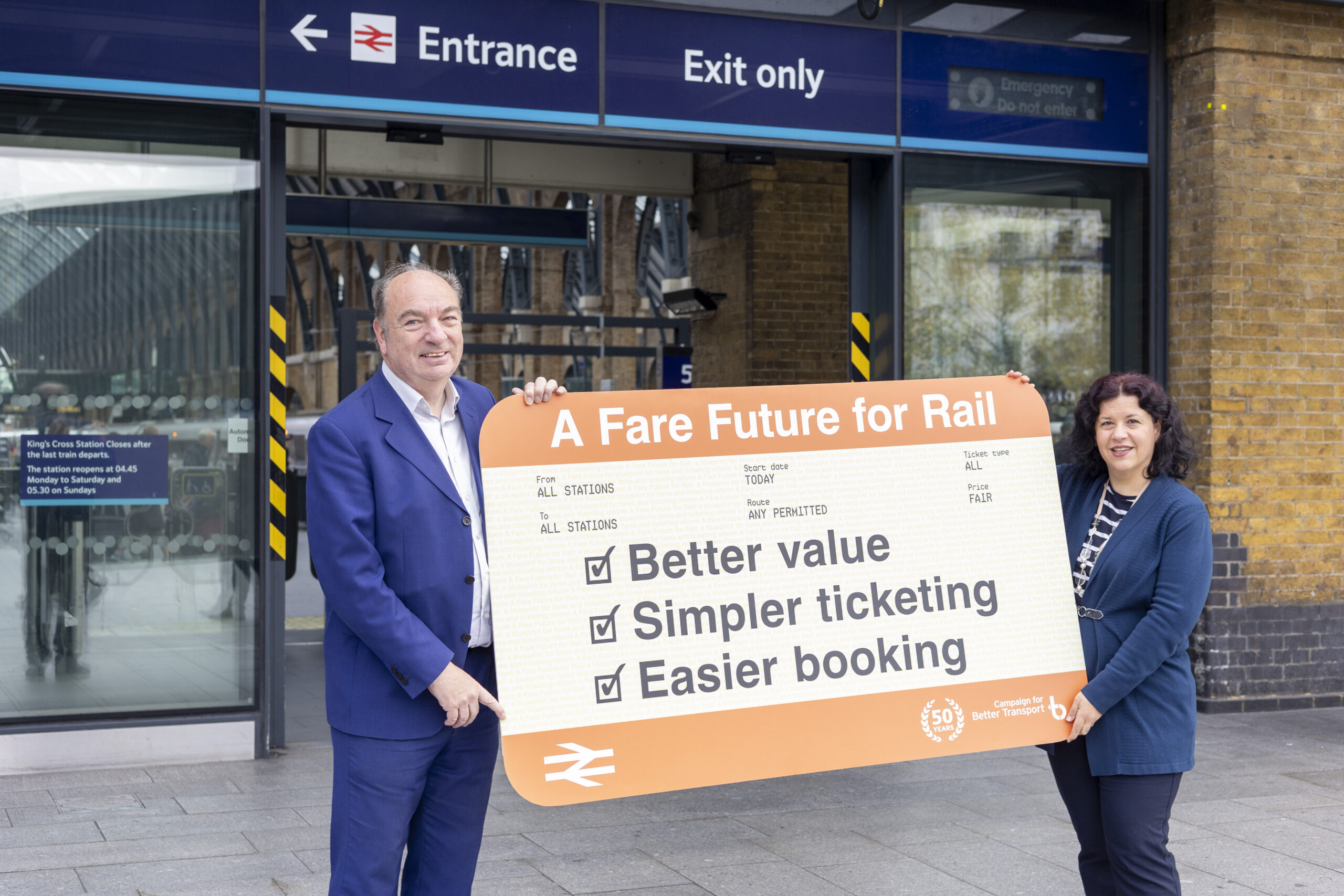 Amongst other things, we want to see a 'Best Price Guarantee' trademark introduced on all tickets to reassure passengers they are always getting the best value fare for their journey, a government-funded trial of low-cost public transport passes (like in Germany and France), and a Rail Miles frequent traveller scheme which rewards passengers the more they travel by train.
Whilst writing this report, we dug down into a fares system riddled with unnecessary complications, bizarre rules and wild inconsistencies which has become a real barrier to train travel for many people. This shouldn't be the case. Our research revealed a myriad of inconsistencies within the fares system and between train operators, including these anomalies:
Anytime day returns cost the equivalent of anywhere between 15p and 62p per mile
Travelling during peak times can cost you from as little as six per cent more, to as much as 132 per cent more compared to off-peak
A weekly season ticket can cost the same as five day-return tickets, or half as much
A monthly season ticket can be 43 per cent cheaper than buying four day returns each week for four weeks, or 20 per cent more expensive
The savings from flexi-season tickets, compared to the equivalent number of anytime tickets, range from as much as 31 per cent to as little as five per cent
Given these complications and inconsistencies, it's little wonder that 750,000 people felt strongly enough about the Government's proposal to close railway station ticket offices to take part the public consultation earlier this year which resulted in a clear rejection of the plans and a rethink by Government. What was clear is that not only do people value help when buying a train ticket, they need it to navigate an overly complicated system.
To tackle this, and other ticketing issues which are currently deterring people from travelling by train, our report makes 16 recommendations which would help deliver four key aims to create a fairer system with simpler ticketing which makes booking easier and provides better value for passengers.
Better Value
To provide better value for passengers and help boost passenger numbers, we are calling for a 'Best Price Guarantee' and a low-cost regional monthly ticket (similar to those available in some European countries), with rewards for frequent travellers in the form of Rail Miles.
We also want to see Government guarantee that fare rises, in percentage terms, remain level with or below driving cost rises, and reform the way annual fare increases are calculated.
Simpler Ticketing
To simplify the system, we recommend a slimmed down structure which ensures consistency across the network.
Recommendations include scrapping some peak periods, with remaining peak fares costing a maximum of 20 per cent more than off-peak ones, single-leg pricing and multi-modal, capped-price smart card and contactless pay-as-you-go ticketing across England.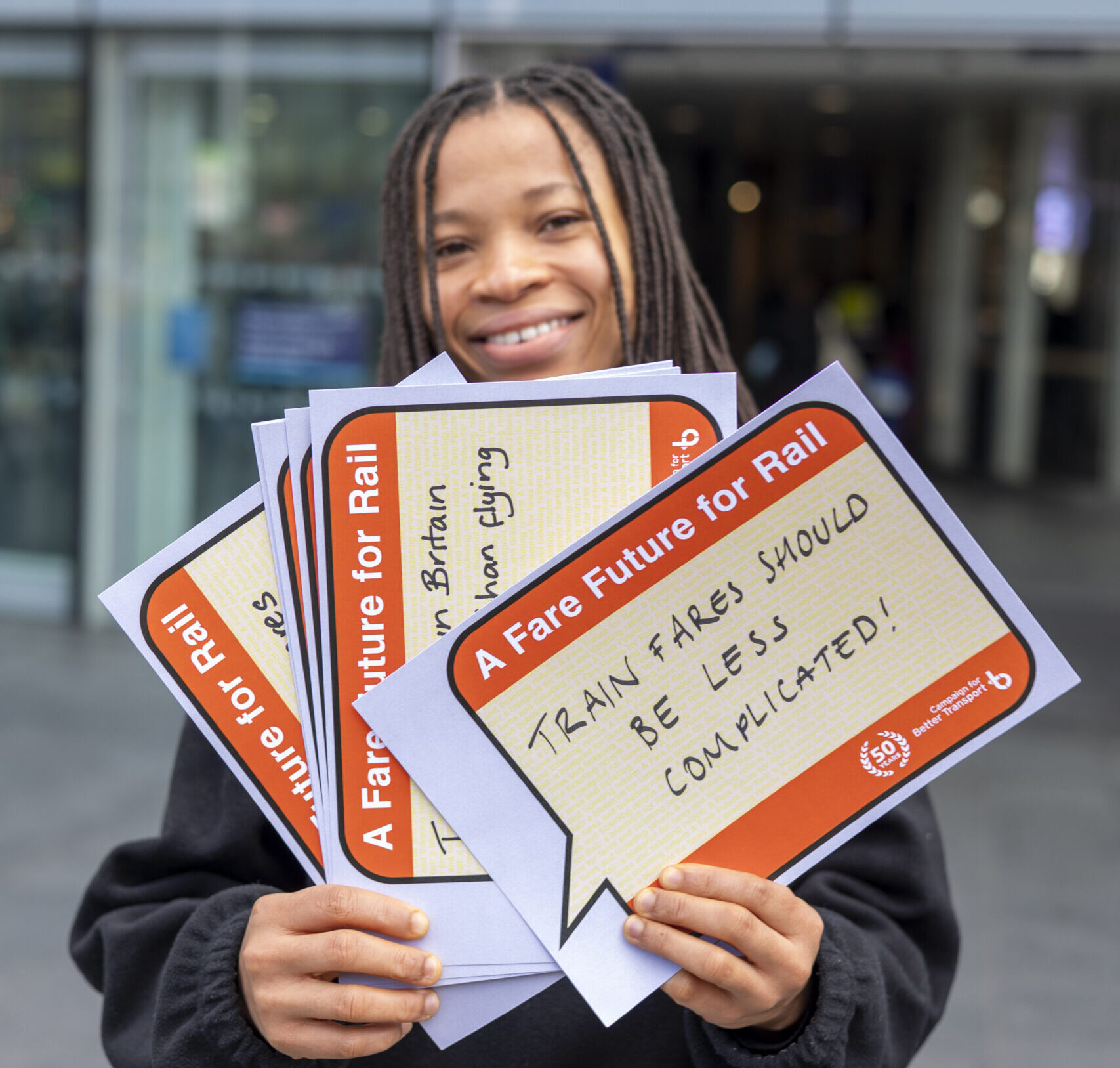 © Kimi Gill
Easier Booking
To make buying tickets easier for passengers, we recommend extending the booking window so that people can buy advance tickets much closer to departure with all ticket types available from retailers whether you book online or person, direct with a train company or through an independent retailer, to encourage competition and innovation. We agreed with the decision by Transport Focus that ticket office closures should not go ahead, recommending in our report, which came out the same day as the decision, 'that any ticket office closures should be delayed until after fares and ticketing have been simplified'. We also want to see more intermodal tickets available, including reviving Rail & Sail tickets which combine train and ferry travel to Europe.
Fairer System
To make the whole system fairer, we need to cut fare evasion with more ticket barriers, properly staffed stations and innovative measures, such as changing barcode tickets.
We also want to see the Rail Reform Bill expedited to establish Great British Railways to manage both cost and revenue on the railways as soon as possible, along with the legislation needed to make some of the necessary fares reforms. Until this happens, we need the Department for Transport, the Treasury and the rail industry to work together to progress the fares and ticketing reforms which can be done without legislation.
What is clear is that the Government needs to shunt the long-awaited reform of fares and ticketing out of the sidings and get it back on track to ensure a bright future for the railways. Creating a rational, easy to understand, easy to use fares and ticketing system could drive more business onto the railway more quickly and more cheaply and should be a priority for the Government and the rail industry. Our report provides the blueprint for just that.
Sign up to Campaign for Better Transport's mailing list to find out more about the organisation's work.