ScotRail Services Affected by Extreme Rail Temperatures
ScotRail announced on 3 August that rail temperatures in Scotland reached and even exceeded 50 degrees on 28 June 2018.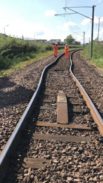 Consequently Network Rail had to put speed restrictions in place throughout the country in order to avoid tracks buckling. Such a safety measure decreases the risk of train derailments.
In addition to the challenging weather conditions that caused the rail tracks to heat up to such an extent, there were a number of signalling problems on the network as well, mostly in the Glasgow area, further contributing to disruption. Network Rail Scotland will be responding by spending an additional five million pounds over the coming eight months to fix the issues around the city.
Network Rail Scotland and ScotRail are also performing a review of the hot weather to see what they can learn from the conditions they faced in recent weeks.
ScotRail Performance
Overall, during the four weeks leading up to 21 July 2018 85.5% of ScotRail trains arrived at stations within five minutes of when they were supposed to arrive without skipping any stations. ScotRail runs an average of 59,600 trains over such a period. The operator's performance for the whole of 2018 to 21 July 2018 was 88.4%.
Alex Hynes, Managing Director of the ScotRail Alliance – a partnership between ScotRail and Network Rail Scotland – said:
"I'm sorry to our customers who have experienced disruption recently due to the problems with track and signals. This, combined with the extremely hot rail temperatures, meant our performance has simply not been good enough.

"Customers expect a reliable service and my teams in Network Rail Scotland and ScotRail are determined to give them that."
The weather this summer has been unusually hot, not just in the UK but across Europe. With summers generally getting hotter as a result of climate change it is only likely that these kinds of problems will become more frequent.