Climate Change and the Railways
Our transport network has always been impacted by our climate and natural events.
This is true for air, sea, road and rail transport. Storms and high winds will stop ferries from sailing and snow and ice regularly cause chaos on the roads. Other more one-off events, such as the eruption of Eyjafjallajökull in Iceland in April 2010 caused huge disruption to air travel, with up to 19,000 flights per day being cancelled, with the resulting economic impact.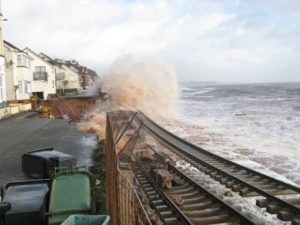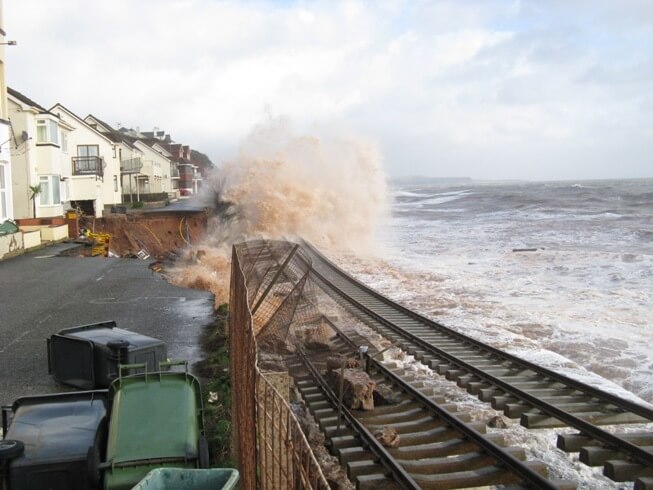 Railways Impacted by Weather Events
So how about climate change and the railways? In January, icy rain in Germany stopped an Intercity Express train carrying 600 passengers in its tracks for more than 22 hours. This was because the overhead lines were frozen, preventing the electrified train from onward travel. On the same journey, there was another unintended stop due to frozen points. Some of the passengers spent the freezing cold night on the train, others on makeshift beds in a waiting room, with blankets and food supplied by the German Red Cross.
Barrage of Storms Damages Main Line to London at Dawlish, UK
On 4/5 February and 14 February 2014, the constant barrage of low-pressure weather systems hitting Britain from the Atlantic caused the railway line at Dawlish on the main line between Plymouth and London to close after 100 metres of sea wall washed away, causing substantial stretches of track to fall into the sea. The only rail connection to the Southwest of England was closed for 2 months as a result.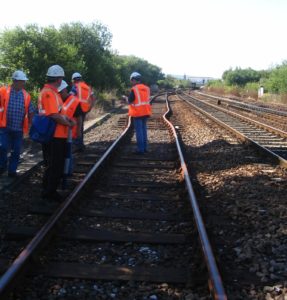 Impact of Hot Weather on Tracks
In the UK, where tracks are laid on sleepers and ballast, hot weather can put tracks at risk of buckling, because the steel expands in the heat. Measures are undertaken to prevent this, such as including extension joints to allow this process to happen safely. Simple measures such as painting track white also help and fitting track sensors is vital to alert railway staff of such expansion. Trains are either cancelled or slowed as a result, as occurred frequently over the summer of 2015. Indeed, 2015 was the hottest year on record, beating the previous record just a year earlier in 2014. The UK Met Office has estimated 2016 will be at least as warm, if not warmer. We are therefore set to see an increase in such delays and economic losses, as well as a need for more investment to prevent catastrophic outcomes such as derailments. Hotter countries with railway lines have to use slab track, for example, where the tracks are laid on to reinforced concrete. This construction measure is four times as expensive.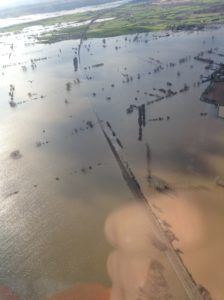 Railway Line Flooding
December 2015 was the wettest on record. In fact, it was the wettest calendar month since records began in 1910. Storm Desmond brought more than a month's rainfall to parts of Cumbria. Further heavy rainfall throughout the month caused major flooding in the North of England, affecting tracks, bridges and viaducts and causing multiple railway lines to close.
Snowfall
In the United States meanwhile, rail services on the east coast were closed during the weekend of 23/24 January 2016 because of near record amounts of snowfall. The tracks had to be de-iced and ploughed before service could resume.
Climate Change Means More Weather Extremes
Climate change has been a growing concern for some time. Our climate will see more temperature extremes, increased flooding, sea level rises, increased amounts of rain and snow and more frequent, severe storms. This will put added pressure on our transport system that is already susceptible to being impacted by the weather. It is likely that these impacts will only become more plentiful and severe.
COP21
December 2015 saw COP21 – the 21st Conference of the Parties to the United Nations Framework Convention on Climate Change being held in Paris. Its goal was to obtain international agreement to keep global warming to below 2ºC and to minimize the extent of climate change. The message here is clear: climate change is happening and our weather patterns will become increasingly erratic and all we can do now is to keep these effects to a minimum by cutting down drastically on greenhouse gases.
Rail Most Climate-friendly Form of Transport
It was widely recognized that rail travel is the most environmentally friendly form of (powered) transport we have, which is why world leaders from as far away as Mongolia chose to attend the conference by train. As a result, rail travel plays a vital role in our transport needs for the future, moving passengers and freight across the world sustainably. A quarter of the world's CO2 emissions come from transport, with railways being the lowest-emitting form. It is therefore clear that shifting to rail from other forms of transport such as shipping, aviation and road traffic will help with the climate change goals set out by COP21.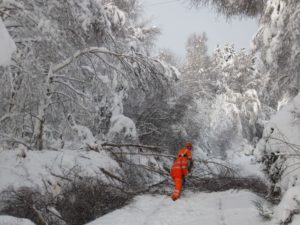 Railways Must Become More Resilient
However, our railways will have to adapt and become more resilient. Obtaining more and accurate data is a clear factor in successful management. Citing the Climate Change Act, Defra, the Department for Environment, Food & Rural Affairs, requested reports from key infrastructure providers, including the railways, to assess the risks and solutions posed by climate change. As the examples above suggested, the focus for the rail sector here will be on flooding of tracks, stations and depots, track bucking and train failure in heat, coastal vulnerabilities and maintenance challenges in ongoing poor weather.
RSSB Climate Change Report
The Rail Safety and Standards Board (RSSB) has overseen a project entitled Tomorrow's Railway and Climate Change Adaptation, which looks at how our changing weather patterns will affect British railways, how they can be made safer and more reliable and provide value for money in light of our changing climate. Phase 1 of the project was published in June 2015. Phase 2 of this project will look at how the British rail industry can adapt to more extreme weather and will be published in the spring of 2016.
John Dora, Network Rail's Principal Engineer on Climate Change, said about the study:
"Britain's railway today is resilient to adverse weather but to safeguard its future we must continue to stay prepared in managing the impact from a changing climate. At Network Rail, we are ahead of the game with a clear climate change adaptation strategy. We are currently working with RSSB in pioneering an impact analysis study and a modelling tool to understand the impact of climate change on the railway.  This also means that we are able to start early dialogues and debates with key stakeholders, including the Environment Agency and the Department for Transport, to influence changes that are vital to protect our railway."
TfL Issues Report on Climate Change Adaptation
In October 2015, Transport for London (TfL) issued its second round report on climate change adaptation. It demonstrates that sensible, tangible measures can be taken to allow our railway system to function reliably in the face of extreme weather. For instance, with the increased likelihood of flooding, new flood risk studies need to be conducted and adhered to for new construction projects. Flooding response strategies need to be in place and second nature for when these events strike existing infrastructure. Air-conditioning in the Underground trains can help with heat. Communication with passengers about when to travel is vital. The UK also stands to learn a lot from adopting construction methods and materials used in countries that already experience the weather phenomena the UK is set to experience with greater frequency.
Drastic Consequences: Route Abandonment?
In some cases, more drastic action might have to be taken. In the case of the Dawlish railway line for example, Network Rail has received government backing to look at abandoning the route and moving to an alternative one, after repair works cost £35m and the line remains as vulnerable as ever due to its location.
Climate Change and the Railways: Conclusion
In conclusion, climate change is happening and we need to adapt the way we travel to minimize the effects. Rail travel for both passengers and cargo is the most environmentally-friendly form of transport and its use should be increased. Weather affects the railways in very different ways, requiring individualized responses, big and small. Being able to make intelligent decisions thanks to the availability of data and having the right technology available to prevent problems will allow the railways to adapt from their once Victorian industrial past to the green, sustainable transport option of the future and to cope with the challenges presented to them by a changing climate.