San Francisco BART Fleet Advances to Next Testing Phase
As of this week, San Francisco Bay Area Rapid Transit (BART) riders on platforms and stations may get a glimpse of train cars from the new Fleet of the Future, as the first pilot batch is tested on mainline tracks during business hours.
The trains are test trains only with staff aboard; they are not yet certified to carry public passengers.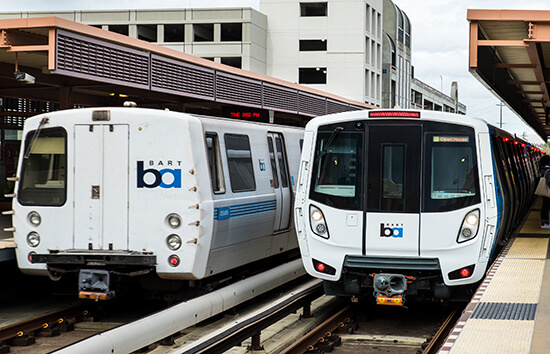 Fleet of the Future
Already, the trains have been put through their paces on a test track, and have been doing test runs during the overnight hours when no passenger trains are running.
This marks the first time they'll be running tests during business hours on the mainline, albeit with no paying passengers aboard. Not all of the train cars will be out at the same time, because some are being used off the main tracks for operator training.
Mainline Testing
The trains will have an "OUT OF SERVICE" indication on them and the platform destination signs will read "TEST TRAIN – DO NOT BOARD."
The trains may make stops at stations and doors may open, depending on which testing is being performed. If doors are open, test personnel or barriers will be in place to prevent inadvertent passenger entry.
Once testing is complete with the batch of pilot trains, they will be put into service for passengers, and delivery of more new train cars will ramp up.
Original article © BART.
FOR ALL THE LATEST INFORMATION, NEWS, IMAGES, VIDEOS AND ARTICLES ON ALL ASPECTS OF ROLLING STOCK, PLEASE CLICK HERE.