Freight Trains in Britain to be Upgraded With New Digital Technology
A less congested, better performing railway comes a step closer to reality today, with the signing of a major, multi-million pound contract that will ultimately see freight trains in Great Britain upgraded with technology to make them safer, make better use of the network, and provide greater flexibility in the timetable.
Freight trains – which can be up to 775 metres long – carry goods and materials all across the country. They support the economy by connecting British businesses to the world through direct links to ports, and reduce road congestion by taking 7.6 million lorry journeys off the road each year. New digital technology will support this essential industry – which directly contributes £870m to the nation's economy every year – by enabling more efficient and reliable running of freight trains alongside passenger services.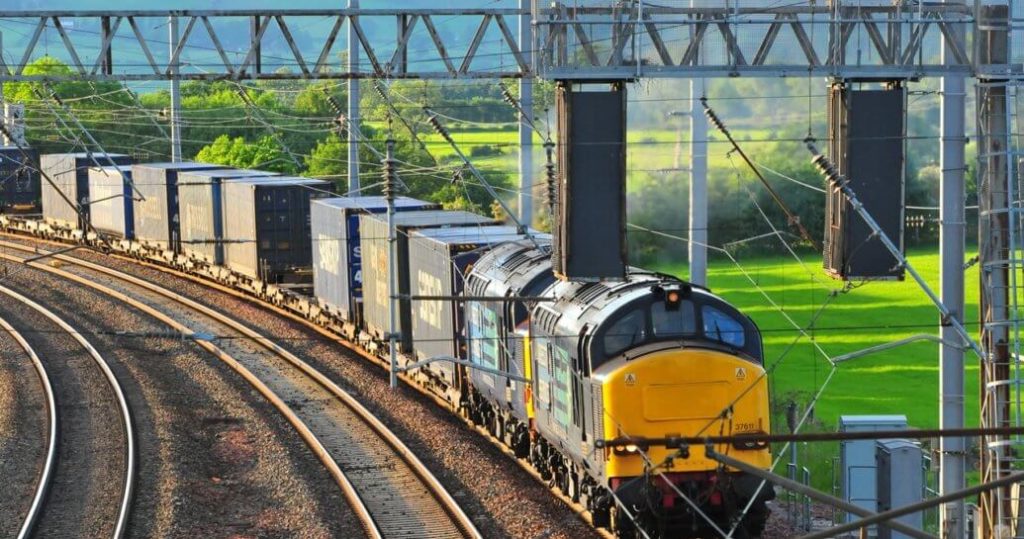 European Train Control System (ETCS)
A landmark contract has been awarded to Chippenham based Siemens Rail Automation by Network Rail to start installing European Train Control System (ETCS) in-cab signalling on Britain's freight fleet with an ultimate ambition of equipping around 750 vehicles, creating skilled jobs within the UK. This technology forms part of the country's 'Digital Railway programme' – the industry's improved plan to tackle the growing demand and strain on the railway by accelerating its digital modernisation – and will mean eventually, freight trains will have improved operational performance on a mixed traffic network. The Government has announced £450m in funding for digital railway schemes, as part of its National Productivity Investment Fund.
The initial focus will be on the heaviest used types of locomotive and the learning from this first stage will be used to inform the wider potential fleet roll-out from 2022 onwards.
Tackling Congestion and Crowding
With more than a million more train services running every year on our network than a few years ago, tackling congestion and crowding on our railway is a daily challenge. Our railway carries twice as many passengers as it did just two decades ago and demand is still rising. Upgrading the network's railway signalling – the equipment used to manage and coordinate train traffic across the country – is the cornerstone of the Digital Railway programme, as switching from lineside signals to on-train will allow more trains to run on existing tracks, reduce crowding, provide better connections, and improve performance and safety for passengers.
New Digital Technology
The initial phase is expected to lead on to become one of the world's biggest ETCS retro-fit programmes; Siemens will install its Trainguard 200 ETCS on-board solution on freight locomotives which operate across Great Britain. Siemens' Trainguard Level 2, Baseline 3 system will be installed to align with Network Rail's proposals for deploying ETCS to the rail network. The contract will see Siemens working with Network Rail and the six Freight Operating Companies (FOCs).
ETCS ensures trains always operate within safe limits and speeds, providing safe movement authority directly and continuously to the driver through a driver's display. The system permits the driver to operate the train, but should the ETCS distance or speed limit be exceeded, or be in danger of being exceeded, then the on-board equipment intervenes to control the train, bringing it to stand if necessary. Siemens Trainguard 200 is a proven, lower power and reliable solution with highly robust fall-back odometry and radar configuration, and features 'Automatic Warning System' (AWS) and 'Train Protection and Warning System' (TPWS) functionality which is integrated into the ETCS driver display. With a small footprint and flexible hardware configuration, the system is ideally suited for design and installation across multiple freight classes.
Freight trains are at the forefront for ETCS fitment, as unlike other trains, they are able to travel across the entire country, passing many 'route' boundaries and interacting with various types of train traffic and signals.
Creating Skilled Jobs in the UK
The design, testing and approvals stage for each class of vehicle starts now and work to retrofit the entire freight fleet will begin in 2022 and continue through to Control Period 7 (CP7, 2024-2029). Additionally, around 2400 drivers will require additional training on how to use the new solution. Siemens and Network Rail will provide support to the Freight Operating Companies during this time, and it's expected the programme will involve more than 150 skilled engineering jobs across the UK, with the installation teams being based at the Holgate and Eastleigh depots.
Chris Grayling, Secretary of State for Transport, said:
"We are making the biggest investment in the railways since Victorian times and this includes £450m for integrating digital technology on our railways. This technology has huge potential to improve journeys for passengers and to boost our freight industry by cutting delays and increasing the number of services. Today is an important step towards our future as a digital railway that is fit for the 21st century."
Original article © Network Rail.
FOR ALL THE LATEST INFORMATION, NEWS, IMAGES, VIDEOS AND ARTICLES ON ALL ASPECTS OF SIGNALLING AND TRAIN CONTROL, PLEASE CLICK HERE.