First Riyadh Metro Trainset Delivered On Schedule
Alstom, as a part of FAST consortium, hands over to Arriyadh Development Authority (ADA) the first of the 69 metro trainsets for Riyadh that will circulate on the lines 4, 5 and 6. The production of the Riyadh metro trainsets is well on track and Alstom is set to meet its deadline and deliver all the metro trainsets by end 2018.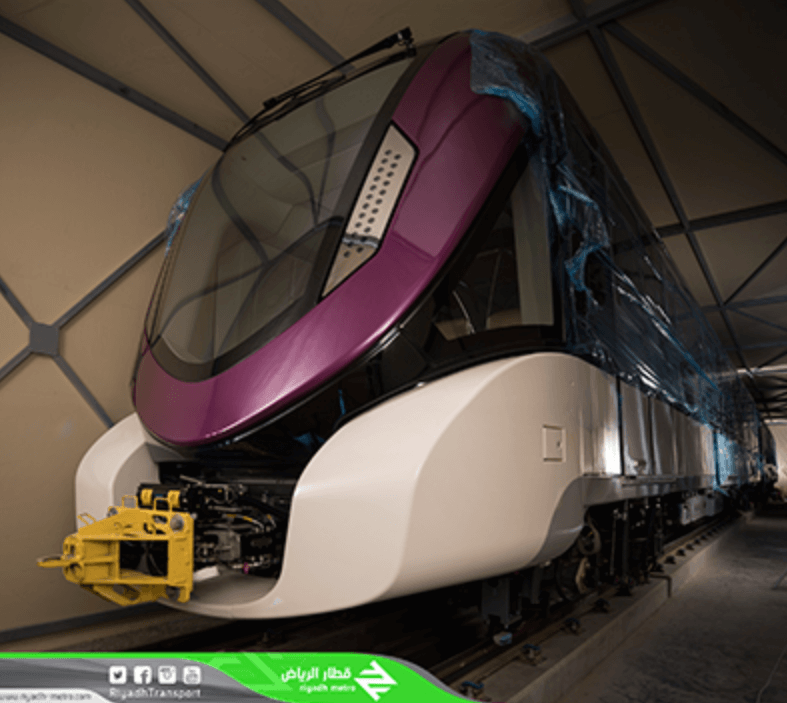 Riyadh Metro System
ADA launched in 2013 a project to build a metro network that would be 176 km-long and include six lines and 85 stations. Alstom, as part of the Fast consortium, is in charge of supplying a full integrated metro system for lines 4, 5 and 6 (or Yellow, Green, and Purple lines). The metro system includes 69 Metropolis trainsets, as well as Urbalis, Alstom CBTC signalling solution, the power supply and its energy recovery system Hesop.
Riyadh Metro Trainset
Composed of two cars each, the Riyadh metro trainset is 36 meters-long and is able to accommodate up to 231 passengers. Each train features three classes: first, family and single class separated by a glass partition. The trains will offer passengers a high level of comfort, ergonomic seating, LED lightning and advanced passenger information systems.   The interior and exterior aesthetical design has been developed as per ADA's specific requirements. The exterior car body features painted stripes that indicate the colour of the line the metro trainset will circulate on.
The metro trains are 100% motorised, allowing them to run on gradients of up to a 6% slope. The trains are designed to run on standard-gauge track at a top speed of 90 km/h. The trains have been designed with the region's climate in mind. One such feature is a more powerful air conditioning system, capable of delivering sufficient cooling capacity even in extreme heat. In addition, the bogies, traction drive, brakes and doors have been fitted with special elements in order to prevent the ingress of sand.
Gian Luca Erbacci, Senior Vice President for Middle East & Africa at Alstom, declared:
"We are pleased to hand over on time the first Metropolis trainset to ADA. This landmark project will allow Riyadh residents and visitors to commute aboard a reliable, comfortable and environmentally-friendly means of transport. Furthermore, Alstom is committed to be a close and long-time partner of the Kingdom to efficiently address its mobility needs and support in carrying out its upcoming transport projects"
The metro trainsets are produced in Alstom's factory in Katowice, Poland.
Metropolis is part of Alstom's metro range. More than 5,000 Metropolis cars have been sold worldwide to cities like Panama, Singapore, Sydney, Sao Paulo, Shanghai, or Amsterdam.
Original article © Alstom.
FOR ALL THE LATEST INFORMATION, NEWS, IMAGES AND ARTICLES ON ALL ASPECTS OF LIGHT RAIL VEHICLES / TRAM CARS, PLEASE CLICK HERE.