Channel Tunnel: New Cooling System Reduces Energy Consumption by 33%
Eurotunnel has released data showing that its new cooling system (by Trane and Honeywell) for the Channel Tunnel has reduced energy consumption by 33% in its first season of operation. The saving  equates to 4.8GWh or approximately €500,000 in 2017 – enough energy to provide electricity for 1,000 households over the same period.
The data support Eurotunnel's bid to maintain its record for sustainability. So far, it has received 5 consecutive certifications from the Carbon Trust. The most recent certification was for reducing its carbon footprint by 8.6% between 2013 and 2016.
François Gauthey, Deputy Chief Executive Officer of Getlink, which owns the Tunnel, said:
"Eurotunnel's commitment to environmental protection involves a number of initiatives. We saw the replacement of the Channel Tunnel cooling system as a chance to reduce our energy consumption and carbon footprint. This effort required installing a new cooling system—Europe's largest—to maintain the Channel Tunnel at optimal ambient temperatures."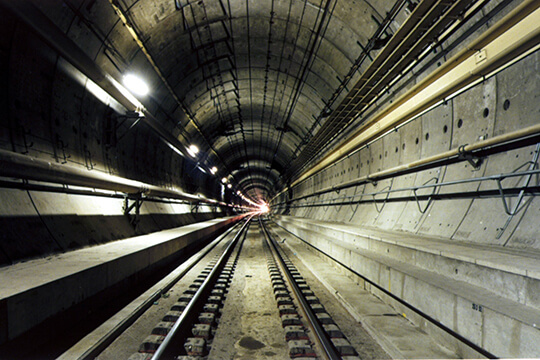 Round-the-clock cooling of the tunnel is required to ensure that the heat generated by the high­-speed trains using it does not push indoor temperatures up to more than 35°C. In addition to saving energy the new system ensures that the temperature does not exceed 25°C.
The system comprises four Series E™ CenTraVac™ large-capacity (2600 kW to 14,000 kW) chillers which are up to 10 percent more energy efficient than the next-best chiller on the market available in the tonnage required for the tunnel.
The first two chillers were installed in Sangatte, France, during 2016, and the other two units at Shakespeare Cliff, U.K, in October, 2017. The same model of chillers was used in several other applications in Europe before being purchased for the Tunnel.
Jose La Loggia, vice president and general manager of Trane in Europe, said:
"The Series E is part of our EcoWise portfolio of products designed to lower environmental impact with next-generation, low global warming potential (GWP) refrigerants and high­-efficiency operation – consistent with our company-wide commitment to introduce products that reduce greenhouse gas emissions."
The chillers use Solstice® zd, a non-­ flammable refrigerant which has a GWP of 1; 99.9 percent lower than R-22, the previous refrigerant used in the tunnel. It is designed for centrifugal chillers, organic Rankine cycle systems and high-temperature heat pumps.