Bombardier Joint Venture to Supply 120 High-Speed Train Cars to China
Bombardier's joint venture in China, Bombardier Sifang (Qingdao) Transportation Ltd (BST), has signed a contract with China Railway Corporation (CRC) to supply 120 CR400AF high-speed train cars that are specifically for the Chinese high-speed rail network. The 120 cars will be delivered in five 8-car units and five 16-car units. They will be capable of running at 350km/h. This order is worth €280 million.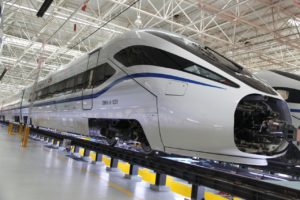 The terms of the contract are such that the joint venture will build and deliver the first of the CR400AF trainsets in October and will complete the order by the end of 2018. This rapid time-frame is proof of the customer's confidence in BST's efficiency and competitiveness, according to Bombardier Transportation.
Bombardier is very active in the Chinese market. It delivers vehicles and propulsion solutions, as well as services and design work. It operates in six joint ventures in the country and has seven enterprises that are entirely foreign-owned. In total these joint ventures have delivered in excess of 3,500 passenger cars, 580 electric locomotives and 2,000 metro cars, monorail units, APMs and trams to China urban networks. In December 2017 for example, the joint venture BST delivered a fleet of 23 eight-car CRH1A-A high-speed trains to China Railway Corporation.
Jianwei Zhang, President of Bombardier Transportation China, said:
"We are very proud to be qualified, through the joint venture BST, to supply the new generation of high-speed railway CR400. In China, high-speed trains have changed people's life dramatically, it helps to close the distance between villages and cities, bridge the gaps between rural and urban, and speed up the economic growth. CRC is one of Bombardier's most important customers and also our long term strategic partner. We are confident to deliver high-quality products and work more closely with CRC to further contribute to the Chinese economy."