WiFi SPARK Invites Partners to Modernise Retail and Transport Connectivity
WiFi provider WiFi SPARK is looking for rail Systems Integrators to help enable the rail industry to utilise innovative WiFi and analytics solutions.
As ever, the latest technology trends and Customer Experience (CX) models are already proving to be impacting businesses in 2018. Companies have the opportunity to capitalise on these digital trends, enhance their customer engagement and increase profit margins. WiFi SPARK is enabling Partners in the Retail and Transport sectors to do just this, by helping clients benefit from its innovative WiFi and analytics solutions.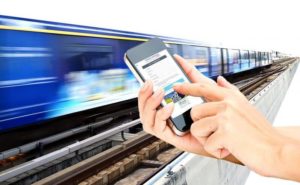 Innovative WiFi and Analytics Solutions
Connectivity on the high street and on public transport has become a 'must have' rather than a 'nice to have'. WiFi SPARK ensures that its Partners not only offer superior WiFi connectivity but allow their customers to better understand their end-users. A vital part of WiFi SPARK's solution is its SPARK® Analytics Platform, which reduces market research costs and streamlines customer profiling.
Retail and Transport are two of the most customer-centric industries, and never before have consumers had such high expectations for digital accessibility.
Matt O'Donovan, Founder and CEO of WiFi SPARK, said:
"Public and guest WiFi is growing at more than 35% each year. There is an exciting chance for companies to stand out with their WiFi solutions and provide customers with the same quality of service as expected from at-home broadband"
Bespoke WiFi Solutions
WiFi SPARK offers bespoke WiFi solutions tailored to clients' needs, from fully managed systems to solutions which can be combined with existing services. With innovation and flexibility at the core of its products, WiFi SPARK is passionate about providing solutions which can adapt to changing consumer demands.
O'Donovan continued:
"WiFi SPARK enables businesses to be dynamic and responsive to customer trends. To achieve this, we include intelligent data analytics on our platforms. This highlights details such as visitor age, how far they have travelled to the venue and their movements in and around a location which can feed into a more targeted marketing strategy, compliant with GDPR requirements.

"Ultimately, we believe in meeting and surpassing expectations. For example, one of the main issues facing rail providers is enabling passengers to stay connected from the platform onto the train and throughout their journey. With our Continuously Connected Passenger Journey, we allow Partners to solve this major customer service problem. Online safety is also a key topic for any organisation providing connectivity, and we offer Friendly WiFi approved filtering to ensure that the service is safe and secure for all users"
Tailored WiFi Platforms
WiFi SPARK's range of Partners across the Healthcare, Retail, Transportation, Public Sector, Education, Outdoor and Stadium sectors is a testament to the excellence of its solutions. With tailored WiFi platforms that host a range of innovative features, Partners have the opportunity to offer clients something unique in the market which will enrich their customer experience, and build solid income streams for Partners.
O'Donovan concluded:
"We are looking at working with key Systems Integrators in the Retail and Transport sectors. We have proven time and time again that our solutions are a perfect fit for these markets, and working with the right Partners will allow us to reach a larger audience. This is particularly true of the Transport sector in Europe, where we are hoping 2018 will see us make a real impact"
WiFi SPARK will be on stand A5c at the IT -TRANS International Conference and Exhibition in March and on stand H197 at the Retail Business Technology Expo in May.
To find out more about the partnerships offered by WiFi SPARK in these sectors please get in touch on [email protected] or +44 (0) 344 848 9555.
FOR ALL THE LATEST INFORMATION, NEWS, IMAGES, VIDEOS AND DOWNLOADABLE DOCUMENTS FROM WIFI SPARK, PLEASE CLICK HERE.