WiFi SPARK and Blackbox to Launch Real-Time Transport Information Portal
WiFi SPARK and Blackbox Ltd are thrilled to announce that they are set to launch a real-time Transport Information Portal to the rail market via the SPARK® Platform.
The partnership between WiFi SPARK and Blackbox Ltd will see WiFi SPARK displaying transport information provided by Blackbox via a WiFi landing page or portal, which is powered by the SPARK® Platform.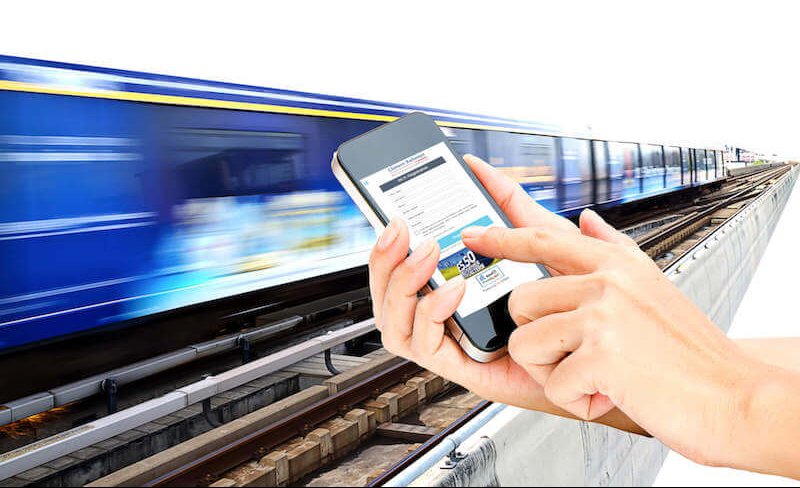 Real-Time Transport Information Portal
The innovative solution will provide passengers with a feature-rich digital experience by providing them with access to the latest transport information via their own mobile device. Location data that delivers the most appropriate and relevant data to the specific user will also enhance the User Experience (UX) with the information displayed in unified format, delivering the same view and basic level of data to both the large signage boards and the passenger mobile device.
The unique proposition will mean that passengers will be less reliant on information boards and other published transport material available, as real-time information will be available via their own devices– which is crucial during busy commuting times.
Depending on the level of service that Blackbox has provided each Train Operating Company (TOC), WiFi SPARK will be able to provide varying levels of detail, pulling journey information from the Blackbox API and displaying it on the WiFi Landing Page as required.
TOCs will able to choose from three levels of service. The entry level will allow TOCs to display information such as: the current time, departure times, the destination and the platform. The next level of service will allow TOCs to display all of this with the added bonus of being able to drill down into specifics, such as: the number of carriage, the base service and the core info per service. The final and most detailed model will allow TOCs to provide specific service data, such as: stops, platforms, service status, service messages, custom messages, reservations, boarding info which includes the location, digital signage and following services.
Station WiFi and Onboard Train WiFi
WiFi SPARK will also employ two versions of UX; station WiFi and onboard train WiFi UX. WiFi SPARK will integrate with the Blackbox Company platform to request train information data and paint the portal or landing page with the requested data when passengers are at the station.
WiFi SPARK will also integrate with Blackbox to provide on-train arrival information via the WiFi Portal. This will display the list of upcoming stations and the expected arrival time, including any delay information.
Gavin Russell, Managing Director of Blackbox Company UK, said:
"We are delighted to be partnering with WiFi SPARK in order to bring this innovative real-time Transport Information Portal to TOCs and passengers across the UK. Commuting is essential for many people every day and having the most up-to-date information at their fingertips via their own device both in the station and on the train is crucial. Having easy access to information throughout their journey will allow passengers to quickly look-up station information, travelling times, platform numbers and alternative routes if there are delays, helping TOCs to provide an enhanced service and user experience."
Matt O'Donovan, CEO of WiFi SPARK, said:
"We are thrilled to be able to provide such an innovative solution to the rail market via our successful partnership with Blackbox Ltd. With commuting times getting longer and with travel often a stressful experience for many, we are delighted to be able to provide a service that makes a difference to the passenger journey. The Transport Information Portal will allow passengers to track travel developments throughout their journey from the station with ease, via the SPARK® platform allowing for a streamlined User Experience.