It's been a big few weeks for the rail industry with franchise change announcements and the release of the autumn 2019 National Rail Passenger Survey results.
Railways are a big part of UK culture and most of us have an opinion about trains but what are the people who use them daily actually saying? Here's our take on the NRPS.
82% of passengers nationally are satisfied with their journey
Commuting – a necessary evil!
Customers don't think much of connectivity during their journey
Change is hard, results suffer, even when there's light at the end of the tunnel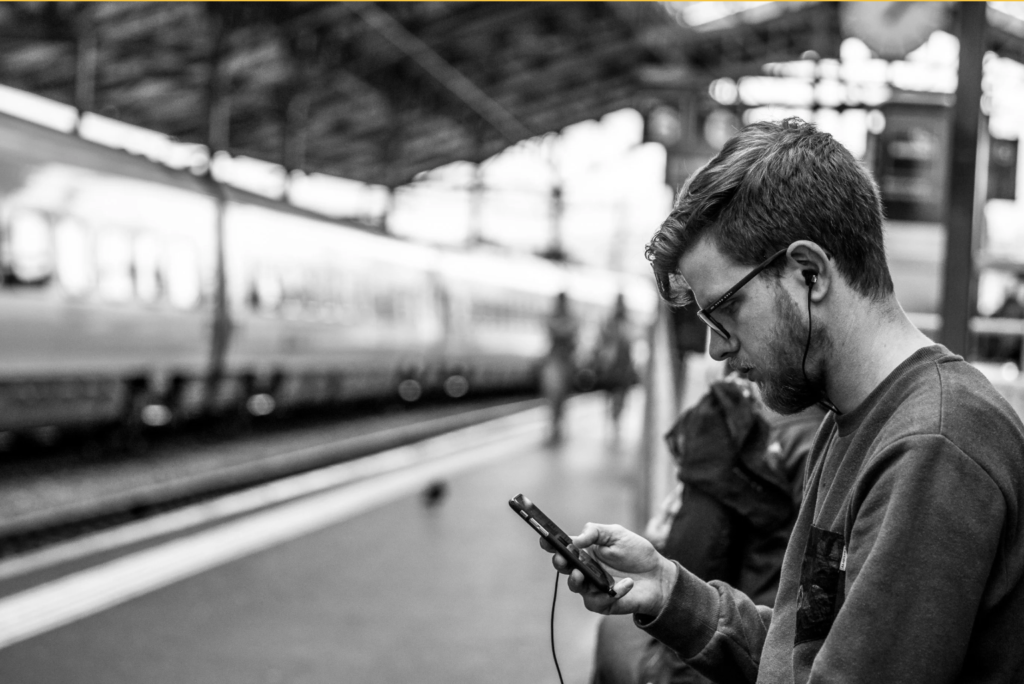 82% satisfied with the journey. Really?
It probably comes as a surprise that the overall satisfaction figure is at 82% nationally. Yes, some companies are as low as 72% and some as high as 96% but in general, a large proportion of those surveyed are happy with the service they get. Public perception through mainstream and social media leads us to believe otherwise, as we're far more connected than we used to be.
Customers want on-time trains and a comfortable environment to travel in. There's no doubt that without those, positivity falters but how much is through external influence?
Commuters are still not happy but feel more em'powered'
For the majority of rail commuters, only 75% of whom are 'satisfied', the journey is a 'necessary evil' revolving around a tightly timed daily routine. Most of the factors have stayed pretty much the same for the last year, where commuters think that information about delays is significantly better and there are more plug sockets available to keep them powered up on their journey.
Connectivity is still lacking
Roughly half of rail users surveyed, thought the availability of WiFi at stations or on trains was poor or dissatisfactory. The dreaded buffering circle is a common sight in rail carriages as devices regularly find and lose connection.
You might think that the WiFi results are worse in areas with signal blackspots, but it's a national issue with big cities and rural areas having the same problems.
Trains on time – Biggest influencer of all
The NRPS asks a number of questions to the passengers but it's very clear that delays and cancellations are the biggest issue the have to deal with.
When you buy a train ticket and plan your journey to a set time, that's the expectation of what's going to happen, but when it's delayed and the issue isn't dealt with well by the train company, then passengers are displeased. The actual reliability of the train isn't as big a contributor to dissatisfaction, what's more important is how companies respond to help fix the issue.
Where could the industry go in 2020?
We're talking here about a customer service industry that happens to run trains.
Whatever the industry, we're all expecting much more from organisations when it comes to service. Be it online, sat in the comfort of your own home or in the store, station, cinema or even hospital, we're all expecting more and Social media has given us all as consumers a voice that can use to praise or criticise very easily.
Operational challenges aside, Train Operating Companies (TOCs) have a real challenge to improve the perception of customer experience and environment in a manner where customers feel comfortable, but also to ensure problems are solved as soon as possible.
While they could focus on commuters, who commit large amounts of money, time and trust to the industry, you can't ignore the leisure customer with discretionary spend, who choose to use rail or not and may very well be travelling with luggage, cases and families. Stress levels for leisure customers can be even higher than commuters.
No matter what customer group you look at, half of those surveyed thought the WiFi was poor. There's going to be connectivity issues, especially when travelling through blackspots. WiFi however, gives TOCs an amazing opportunity to improve the environment on trains and stations, take away some of the pressure for families, keep children occupied, advertise services and learn more about their passengers with use of analytics.
Is better connectivity the easiest way to deal with one of the worst perceived areas of public transport?
Download our eBook to Find Out More About WiFi and the Continuously Connected Passenger Journey.
To find out how you can use WiFi to boost revenue and improve passengers' journeys, download our comprehensive eBook. It covers the continuously connected passenger journey and how you can use data to make improvements to your services. Click the link here to download your free copy.
Interested in more? Find more news articles on WiFi SPARK.