WiFi SPARK to Provide Friendly WiFi Option to All Customers for No Extra Cost
WiFi SPARK is delighted to announce that it is now providing a Friendly WiFi option to all customers.
As a certified Friendly WiFi provider, WiFi SPARK's new proposition gives businesses peace of mind that their customers' online experience is a safe one.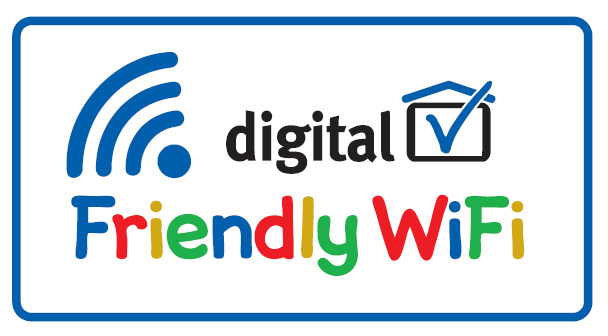 Certified Friendly WiFi Provider
Wherever the Friendly WiFi symbol is displayed, either onsite or online, parents and young people can feel assured that content is being correctly filtered. This helps keep people safe online and highlights WiFi SPARK's continued commitment to its customers. As a further demonstration of this commitment WiFi SPARK is also absorbing any cost associated with the implementation of Friendly WiFi.
As the leading WiFi specialist in installing WiFi for large public venues, the unique SPARK® Platform is the most flexible, feature-rich and scalable solution for guest-access WiFi on the market. WiFi SPARK's expertise is invaluable in connecting millions of users to the internet securely, compliantly and safely.
Guest-Access WiFi
Proven to be solid and reliable, the SPARK® Platform offers real value for businesses and guests. Granular, real-time data analytics deliver high-value Business Intelligence (BI) that can be utilised through a variety of services, including app, CRM and CMS integration, surveys and feedback, video and RSS, Social Media. As Friendly WiFi is also GDPR compliant, businesses can feel assured that the market-leading WiFi service provided is safe.
High profile destinations such as Queen Elizabeth Olympic Park in East London know that safe WiFi is becoming a key aspect of their offering alongside the location itself. One of the main concerns for the London Legacy Development Corporation (the Mayoral Development Corporation for Queen Elizabeth Olympic Park and the surrounding area) was to make sure that families, schools and other visitors would know that 'adult content' was being filtered out across their 560-acres of open-space WiFi coverage, while also ensuring that the service was free, inclusive and easily accessible.
With a wealth of experience working with high-density wireless deployments, WiFi SPARK was chosen through a competitive tender to partner for the project, helping the London Legacy Development Corporation to provide safe and seamless roaming throughout Queen Elizabeth Olympic Park. In fact, there have been more than 45,000 Friendly WiFi sessions from visitors under the age of 18 alone since the WiFi was installed.
Friendly WiFi for Rail Passengers
WiFi SPARK has also been instrumental in helping Chiltern Railways develop its Friendly WiFi proposition as part of its innovative, continually connected passenger journey, whilst ensuring that the experience was a safe one for Chiltern's passengers.
As part of WiFi SPARK's managed service, Chiltern Railways experienced the benefits of its premium standard filtering service which already meets Friendly WiFi's requirements, therefore making the Friendly WiFi certification process straightforward and painless.
Beverley Smith, Director at Friendly WiFi, said:
"The easily recognisable Friendly WiFi symbol allows businesses to provide global assurance to their customers that the WiFi that they are using has been correctly filtered. By providing a Friendly WiFi option to its customers, WiFi SPARK is enabling businesses across the retail, leisure and transport sectors to ensure that the WiFi services they provide are safe for children and young people."
Ben Edmonds, IT Programme Manager for Queen Elizabeth Olympic Park, added:
"The Friendly WiFi scheme reassures us that all of our Park users and in particular our younger visitors, can feel safe when connecting to our free WiFi service. We have coverage across most of the open areas in the Park and also inside some of the venues so it's very important to ensure that people are protected throughout the entire network."
Matt O'Donovan, CEO of WiFi SPARK, said:
"As an approved Friendly WiFi vendor, we are thrilled to be able to offer Friendly WiFi to our customers as part of our continued commitment to the online safety of children and young people. With premium filtering already available which meets Friendly WiFi requirements as part of our managed service, we are pleased to be able to offer our customers a service that is certified safe and suitable to use by all members of the public. Such is the importance of this scheme we have made the decision to absorb the cost and not pass it on to our clients, enabling them to roll it out to consumers as soon as they can."
WiFi SPARK is also offering Friendly WiFi free of charge to new customers.
FOR ALL THE LATEST INFORMATION, NEWS, IMAGES, VIDEOS AND ARTICLES FROM WIFI SPARK, PLEASE CLICK HERE.