Train Station Retail Sales Soar as TOCs Unlock the Value of Their WiFi to Create A Deeper Understanding of Consumer Behaviour
By Paul Hinchy, Head of Transport at WiFi SPARK
Train station retail has become much more than just grabbing a quick coffee, and with the rise in passengers and commuting times, time poor, convenience-seeking consumers are looking to use their time productively. Whether its catching-up on work or doing the weekly shop, Train Operating Companies (TOCs) are leveraging this to their advantage. TOCs appreciate that they have a captive audience with the sheer volume of people waiting for trains, and the potential to generate massive revenue from retailers looking to secure units in such a profitable space, should not be overlooked.
The Transport market in Europe is a lucrative and ever expanding one – growing at an average of five per cent each year, with over 50,000 stations in Europe so far. People are increasingly utilising rail services for their transport needs and require superior connectivity, from the platform to the train and throughout the rest of their journey.
Superior WiFi and Advanced Analytics for TOC's
Stations are no longer places to simply sit and wait for your train, they are places for shopping, dining and socialising and TOCs are best placed to keep abreast of these consumer habits and trends through the use of robust WiFi solutions. This, coupled with advanced analytics, means that TOCs are able to unlock the value of their WiFi to create a deep understanding of consumer behaviour, with a granular view of customer demographic.
Superior WiFi and advanced analytics also mean that TOCs are able to compile compelling business cases to retailers as to why a concession should be at a certain station, in a certain place. Indeed, Network Rail reported a nine per cent retail sales growth across its managed stations during the 2017 festive period with King's Cross, Euston and Paddington performing the best for people looking for last minutes gifts.
Continuously Connected WiFi from the Train to the Platform
By implementing Continuously Connected WiFi from the train to the platform, TOCs are able to add further value for passengers through the movement of data and content in both directions thereby securing cost savings. Continuously Connected WiFi also allows for integration with other services such as passenger information and parking. Train mobile data offload in stations means that TOCs can upload otherwise expensive passenger infotainment data and train telemetries via high speed cost effective WiFi, saving significantly over mobile network charges.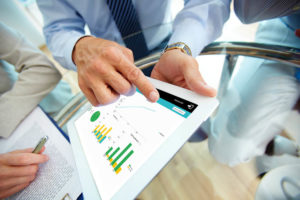 Passenger Analytics
Passenger Analytics is also key as it feeds into and facilitates valuable insights, such as, most popular route travelled per demographic, peak times and busiest weekday off-peak station, passenger movement, and passenger journey intelligence, such as the distance travelled to the station and the frequency of the trip. This feeds into Customer Relationship Management (CRM) systems, and combined with the TOC's branded and personalised user experience, allows for a level of engagement that drives customer satisfaction and loyalty and increases business revenue.
Analytics software enables retailers to respond quickly and intelligently to requests or criticism from customers. It also allows them to anticipate behaviour and offer an individual, personalised experience through branded user experience portals, where rewards and loyalty schemes can be made available.
Location analytics dashboards allows TOCs to view customer movement in real-time or within a time period of choice. Heat maps and pathway charts allow them to chart customer journeys throughout the station, allowing them to identify popular locations, movement patterns and categorise journeys within a venue by type.
It also allows TOCs to advise retail outlets on how to manage specific areas more effectively and reduce infrastructure congestion during busy periods. Monitoring heavy traffic areas can also be used to help improve store and fire escape routes, or to better place marketing materials in order to maximise revenue.
There is also a security aspect. Having the ability to monitor customer movement throughout a station or retail area, means that a sudden mass movement away from one particular spot can help to quickly identify an event, enabling a quick response sent straight to the key areas.
The use of custom analytics modules that can integrate many different data sources can be delivered in accordance with a retailers' bespoke needs. The service provides a better understanding of customer needs in order to improve their experience and increase revenue scope. The intelligent platform can incorporate several data functions, including analysing footfall data, social media feeds, survey data, event data, environment data, sales data and any other available data sources.
Enhancing the Consumer Experience
The business and customer benefits of a fully integrated WiFi solution for engagement and profitability are apparent and it is plain to see why more and more TOCs are looking to adopt high performance WiFi as part of their communications and Business Intelligence strategies.
By embracing the latest WiFi technology, TOCs are able to further enhance the consumer experience at a time of rapid growth. Combined with robust customer data, station-based retail outlets can gain a real insight into their customers, allowing them to effectively tailor engagement. By meeting and exceeding expectations, TOCs can immediately have a huge impact on the way they are perceived by their most important asset – the customer.
FOR ALL THE LATEST INFORMATION, NEWS, IMAGES, VIDEOS AND DOWNLOADABLE DOCUMENTS FROM WIFI SPARK, PLEASE CLICK HERE.