The CP6 Launch Event in Liverpool Proves a Big Success
The CP6 Launch Event, which took place in Liverpool on 14 March and which was sponsored by Mecx Group and PPS Rail, had many things going for it, starting with networking in the best-possible setting. The 200+ attendees from major players in the rail industries and from SMEs were treated to an evening of excellent food, insightful speeches, baffling magic tricks and fruitful interactions with industry colleagues.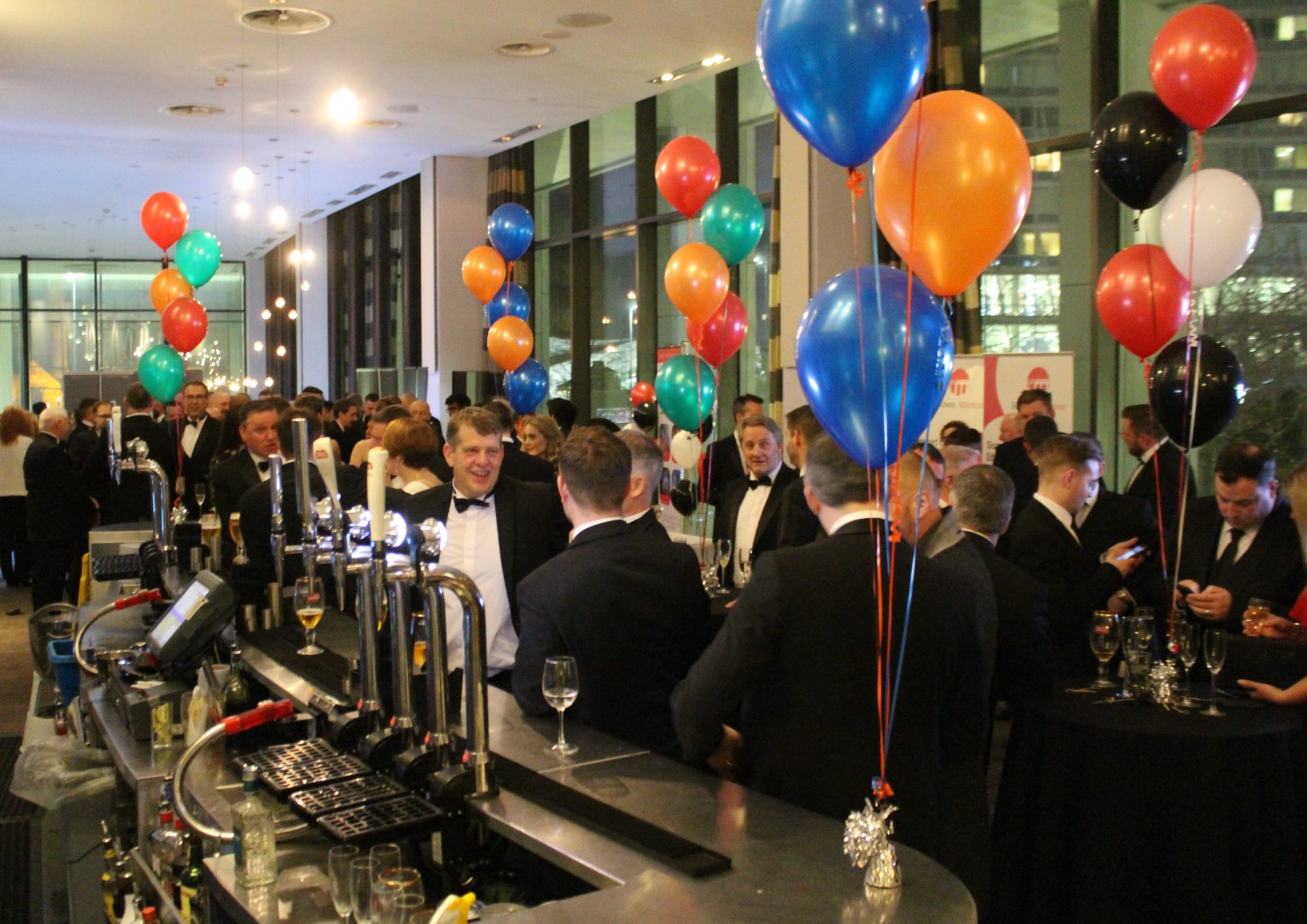 Event organiser Bryan Mills told official media partner Railway-News:
"It was great to see so many industry professionals coming together for the benefit of their companies and this amazing industry we work in. The event has been a big success with some great opportunities to network throughout the evening. We wish all our attendees a successful CP6 and we look forward to seeing them at our next event."
The opening speech was given by Chris Mariner, CEO of MECX Group. He started off by reflecting on Control Period 5, highlighting that at launch events in 2014 the UK economic, political and social landscape was a very different one – Brexit hadn't been invented yet.
The second key event of CP5, he said, was the Carillion failure. He said:
"I grew up in Northern Ireland, northwest Ireland, which is […] a very pragmatic place and one of my favourite sayings, roughly translated from the Gaelic dialect, is this: 'one person's bad luck is another person's good luck'. And in a way that is sort of true with the Carillion situation. As unfortunate and tragic as it turned out to be for many individuals, subcontractors, suppliers, clients and friends, two positives, in my opinion, have emerged with clear lessons to be learned as we approach Control Period 6.

"Firstly, more than ever before, I think there is finally a genuine acknowledgement that the cheapest price is not always, if hardly ever, the best price. I think most punters would agree that a significant contribution to the Carillion failure is derived from a flawed strategy to chase sales at the expense of profit. I strongly believe that Network Rail and other infrastructure clients, but Network Rail in terms of CP6, have seen the light in this respect. No one here is in business to break event. Profit oils the wheels.

"The second positive to surface is that client organisations now appear to recognise that it is not always the best delivery polity to tender a contract with the largest Tier 1 principal contractors on every single project. This is very important for Control Period 6 because following Carillion's demise, Network Rail clearly signalled its intent to engage more with SMEs and to ensure that lower-tier contractors, like Mecx and many of you in this room, would have more opportunities to tender and secure lower-value frameworks and contracts through the CP6 five-year cycle."
However, Brexit and the Carillion failure had also created problems. Some of the largest UK contractors had struggled to secure appropriate funding deals because of the uncertainty caused by those two events.
The mood in general was positive. He continued:
"I'm here to shout out for SMEs in CP6. SMEs are resilient, we're resourceful, we're innovative, we will always find a way to make things happen. We're agile, we're flexible, we are passionate about delivery. […]

"My challenge, like many of the other directors of various SMEs in here, is to lead MECX on that journey, to partner and to collaborate with likeminded organisations and to deliver on a Control Period 6 spend that would see Mecx and Network Rail achieve the world-class railway that we all want to see."
The second person to address the room was Rob Morris, Managing Director of Siemens Mobility UK. He began his speech by paying homage to the event location, Liverpool, and to paint a picture from the world's first intercity passenger railway, the Liverpool and Manchester Railway, which opened in 1830, to the present day. He said:
"Looking at the map, and meandering through the ages of rail, we see names that are familiar to us today. The original Liverpool terminus at Crown Street was replaced by the magnificent Liverpool Lime Street, six years after the opening of the railway. Rapidly moving to 2018 my team has worked with industry partners to re-signal Lime Street, using current technology, replacing the 70-year-old interlocking.

"Wavertree Lane was next, which reminded me of the major re-signalling project between Weaver and Wavertree, which was completed last year using the most recent high-performance network-based signalling equipment. Trains, moving to the east, then passed through Huyten and Roby, an area my team has worked with Network Rail to re-signal in 2014.

"At the east end of the line, Stephenson's original bridge still stands, situated next to the magnificent and iconic Ordsall Chord bridge. Another major infrastructure project that was delivered by the UK industry in CP5.

"The Liverpool and Manchester wasn't the only ground-breaking northwestern achievement. When the Liverpool Overhead Line was opened in 1893 it boasted a range of world firsts, including electrical multiple units. Automatic signalling […] and electric colour lighting. So many of those technologies became the norm for railways around the world and were developed over the decades until they became the technologies of railways today.

"Mass transit technology has now been adopted widely to mainline railways. And we're rapidly moving forward towards much higher degrees of automation, based on the brave decisions made here around 130 years ago. So to my mind, Liverpool is clearly an ideal place to consider the opportunities and challenges we face as we move into the next Control Period. And it coincides with the announcement of the development of the new station in the city centre of Liverpool, connecting High Speed 2 and the Northern Powerhouse Railway link."
Rob Morris then took a look back over CP5 and invited the industry to celebrate its successes but also learn from failures, such as the Waterloo incident that occurred in August 2017. He highlighted the key role technology had played in CP5, allowing the introduction of ETCS and automatic train operation. This technology, he said, was also coupled to new threats. Cybersecurity, for example.
He concluded his thoughts on CP5, saying:
"I think that we'd all hope that we're moving away from the artificial boom and bust cycle created by the concept of Control Periods. The impact of the stop-start nature of investment and lack of forward visibility of work planning is hard enough for the larger companies to deal with. But the threat is even greater for […] SMEs and start-up companies that operate in our industry. Regrettably, change hasn't happened fast enough and we'll all face the challenges of managing the transition from CP5 to CP6 whilst minimising damage to our businesses and the UK rail network."
For CP6, he believed we would see the mix between large and smaller projects change with far more smaller projects being carried out. He spoke highly of Network Rail Chief Executive Andrew Haines and agreed with his mantra that "first and foremost Network Rail is a service company for the country". He applauded Haines' approach of canvassing opinion from a broad church and his desire to improve decision-making. The focus was now rightly on the end-user, Morris said.
Rob Morris further addressed the digital railway, stressing how technology was moving away from the trackside and on to trains. He said:
"What is also clear is that the concept of the digital railway underpins much of the aspiration for industry change in the current Control Periods. We were thrilled to be able to work together with Network Rail to deliver ETCS and automatic train operation for Thameslink and to provide much of the technology that enables traffic management to be in use today. By moving intelligence from the trackside to the train the industry will be able to unlock capacity at the same time as reducing the need for disruptive train and trackside access.

"I believe that the opportunities for digital technology extend far beyond the adoption of train control and traffic management solutions as we will all have the opportunity to share data from all of our systems to create a true big and smart data system.

"We have the potential to radically change the travelling experience for our customers to move towards a railway with a predict and prevent approach to maintenance and to make much better use of technology. These are the things that we'll be exploring thoroughly in the industry and government as part of the sector deal in CP6."
His concluding remarks, looking towards the future, also reflected back on 1830.
"The start CP6 brings with it the beginning of a new world for the UK rail network. Perhaps even more exciting than the transformational times of 1830. And surely safer. The current incarnation of the digital railway is only a small part of what is possible if we work together and with other industries to create the public transport system of the future.

"Concepts such as 'mobility as a service' may seem light-years away and certainly need to change society's view of the importance of, for example, car ownership if we are to adopt such an approach; if we are to create a sustainable transport ecosystem, then we need to look at how to exploit synergies between the different transport modes, not continue to operate in our silos.

"I'd like to see sustainability in all its forms get much more visibility. I'd like to see the future bring a much-reduced impact on our environment. Lower carbon emissions, less wasteful use of energy – our industry does reasonably well in this area, but we have so much, so much more work to do. Intelligence is clearly moving away from the trackside and on to trains. Whilst we don't currently have the technology that allows us to do away with points, concepts are still very much in place to allow us to reduce the impact of supporting infrastructure necessary to allow us to move towards just having permanent way and very, very clever trains."
Following these speeches, attendees were able to network and learn from each other, discussing what they had learned and what their thoughts on CP6 were.