The Singapore Land Transport Authority (LTA) has awarded a contract to Siemens Mobility to install its automatic train control signalling solution and half-height platform screen doors on the Jurong Region Line.
The contract is worth around 135 million euros. The line in question is 24km long. Siemens Mobility will install its Trainguard Sirius solution as well as its Westrace interlocking system to implement CBTC. Siemens Mobility will also install platform screen doors at the 24 stations being built. These are part of GoA (Grade of Automation) 4 of the line, meaning that trains can operate fully unattended and automatically.
"We are delighted to have the opportunity to build on our existing technology partnership with Singapore's Land Transport Authority and deliver intelligent mobility solutions that support Singapore's continued efforts to effectively manage their urban development.
"The state-of-the-art CBTC signalling technology for the Jurong Region Line will allow this new rail option to operate with superior availability and automation, featuring a high degree of service reliability and passenger experience."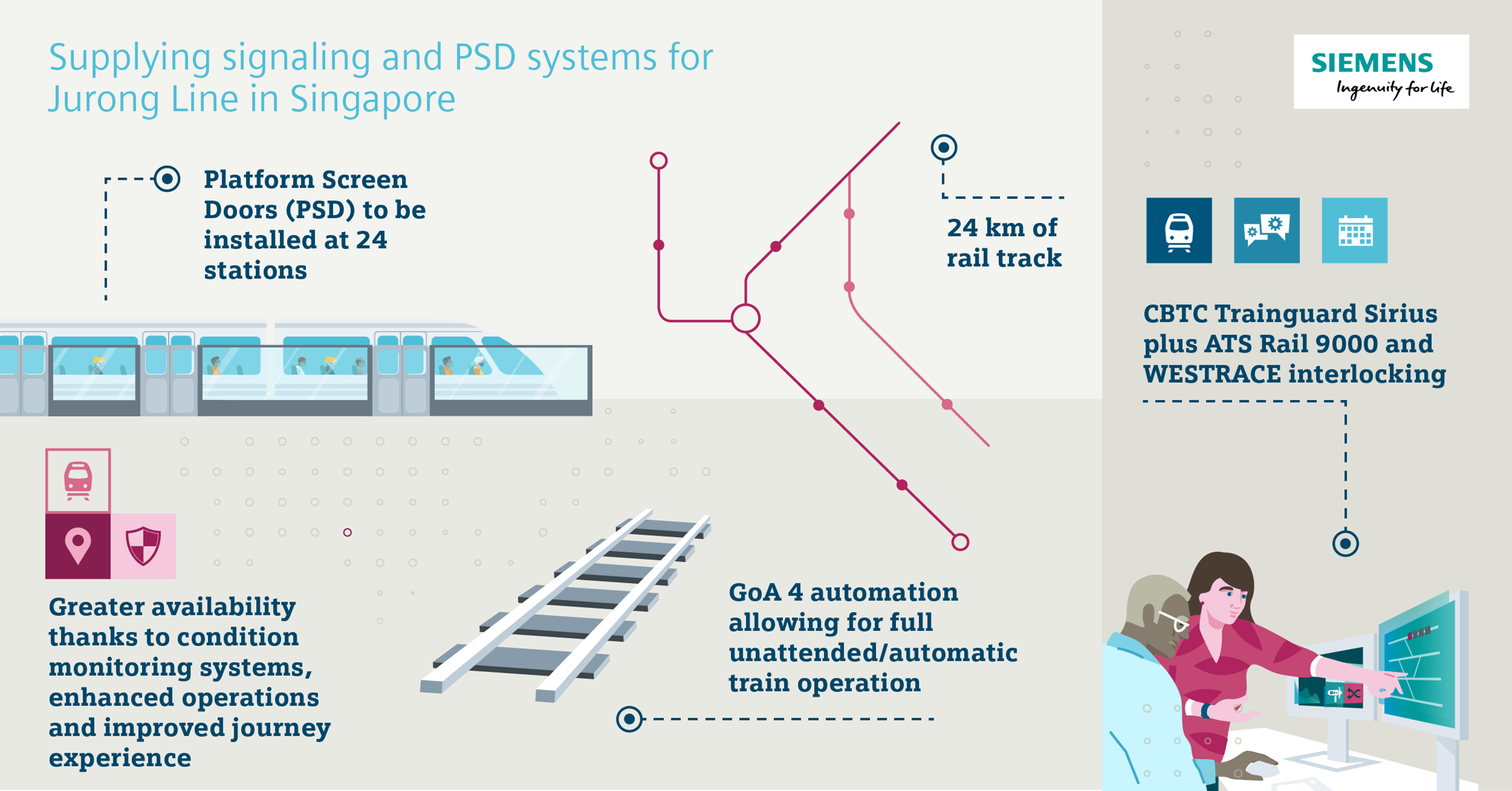 The Jurong Regional Line is currently under construction. Once it opens it will be Singapore's seventh MTR line. It will be made up of three branches and 24 stations. Figures suggest that around 60,000 additional households in Jurong will be within a ten-minute walk of a station thanks to this new line. The JRL is set to open in three stages, becoming fully operational in 2028.
Siemens Mobility's Trainguard Sirius system provides real-time data on vehicle position and speed conditions. This is one way digitalisation is increasing capacity on tracks by allowing trains to run more closely together. The system also sends continuous updates on system status, which cuts down the number of delays. The Downtown Line in Singapore also uses Trainguard Sirius.
Also read: