Bombardier to Supply 396 MOVIA Metro Carriages to Singapore
Bombardier Transportation has signed a contract with the Land Transport Authority (LTA) of Singapore for the supply of 396 BOMBARDIER MOVIA metro cars, worth 827 million SGD. The cars will provide passenger services on the North-South (NSL) and East-West (EWL) Mass Rapid Transit (MRT) lines. The contract also includes an option for long-term service support, which would increase the value of it to 1.2 billion SGD.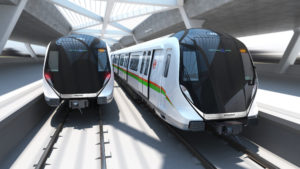 The trains, which will be assembled in 6-car configurations for the LTA, feature the BOMBARDIER MITRAC propulsion and control systems, which manage the transmission of on-board and subsystem information between the units and the train controllers.
The NSL and EWL, which run both above and underground, are 102km in length and stop at 61 stations. The average daily number of passengers on both lines is more than 1.8 million. The delivery of this order will increase the number of MOVIA metro cars in  service for the LTA to 672, one of the largest fleets of Bombardier vehicles in the world.
Laurent Troger, President of Bombardier Transportation, said:
"The proven MOVIA metro is a world leading high-performing mobility solution designed to improve public transport reliability in densely populated and fast-growing cities. For more than 20 years, Bombardier has been a strategic mobility partner to the Singapore Land Transport Authority, built on a strong track record of delivery performance, best-in-class rail technology and service excellence. Bombardier is proud to be a significant contributor to Singapore's public transport network and to support LTA's ambitious expansion plans to grow its rail network to 360 km by 2030."
Since 1998 Bombardier has delivered 276 driverless MOVIA metro cars to the LTA, which operate on Singapore's Downtown line. The manufacturer has also produced 13 INNOVIA APM 100 automated people mover (APM) cars for the Bukit Panjang Light Rail Transit (LRT) system.
The LTA awarded Bombardier a new asset replacement contract for the supply of 19 new INNOVIA APM 300 cars, the refurbishment of 13 existing APM 100 cars, and the delivery of a signalling system upgrade for 13 stops on the Bukit Panjang LRT Line.