Bombardier Complete MOVIA Production for Singapore
Bombardier have finished production on the last of 276 driverless BOMBARDIER MOVIA metro cars for operation on the Singapore's Downtown Line. The event marking the end of the MOVIA production was celebrated at a joint venture facility with the Land Transport Authority of Singapore.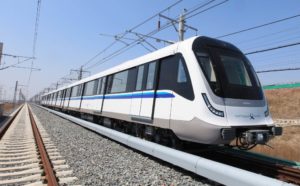 The celebration of the completion of the final three-car Downtown Line (DTL) train was marked at a ceremony in Changchun, China, attended by officials from the Land Transport Authority of Singapore. It will operate as part of a fleet of MOVIA metro trains on the 42km underground Downtown Line.
MOVIA Production
Now that the production of the MOVIA metro cars for Singapore has been completed, final delivery will be finished by the middle of this year. The original contract signed in 2009 related to the provision of 219 metro cars. These last trainsets are a subsequent additional order of 57 cars. The MOVIA metro car, a highly safe and efficient vehicle, has operated for an accumulative distance of 2.04 million km in Singapore.
Jayaram Naidu, Head of South East Asia for Bombardier Transportation, said:
"This milestone was achieved thanks to close collaboration between the Land Transport Authority of Singapore, Bombardier and other stakeholders. The high quality interiors of the eco-friendly DTL trains have been designed with a strong passenger focus and manufactured to the highest standards demanded by our customer. Together with our JV partner, Changchun Bombardier Railway Vehicles Co. Ltd., we will complete our final deliveries to the highest satisfaction of LTA to successfully conclude our role in the Downtown Line project."
The Downtown Line was a complicated project, operating at multiple sites, in different timezones and between different cultures. The international element of the project for Bombardier meant that project management came from Singapore, engineering from Germany, bogie design from the United Kingdom and propulsion from Sweden. Vehicle manufacturing and assembly took place in China.
3-Stage Delivery
The delivery took place in three stages: Stage 1 began operating passenger services in 2013 with 24 cars, and Stage 2 operated passenger services from December 2015, with a further 111 cars. Stage 3, of which this order is a part, will be complete when the remaining DTL trains are transported to Singapore and have undergone a programme of on-site testing. They will start operating passenger services in 2017.