Singapore's Land Transport Authority (LTA) has awarded two contracts with a combined value of 386 million SGD for its future Jurong Region Line (JRL).
The 24 kilometre JRL will be Singapore's seventh Mass Rapid Transit (MRT) line. It will be operational from 2027 onwards in three phases and will improve connectivity in the western part of Singapore.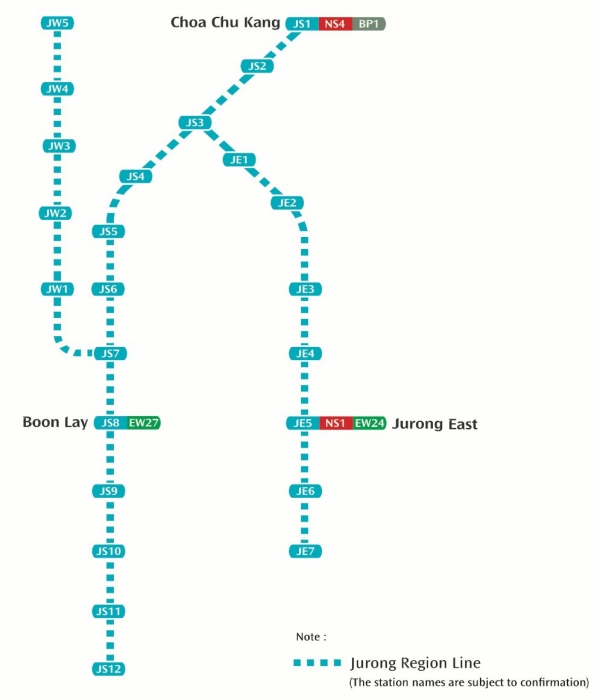 The LTA has contracted Siemens Mobility Pte Ltd / Concord Corporation Pte Ltd Consortium to deliver the line's power supply system. The contract is valued at approximately 238 million SGD and includes the power supply system's design, supply, installation, testing and commissioning. The consortium will electrify the fully elevated line with 66kV and 22kV AC systems, a 750V DC traction power supply system, an emergency traction tripping system, and the associated auxiliary systems.
In addition, LTA has awarded a contract valued at 148 million SGD to Hwa Seng Builder Pte Ltd. to construct the JRL's JW5 station and its associated viaducts. The contract covers the design and construction of the JW5 station, as well as 0.7 kilometres of elevated viaducts along Nanyang Drive.
The JW5 station will be located within Nanyang Technological University (NTU) to connect to existing campus developments such as NTU South Spine, the Wee Kim Wee School of Communication & Information, the Lee Kong Chian School of Medicine, and the nearby Halls of Residences. The LTA states that the new line will reduce the current journey time from Jurong West Avenue 4 to the Wee Kim Wee School of Communication & Information from 35 minutes to 15 minutes, resulting in a 20 minute time saving.
Hwa Seng Builder Pte Ltd is an established local company who has previously been appointed to construct two other JRL stations – JW3 and JW4. Construction works for JW5 are expected to start in the third quarter of 2022 and will be complete in 2029.