KBH: Monetising Digital Services for TOCs
The world is becoming increasingly digital. And rail travel is not exempt from this. Rail passengers now expect wifi on trains and at stations and they also expect it to be free. As a result, train operating companies (TOCs) are looking to provide this service to their customers. Naturally, they are interested in monetising digital services too.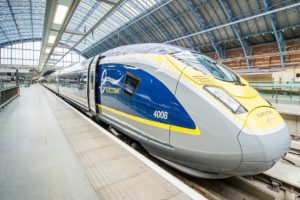 Monetising Digital Services
Railway-News spoke with Harjit Badesha, the Co-Founder and Managing Director of KBH Digital, newly launched by KBH On-Train Media, to talk about their role in delivering this solution.
Mr Badesha explained that TOCs will already have a relationship with companies such as Icomera or Nomad Digital.
This is where KBH Digital come in. They are experts in helping TOCs monetise this service by developing and selling digital advertising solutions. They liaise with Icomera and Nomad Digital as well as TOCs to make this happen. Clients already include SouthWest Trains and Stansted Express and, most recently, Eurostar.
KBH Digital's Union Street
KBH's digital advertising platform, Union Street, allows brands to buy advertising space. KBH themselves develop a solution as to where and how that advertising can be integrated in the train operating companies' digital services, which can be passenger wifi, but also – as in the case with Eurostar – an on-board entertainment portal, allowing passengers to access films, television shows and magazines on the train on their own devices.
On-board Entertainment Portals for Trains
Passengers are already familiar with in-flight entertainment systems. The difference here is that passengers are using their own smartphones, tablets or laptops. Since passengers have to log in to use these services, advertising can be personalised, which is valuable to the advertiser. In addition, TOCs will know who's on their train, rather than who bought the ticket – these two are not necessarily the same. They can then use that information to improve customer experience, learning about demographics, travel patterns, behaviour and lifestyle.
The role of KBH Digital is an important one because monetisation matters. KBH work with content specialists who are experts at choosing the content for the entertainment portal and good content isn't always cheap. The advertising revenue helps pay for this. Having passengers enjoy the entertainment portal improves their experience and it also means these passengers are spending more time offline, as this content can be cached on a media server. This in turn brings down costs for the TOC as it won't have to pay for as much bandwidth.
Capturing Passenger Information
KBH Digital's platform also enables data capture of key passenger information, including demographics, travel patterns, behaviour and lifestyle, to build an accurate picture of how the audience consumes media while travelling, helping brands to better target consumers.
Harjit Badesha explained:
"KBH Digital is not just another ad tech solution. We're offering premium inventory as well as data and can talk to brands and agencies about solutions involving media, data, or both.

"KBH Digital's access to the unique and desirable connected audience of commuters and international travellers provides advertisers with exclusive data, validated through travel patterns, to enable them to reach the right consumers for their brands.

"This first party data will build a clear understanding of how commuters and leisure travellers behave online while travelling, and before and after the journey too."
KBH Digital Grows Its International Presence
KBH have been in business for 18 years, largely in the UK. The new contract with Eurostar, which carried 10.3 million passengers in 2015, creates an international presence for KBH Digital and its advertisers. The contract consists of advertising, sponsorship and content via Eurostar's on-board entertainment portal. It also comprises off-train pre- and post-travel email communication and boarding passes.
Lionel Benbassat, Head of Marketing at Eurostar, said:
"Staying connected for work and leisure is very important to Eurostar customers. Our wifi service and media entertainment portal are designed to enhance the overall travel experience. Working with KBH Digital enables us to monetise this service and also to provide our customers with relevant, useful advertising messages."
Before finishing the interview, Mr Badesha said that it was important to him to educate train operating companies about what KBH do and how this can benefit them, so that they can take advantage of experts in the digital field and monetise a feature that also improves customer experience, a win-win.