Italian State Railways to Create Zero-Impact Stations
Italian State Railways Ferrovie dello Stato Italiane S.p.A. has announced its objective to create zero-impact railway stations with its GreenHub project. This project that FS Italiane Group is working on aims to combine the needs of large companies and start-ups: large companies need to innovate and start-ups need to grow.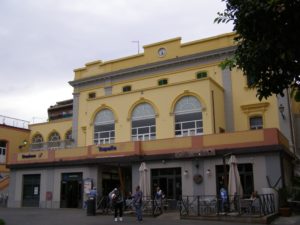 GreenHub wants to do this by bringing together environmental sustainability, energy efficiency, innovative technologies and new services for travellers, turning the stations of the future into green spaces featuring solutions developed by Italian and international start-ups, both inside and outside station buildings.
Rapallo railway station in northwest Italy, situated along the Genoa-Pisa line, is serviced by a number of Italy's high-speed Frecciabianca services. Starting in September of this year it will be Italy's first GreenHub station, transforming it into a case study for industry experts.
Dynamo
The multi-source Dynamo installation was developed by Verde 21, a start-up, in collaboration with three other companies. It will offer services to passengers using energy from renewable sources. Passengers will have access to benches with integrated sockets for charging devices and an access point with Wi-Fi connectivity. Special displays will show geolocalized information. Charging stations for electric bicycles and electric scooters are also in the pipeline. Verde 21 will obtain the energy required for its services from traditional solar panels as well as special transparent ones produced by the start-up Glass To Power. Additional energy will be obtained via walkable solar panels produced by start-up Platio.
U-Earth
Start-up U-Earth has developed technology to monitor and purify air in the station in real time.
The Dynamo solution will be at the heart of FS Italiane Group's efforts to further its social and environmental responsibilities. One way it is working towards these is by using recycled and recyclable materials in the station. Travellers will encounter a space that is sustainable, technologically modern and designed with aesthetics in mind. Wood, aluminium and steel are among the dominant materials used.