Atkins Appointed to Review Thameslink Control System
Design, engineering and project management consultancy firm, Atkins, have won a contract to support Hitachi Information Control Systems (HICSE) and Hitachi Rail Europe with the delivery of the Tranista® Traffic Management System (TMS) for Network Rail's Thameslink programme. The review of the Tranista Thameslink control system will ensure that it satisfies Network Rail's functional and operational requirements so that it is compatible with the rest of the UK rail network.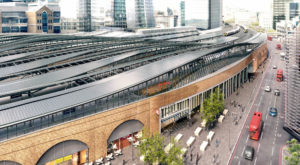 A multi-disciplinary team from Atkins will deliver a range of comprehensive design and engineering services through GRIP stages 4 and 5. The disciplines involved will include communications, electrification and plant, and ergonomics. The works will use:
surveys of designated locations from Three Bridges Rail Operating Centre (ROC) in the South to York ROC in the North
advanced design methodologies to identify the optimum technique to instal the technology required to operate the Tranista system.
Delivering the TMS for Thameslink will reinforce Atkins' reputation in delivering digital solutions which assist with capacity issues and improve passenger experience. They will also deliver safety, reliability and cost-effectiveness at a systems level.
As part of the project, Atkins will also look at software performance. Atkins has the greatest number of Registered Chartered Ergonomists and Human Factors Specialists of any UK consultancy. As such, it has been given the responsibility of supporting HICSE in the design and configuration of Thameslink's computer nerve centre at Three Bridges.
A review of the existing servicer capability will ensure the best use of the digital TMS, which will in turn enable a full exploitation of the new technology, as well as making sure it operates with existing infrastructure. The first level of the Tranista system will enable train operating staff to make informed decisions in managing train pathing and routing around the network, ensuring that resources are used efficiency.
Atkins will work with Network Rail to assist in the wider implementation of its Traffic Management programme and the best way to roll out the scheme across the network.
Conor Linnell, Practice Director, Transportation at Atkins, said:
"It is very exciting for Atkins to be able to bring its extensive experience in the delivery of large-scale infrastructure projects to bear on a ground-breaking programme such as TMS for Thameslink, which marks the beginning of the digital age of the UK railway."
Tim Gray, Managing Director of Hitachi Information Control Systems commented:
"We're looking forward to working with Atkins on this cutting-edge digital railway project, built upon industry collaboration. Traffic Management has the potential to increase capacity as well as bring a new age for rail planning across the UK network. This new deal with Atkins will enhance Hitachi's relationship with Network Rail and other sector partners to ensure Traffic Management delivers more reliable services for fare paying customers."