The San Bernardino County Transportation Authority (SBCTA) has received a 25 million USD Rebuilding American Infrastructure with Sustainability and Equity (RAISE) grant to fund the final design and construction of two Brightline West intercity passenger rail stations.
The funded Brightline West stations and their associated facilities will be constructed in Hesperia and Apple Valley, California as part of Brightline West's 12 billion USD high-speed rail system.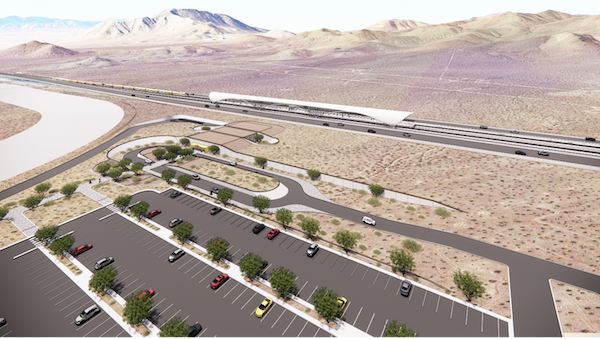 These High Desert stations will connect to downtown Los Angeles through a transfer with Metrolink's San Bernardino Commuter Rail service.
"This will provide a direct link between the High Desert, Rancho Cucamonga, downtown Los Angeles and our own East Valley, reducing the need to rely on personal vehicles for daily commutes, improving air quality and closing the live-work gap for millions of people. Along with other commuter projects either underway or under development, including the Arrow Line and the West Valley Connector bus rapid-transit system, Brightline West represents a cost-effective, 21st-century solution to our region's transportation challenges."
The RAISE programme supports surface transportation projects that will have a significant local and regional impact.
In this context, the Brightline West project between Las Vegas and Southern California is expected to take three million cars off the roads each year and remove more than 400,000 tonnes of CO2 globally.
In addition, economic studies show that Brightline West will create more than 35,000 jobs, including nearly 1,000 permanent jobs for operations and maintenance. It will also generate more than 10 billion USD in economic impact to California and Nevada.
"The High Desert stations are an integral component to our 218-mile system and will connect millions of residents with America's first true high-speed rail system. We're moving towards a groundbreaking later this year, kickstarting one of the largest job creators in the country and setting the stage for a new era in transportation. We are appreciative of our federal partners, the SBCTA and all those who support our system."