This Year at Middle East Rail 2018
When: 12–13 March 2018
Where: Dubai International Conference & Exhibition Centre, Dubai
Now in its 12th year, Middle East Rail has grown to become the most significant rail event in the region, and one not to be missed. Dedicated to the heart of rail developments across some of the most exciting regions in the world, Middle East Rail is recognised as a leading international event. It is the only rail event to be run in partnership with the UAE government, hosting more regional and international government representatives and buyers than any other rail show.
The event holds official patronage with the United Arab Emirates' Federal Transport Authority and Ministry of Infrastructure Development and is opened annually by His Excellency Dr Abdulla Belhaif Al Nuaimi, Minister of Infrastructure Development and Chairman of the Federal Transport Authority – Land & Maritime, UAE.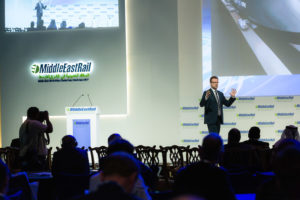 Middle East Rail 2018
As populations and freight demands continue to grow and urbanised areas increasingly converge into large networks of mega-regions, Middle East Rail is strategically positioned to reflect the on-going developments and updates in the region. Within the next ten years we will see a complete reform of mobility across emerging markets in the Middle East, Africa, Central and South Asia. Covering $614bn worth of railway projects, mega trade corridors and smart cities, Middle East Rail is your gateway to the key railway projects happening across the region – the most exciting new networks in the world.
Middle East Rail is the unrivalled platform for the region's railway industry to come together, to learn, network and do business in just two days. Global companies come together to help build and operate brand new rail infrastructure, as well as upgrade legacy networks across the Middle East, North Africa, South Asia and Central Asia.
In 2018, Middle East Rail will once again deliver an unrivalled conference, hosting over 150 speakers across three conference tracks.
As the leading rail conference for the regional markets, our project overviews include those in South Asia and Central Asia – some of the most untapped markets globally.
Middle East Rail will not only bring together transport ministries from the regional markets, but will also welcome rail developers, transport operators, government, contractors and suppliers to talk strategy, technology and innovation for passenger and freight projects. Our partners and solution providers are global leaders and innovators. They use Middle East Rail as their annual opportunity to meet and do business with new and existing customers.
From modernising legacy networks, to building transport corridors of the future, upgrading signalling and telecommunications systems and financing new networks; Middle East Rail has it all. From the latest developments of the GCC connectivity network, to the modernisation of Egypt's rail lines; the Belt & Road links in Central Asia to the boom in Indian passenger and freight efficiency; operators from across the world will bring updates in the form of interactive roundtables, panel discussions and presentations.
In 2018, the conference agenda features more content on digitalisation, modernisation, privatisation and pioneering the future of Mobility 4.0. You can hear from leaders of innovation, big data, cybersecurity, digital transformation and more from global heavyweights such as RATP Dev, SMRT Trains, Deutsche Bahn, SNCF and more.
Latest Project Updates from the GCC Covered at Middle East Rail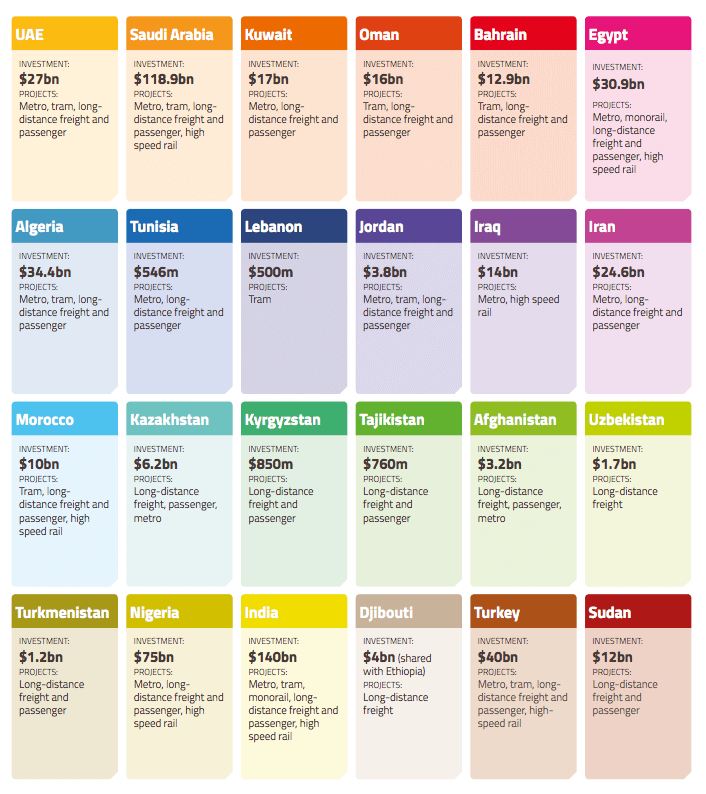 UAE
Abu Dhabi Metro & Light Rail Project: Phase 1A comprising 17 stations and 18km of metro rail. Tenders for Phase 1B and for Phase 1C of the city's light rail network project are also in place; both of which will be tram lines.
skyTran Yas Island: MOU signed in 2016 for a planned magnetic levitating transit pod system around Yas Island in Abu Dhabi.
UAE National Rail Network: Etihad Rail's 1,200km network will extend across the UAE from the border with Saudi Arabia to the border with Oman. Stage 1 (264km) has been operational since 2015, Stage 2 will consist of 628km and Stage 3 will extend the network from the Emirate of Dubai to the northern regions of Fujairah, Ras Al Khaimah and Sharjah.
Dubai Metro: Red Line Route 2020 extension is on-going and scheduled to be completed several months in advance of the Expo 2020 event.
Al Sufouh Tram: The Al Sufouh Tram has been operational since 2014, has 11 stations and 10.6km of track. The second phase of the Dubai tram will extend the track by 4km and link the network to Mall of the Emirates in Dubai.
GCC Rail Network: The construction timeline for the 2,117km $200 billion GCC railway network has been pushed back to 2021 from 2018 in the aftermath of the oil price plunge.
OMAN
Oman National Rail Network: Oman Rail plans for a national network of 2,135km, part of the GCC rail network, and to connect southern parts of the country where main ports are located.
Mineral Line: In December 2017, Oman Rail announced they are looking to mandate an international consultant to provide advisory services on PPP funding for its mineral line project – a single track bulk freight railway connecting mines to ports.
Kingdom of Saudi Arabia (KSA)
KSA National Rail Network: 2,400km of railway links the northern border to the central region and eastern coast. The line has been operational for mineral freight exports since 2011.
Landbridge: 1,065km of new line to connect the two major cities in KSA: Riyadh in the east and Jeddah in the west. The KSA government will grant concessions to the private sector via a 'Build Operate Transfer' contract.
Haramain High-Speed Rail: Saudi Arabia's first high-speed train connecting major holy sites: Mecca, Medina and the eastern major city Jeddah. The Haramain Express includes 453km of track, achieved speeds faster than 300km/h in 2017 and will be fully operational by mid-2018.
North-South Railway: Contributing to a total of 3,000km, the North Railway project was an expansion of the national network launched in February 2017 to support the massive development of the mining industry; prioritised as KSA's third pillar of the economy after oil and gas.
Riyadh Metro: In summer 2017, it was reported that the Riyadh Metro project had passed the halfway mark. 86 driverless train- cars have been manufactured and delivered to the capital. Testing the trains on the tracks has been scheduled for mid-2018.
Bahrain
Bahrain Light Rail: Feasibility studies have been completed and Bahrain is currently in the tendering phase to appoint an operator to run the Bahrain Light Rail project. The monorail project is planned to consist of 105km of light rail.
Bahrain National Rail Network: Planned 84km, double-track line to connect Saudi Arabia and Bahrain with a new causeway in its first phase of construction.
Kuwait
Kuwait Metro: A 160km transport network consisting of four lines and 68 stations. In 2017 the feasibility study for the project was completed and its tender for public bidding began.
Kuwait National Rail Road (KNRR): An integrated rail network with 511km of track to serve freight and passenger needs. The plan is to link Kuwait City and airport, as well as other GCC countries.
FOR ALL THE LATEST INFORMATION, NEWS, IMAGES, AND VIDEOS ON ALL RAILWAY EVENTS, PLEASE CLICK HERE.