DB Regio Orders Additional Coradia Continental Trains
Alstom and DB Regio AG have signed a new contract for 25 Coradia Continental electric multiple units for the region of Saarland and Rhineland-Palatinate.
This order is part of a frame contract concluded between the DB Regio AG and Alstom in 2011 for the delivery of up to 400 Coradia Continental trains. This order is worth around €150 million. The trains will be manufactured in Salzgitter (Germany).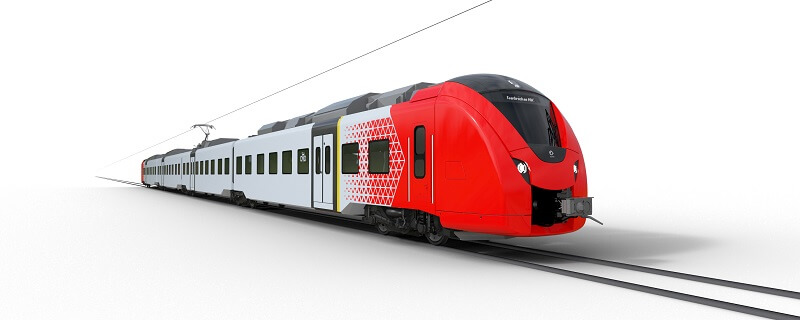 Saarland's Electric Network
This order has been initiated by the contract won by DB Regio AG for the operation of the Saar RB electrical network batch 1 on the routes Schweich – Trier Hbf – Saarbrücken Hbf – Kaiserslautern Hbf (from December 2019) and Trier Hafenstraße – Konz – Saarburg (from December 2020). Purchasers of the these transport operations are the Ministry for Economy, Labour, Energy and Transport in Saarland as well as the administration unions SPNV-North and ZSPNV-South associations in Rhineland-Palatinate.
Didier Pfleger, Vice President Alstom Germany and Austria, said:
After 53 trains ordered last month by Deutsche Bahn, the total number of Coradia Continental sold within the current frame contract exceeds 100 units, proving the satisfaction of our customer for this train. Coradia Continental is a well-proven train for its regional operations, with a track record of 35 million kilometres per year performed by the total fleet in service and an availability rate of 99% per customer fleet.
Coradia Continental Trains
Running at a maximum speed of 160 km/h, the 25 four-car Coradia Continental trains are fitted with up to 200 seats. The trains are characterized by excellent acceleration properties, as well as a particularly smooth and quiet running.
Coradia Continental meets the latest European standards in terms of fire protection, accessibility and emission values. For the vehicle specification in the tender the public transport authorities placed special attention on passenger comfort: multi-purpose areas provide sufficient space for wheelchairs, bicycles and prams. The traction equipment is located on the roof to allow for more spacious interior. Access at platform height, movable steps and continuous low-floor areas allow barrier-free travel. In accordance with the contractual arrangements the vehicles are equipped with repeaters for an improved mobile communication, as well as with sockets, video cameras and real-time passenger information system displaying current train connection data.
Coradia Continental belongs to Alstom's Coradia range of modular trains that benefit from a know-how of more than 30 years and from well-proven technical solutions. More than 2,400 Coradia trains have been sold so far, and 1,900 are presently circulating in Denmark, France, Germany, Italy, Luxembourg, the Netherlands, Portugal, Spain, Sweden and Canada.
Original article © Alstom.
FOR ALL THE LATEST INFORMATION, NEWS, IMAGES, VIDEOS AND ARTICLES ON ALL ASPECTS OF ROLLING STOCK, PLEASE CLICK HERE.