China Railway Express Makes First Journey to Belarus
China Railway Corporation announced on 3 August that the first container freight train between Shijiazhuang and Minsk went into operation on 2 June. Departing Shijiazhuang, the capital and largest city of North China's Hebei Province, at 10am, the China Railway Express made its way to Minsk in Belarus, opening a new logistics corridor between China and Europe.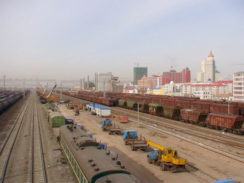 China Railway Express Route
The freight train travelled north from the Shijiazhuang Freight Centre, reaching the Russian border at Manzhouli, to the east of Mongolia. Here it was necessary to switch the cargo from trains suitable for China's standard-gauge tracks to those suitable for Russian-gauge tracks, which is also used in Belarus. Twelve days later it arrived at Vorsino Station in Moscow. After another three days the train rolled into Kolyadichi Station in Minsk.
On the outbound journey the cargo transported by the 41 forty-foot containers consisted of diesel engines and fishing gear. On the return journey the train transported wood products as well as goods from Belarus and other surrounding countries.
This train was jointly organised by the Shijiazhuang Freight Center, China Railway Container Transport Co. Ltd and Hebei Taitong Logistics Co. Ltd.