UK: Priti Patel MP Joins Rail Fellowship Programme
Priti Patel, Conservative MP for Witham, Essex, has joined the Railway Industry Association's (RIA) Rail Fellowship Programme.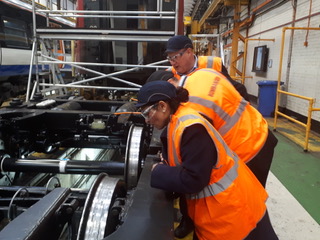 The high-profile MP spent the day touring Bombardier Transportation's depot in Ilford, which included a viewing of the new Class Aventra 345 rolling stock for Transport for London Rail services, which will be used on the new Elizabeth line. Patel also had meetings with staff and apprentices at the depot.
The RIA Rail Fellowship Programme showcases the work of the UK rail supply chain by inviting parliamentarians and other influencers to see the industry in action. Several MPs have now participated in the programme and the RIA has scheduled many more visits in the near future, as politicians pledge their support for the UK rail industry.
The RIA Rail Fellowship Class of 2018, which Patel is now a member of, will be recognised with awards at the annual RIA Parliamentary Reception on Tuesday 27 November 2018.
Priti Patel MP said:
"As with all highly skilled industries I was pleased to see how Bombardier are investing in skills, apprentices and innovative practices to support high quality rail services. The long term success of the UK's economy and productivity is dependent upon a thriving supply chain to deliver critical investment in the rail network. I would like to see the Government look at new ways to support these businesses that are based in Britain. It was a pleasure to tour the site and meet with the team who are working on a number of exciting projects, including the trains for the impressive Elizabeth Line, which will provide long term commuting benefits to residents and businesses in Essex as well as an improvement in rail services in Essex."
Darren Caplan, Chief Executive of the Railway Industry Association, said:
"Bombardier is a fantastic train manufacturer and servicer and we are thrilled that Priti Patel came to Ilford today to experience for herself the great work that they do. The UK rail sector is hugely valuable for the UK economy, boosting jobs, investment and economic growth. It was great to show Priti the work that is done every day to keep our rail system running."
Tim Bentley, Head of UK Services, Bombardier Transportation, said:
"The RIA Railway Fellowship Programme is an excellent initiative. We are delighted to have been able to host Priti Patel at our Ilford

depot, so she could see for herself how we keep Britain moving on one of the busiest and most complex networks in the world."
The rail sector is of crucial importance to the UK economy, which contributes £36 billion in economic growth and £11 billion in tax revenue each year, as well as employing 600,000 people. The number of rail journeys in the UK is expected to grow significantly over the next 25 years and the volume of freight transported by rail is also expected to increase during this period.