KZ4AT Locomotive Sets Kazakhstan High Speed Record
The Alstom KZ4AT locomotive set the Kazakhstan high speed record – hitting 200 km/h on test runs on the Moiynty-Kiik line southeast of Astana. The record was set over the course of the dynamic tests which form part of the validation process, which will allow the locomotives to operate at their maximum design speed while operating commercial services.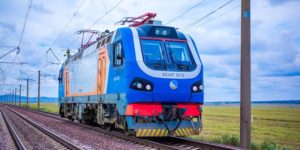 The KZ4AT locomotive is a multi-purpose locomotive, modelled on the Alstom Prima modular platform, a model which gives operators an optimum solution for passenger services. The locomotive is considered one of the most versatile electric locomotive operating in the world today for a variety of applications.
The locomotive operates passenger services at 200 km/h, and has been developed to run in extreme weather conditions, ranging from -50C to +50C. The locomotive has been designed around the technical requirements of KTZ (Kazakhstan Railways) and meets GOST standards and specifications. The locomotive has a state of the art traction system, modelled on Alstom's technology. The components have been produced by Alstom and Russian rolling stock manufacturer Transmashholding.
The locomotives will be produced at a local EKZ plant in Astana, jointly owned by Alstom who own 50%, KTZ who own 25% and Transmashholding who own 25% of the facility.
Bernard Peille, Managing Director South CIS Alstom, said:
"We are very pleased and proud that those tests were successful and that we reached 200 km/h for the first time in the railway history of Kazakhstan. This record opens new promising prospects for Kazakhstan as an important hub linking Europe, Middle East, Asia and Russia through new Silk Way."
Kazakhstan has the third biggest railway network in the world. All 14,000 km of track use a 1,520 mm track gauge. The Kazakh rail industry is a growth one, with a market for signalling equipment in addition and maintenance activities, as well as rolling stock and electrification works.