Crossrail Unveil Elizabeth Line Stations Design
Crossrail Limited has released images of the new Elizabeth Line stations in central and southeast London. The stations will open in December 2018. The images illustrate a passenger-level view of the stations – platforms, ticket halls and façades which will reference the locale of the station.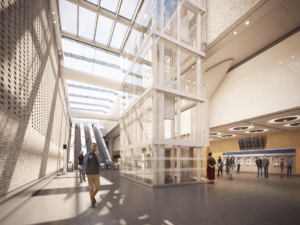 Each station will allow for step-free access from train to street, and will be completely integrated with Transport for London's existing transport network. The designs are displayed in a free exhibition at the Royal Institute of British Architects (RIBA), which also displays architectural components destined for the stations. The exhibition, called "Platform for Design", provides insight into the development of the new railway, stations and surrounding public spaces.
The stations will each have their own unique character, designed by different architects to reference the local cultural heritage of its location. For instance, the Elizabeth Line station at Paddington will reference the design legacy of Brunel's terminus building (which still stands). Farringdon, meanwhile, will reference the historic trade of blacksmiths and goldsmiths who once worked in the area, as well as the nearby Barbican with its own distinctive style.
Andrew Wolstenholme, Chief Executive, Crossrail Limited, said:
"World class design is at the heart of Crossrail and as the project approaches 75 per cent complete, these fantastic new images show passengers what they will experience when the Elizabeth line opens in 2018."
Mike Brown MVO, London's Transport Commissioner, said:
"The TfL-run Elizabeth line will transform travel across London, reducing journey times, relieving congestion on the Tube network, and radically improving step-free access with brand new accessible stations.  This exhibition will enable customers to really start to see what their new stations will look like when they open in 2018, giving a real insight into the huge transport improvements to come."
Julian Robinson, Head of Architecture, Crossrail Limited, said:
"The Crossrail project has worked with world-leading architects and designers to deliver a new railway that draws upon the fantastic transport architectural heritage of London and London Underground with each station reflecting the distinct character of the surrounding area and presenting a common line identity."
On platforms, common design components which feature across the network are seating, signage and full-height platform screen doors. This will give the network a cohesive feel, with curved, sweeping passageways accentuated by common architectural features. The design is simple and clear, free from visual clutter to enable passengers to keep a clear line of sight along the length of the platform.
The stations will be run by TfL, with surrounding public areas and oversite developments to have been designed in conjunction with the stations. The stations are therefore integrated into the local area. Fixed art works will also be installed into many of the new stations in central London, creating a line-wide exhibition across the city.
Too see the new station design, see our gallery below. All images courtesy of Crossrail Ltd.