Bombardier Transportation has delivered the first INNOVIA monorail 300 vehicles for Thailand after it was shipped on 4 September. They will operate on Bangkok's Pink and Yellow Lines, which combined bring 64km of new rail transport to the capital.
To mark the occasion, the Prime Minister of Thailand and other senior government officials attended a special event on 1 October. Other attendees included the Ambassador of Canada to Thailand, and representatives from Mass Rapid Transit Authority of Thailand (MRTA), Northern Bangkok Monorail Co. Ltd (NBM – operator of the Pink Line) and Eastern Bangkok Monorail Co. Ltd (EBM – operator of the Yellow Line).
Bombardier won the contract to deliver 72 four-car INNOVIA monorail 300 trains, the wayside systems for the Pink and Yellow Lines and the automated Bombardier CITYFLO 650 system. The monorail trains will operate at speeds of up to 80km/h. The system will have a maximum capacity of more than 28,000 passengers per hour per direction.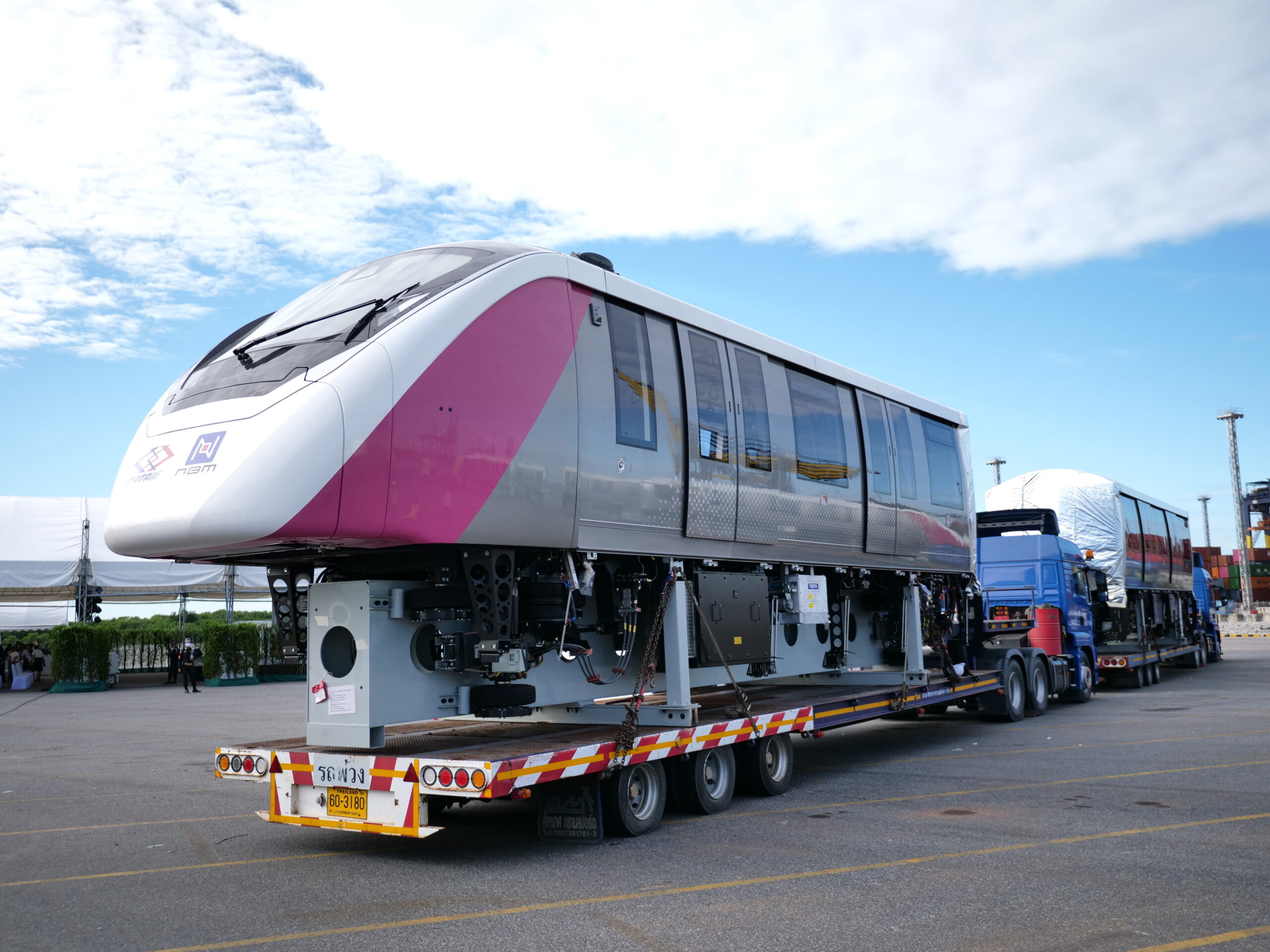 The vehicles are being manufactured by the CRRC Puzhen Bombardier Transportation Systems Limited (PBTS) joint venture from Bombardier's Bangkok Engineering Centre.
"The on-time delivery of our first INNOVIA monorail 300 vehicles for Thailand marks an exciting milestone in the history of Thailand's rail transportation and reflects our strong collaboration between our customers, our PBTS joint venture and our highly-skilled, 600-strong local team.
"Thailand is an important market for Bombardier where, over the last 23 years, we have grown from signalling supplier to the market leader in rail systems and we look forward to seeing the new rail lines become a reality."
The planned opening time for the Pink and Yellow Lines is June 2022.
Also read: